2nd October 2013, Reutlingen
New Stoll CMS ADF-3 opens up new dimensions in knitting
Flat knitting machine manufacturer Stoll claims it has set new standards in the knitting world. Due to its unique yarn carrier technology, the newly launched Stoll CMS ADF-3 knitting machine offers many features for innovative knitting when it comes to structural technique and colour combinations. The company says the new machine combines all previously known yarn carrier technologies with its newly expanded functions to create a powerful flat knitting machine.
"The CMS ADF-3 is multitalented. For designers, it offers outstanding options for turning creative ideas into reality. It has the ability to produce stunning, never-before-seen patterns," Stoll said in a statement this afternoon.
For the company H. Stoll GmbH & Co. KG, the CMS ADF-3 represents a milestone in the evolution of the Stoll knitting machine.
"With the CMS ADF-3, we have made a decisive step forward in the future of knitting," explained Heinz-Peter Stoll, CEO of H. Stoll GmbH & Co. KG. "For knitting machine manufacturers, the market remains exciting but tense."
The heavy concentration of supply markets in the Asia Pacific rim and the enormous order fluctuations represent a challenge for the company that Heinz-Peter Stoll faces with complete confidence, mainly because the company is continuously re-evaluating its direction. "We have no problem competing fiercely with other companies in our market." With our innovative drive and focus on service, we will stay true to our motto 'quality first'," added Mr Stoll.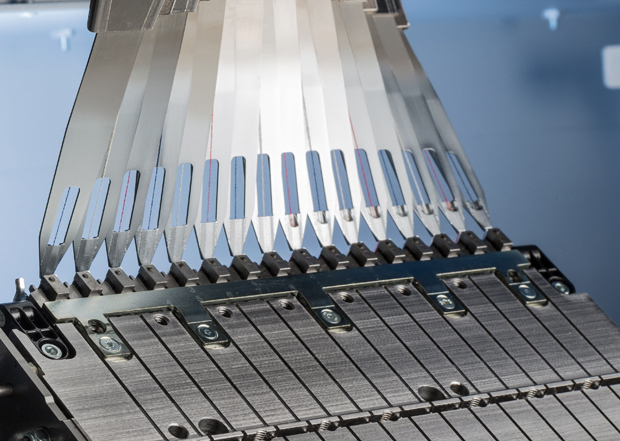 According to Stoll, the CMS ADF-3 will hold its own in the intensely competitive market mainly due to its broad area of application. The CMS ADF-3 is said to be setting new standards with its 16 rails, equipped with two yarn carriers each. Knitting functions from previous machine generations have come together in the CMS ADF-3, including, of course, multi-gauge and flexible gauge features. This, the company says, has resulted simple handling and faster programming. Stoll's universal yarn carriers are designed for use in any knitting application. The CMS ADF-3 covers a gauge range from E 10 to E 18, including multi-gauge gauges.
According to the company, what makes the CMS ADF-3 so versatile is its' advanced yarn carrier technology, which is based on 32 motorized yarn carriers. They move independently from the carriage and can position themselves vertically or horizontally. Positioning is controlled by the pattern program. This configuration, Stoll says, opens up almost unlimited possibilities for the user regarding patterns and colour combinations.
When it comes to plating, the benefits of flexible yarn carriers are said to be particularly noticeable as its inverse plating allows you to create, what Stoll refers to as 'any conceivable colour combination'. With intarsia plating, colour nuances can be added to individual or multiple pattern areas. The CMS ADF-3 enables colour fields of less than 1" to be knitted.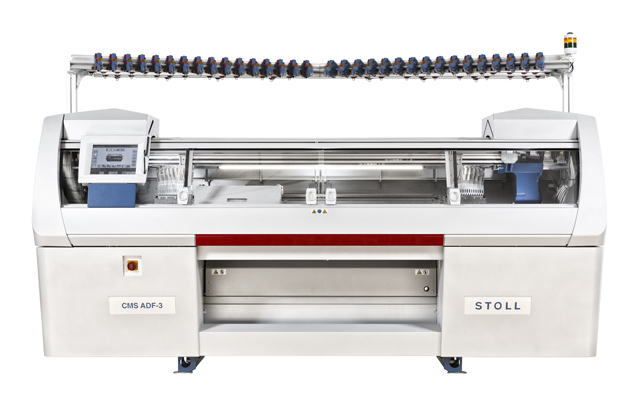 "The efficiency of the CMS ADF-3 knows no equal. This is a result of more efficient knitting sequences that reduces the stroke. Faster retrofitting times when changing patterns lower the machine's downtimes considerably," the company adds.
"Even its ergonomic improvements have generated several benefits for the user, who is sure to appreciate them when working with the machine on a daily basis. These include the sliding bobbin board, the V-shaped yarn control (installed in a low position to ensure that the yarn carriers don't cross each other) as well as many other features."
Overview of the machine's technical details:
Yarn carrier staggering distance: 2"
Color field distance: 0.6"
Direct yarn feed
2 x 16 individual clamping and cutting devices
Width of the needle bed: 50"
System distance: 5"
3 knitting systems
H. Stoll GmbH & Co. KG is a leading producer worldwide of flat knitting machines with headquarters in Reutlingen, Germany. The traditional company was founded in 1873 and has 1,000 employees worldwide.
The "Stoll" brand name portfolio includes flat knitting machines and pattern software used to manufacture fashion, industrial and medical textiles. Its products have been successfully sold in over 70 countries. With subsidiaries, sales and service centres as well as numerous distributors all over the globe, Stoll offers a complete and integrated service program. Through innovative technological developments and its "made in Germany" production, Stoll is at the forefront of the newest knitting and textile developments, which are launched using inspiring, company-designed fashion collections.
This article is also appears in...