7th February 2020, Oregon
Nike Space Hippie: If they look weird its because they're made of trash!
© Nike.
Earlier this week, Nike announced Space Hippie, a shoe which transforms trash into something new - something beautiful. Space Hippie uses Nike's leftover waste, creating a radical design aesthetic, that it says, shows you don't have to choose between style and sustainability. Every detail of Space Hippie was chosen to reduce its carbon footprint – from materials, to method of make and even packaging.
Materials innovator, Lauren Durrell, who helped develop Space Hippie, said, "We're always brainstorming ways to make shoes better, even if unconventional, because they lead to creating something beautiful, which is what we see with Space Hippie."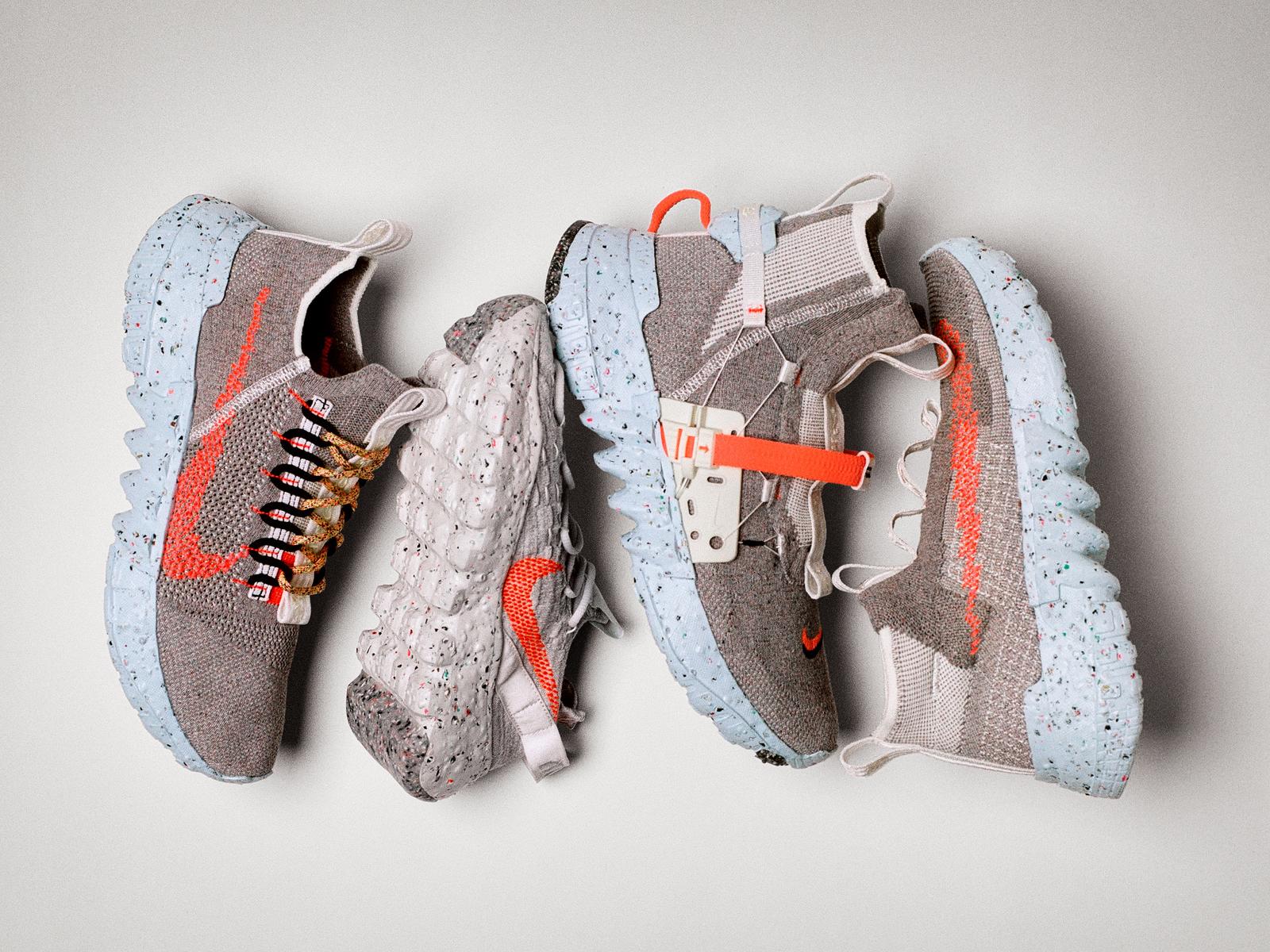 Space Hippie – Trash Transformed. © Nike.
Space Hippie, an exploratory footwear collection constructed with Nike's own 'space junk', transforms scrap material from factory floors into what the company calls "a radical expression of circular design". Every detail of the four initial Space Hippie silhouettes, from material choices to methods of make to packaging, was chosen with consideration for its environmental impact, Nike explains.
Engineered knits from Space Waste Yarn
Space Hippie have Flyknit uppers - Nike's now legendary flat knitted shoe upper, first introduced at the London Olympics in 2012. The basis for the engineered knits that form the Space Hippie uppers is created using what Nike calls 'Space Waste Yarn' - yarns made from 100% recycled material — including recycled plastic water bottles, T-shirts and yarn scraps. "Combined with the other elements of the Space Hippie 02, we get an upper that is 90% recycled content by weight," Nike adds.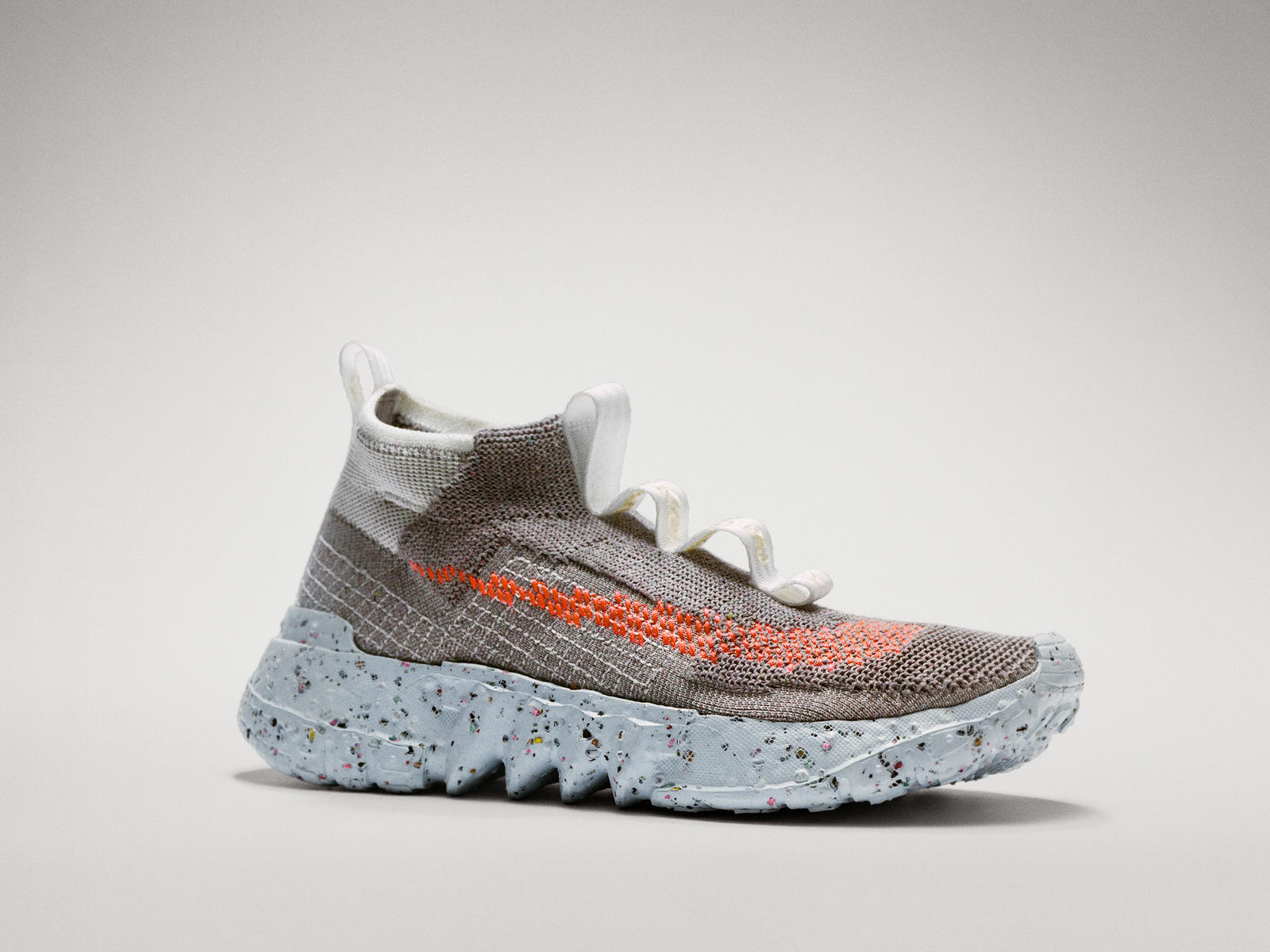 Space Hippie – Trash Transformed. © Nike.
"With Nike Space Hippie, the urgency of climate change is met by a bold step to reimagine solutions to critical environmental problems. The result is the creation of Nike footwear with our lowest carbon footprint scores ever."
"Space Hippie product presents itself as an artefact from the future. It's avant garde; it's rebelliously optimistic," says John Hoke, Nike Chief Design Officer. "Space Hippie is also an idea. It is about figuring out how to make the most with the least material, the least energy and the least carbon."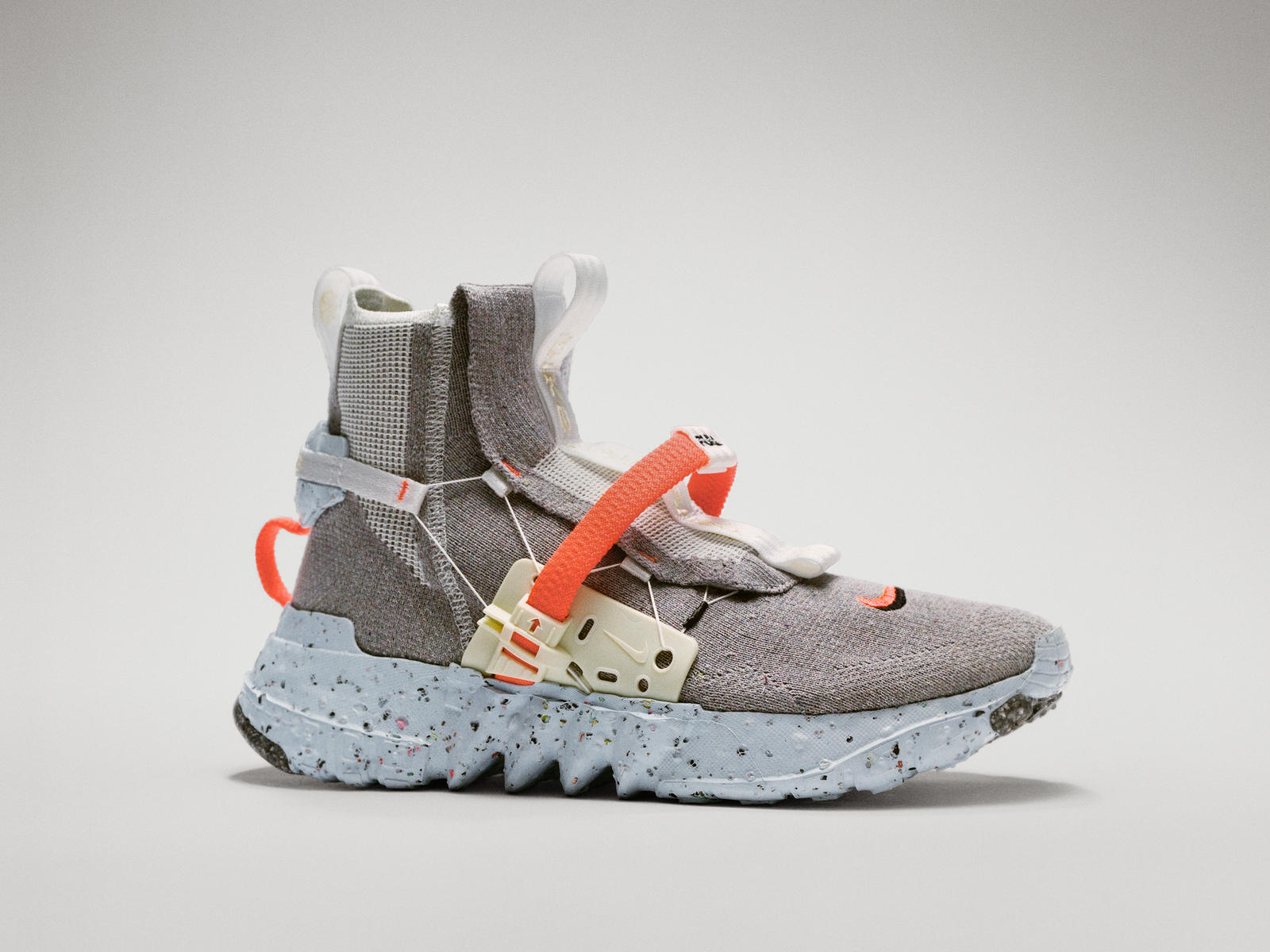 Space Hippie – Trash Transformed. © Nike.
According to the Oregon based innovator, the product has purpose, but doesn't veer from its legacy of 'goosebump-inducing design' - it is a barometer of progress, presenting new ideas to deal with waste and turning trash into something beautiful.
"I'd say Space Hippie attacks the villain of trash," says Hoke. "It's changed the way we look at materials, it's changed the way that we look at the aesthetics of our product. It's changed how we approach putting product together."
Nike Designer Noah Murphy-Reinhertz breaks down the design of the Space Hippie 02

"Consider Space Hippie an example of advancing human potential. New benchmarks in use of recycled content set a new bar for responsible design. It challenges convention in material sourcing. Space Hippie is about doing better for today, setting the stage for a stronger tomorrow. It drives a new vision for how things are made, used and, ultimately, reused."

"We believe the future for product will be circular," says Seana Hannah, VP, Sustainable Innovation. "We must think about the entire process: how we design it, how we make it, how we use it, how we reuse it and how we cut out waste at every step. These are the fundamentals of a circular mindset that inform best practices."

"Space Hippie embodies the idea that designers have a right and responsibility in problem-solving. It tackles a big, complex issue with soft grace," the company says. Like a barrier-breaking run, the innovation should provide us all a healthy dose of inspiration.
© Nike.
Meet the Team Behind Space Hippie…
Space Hippie 01, 02, 03 and 04 will be available this spring for Nike members in SNKRS and SNEAKERS, as well as at Nike House of Innovation flagship locations and select retailers.
Space Hippie – Trash Transformed