Leading computerized flat knitting machine manufacturer Shima Seiki Mfg., Ltd. of Wakayama, Japan celebrated its 50th Anniversary on February 4th, 2012 and in November, the company held a gala celebration with over 1400 customers and 1300 employees over a 3-day period.
The event was headlined by a fashion show featuring some intriguing examples of Wholegarment and new integral knitwear. This was complemented by a vast exhibit of over 600 knitted items including samples from over 30 international apparel brands that use Wholegarment knitwear in their line-up, as well as students' works from a dozen schools worldwide that currently use SDS-ONE APEX3 and related design systems. The latest line of Wholegarment machines was also exhibited, and several rooms were also set up for demonstrations on SDS-ONE APEX3 design systems.
Apart from the celebration mentioned above, Shima says it kept busy throughout 2012, which proved to be an eventful year worthy of celebration. In our Review of Shima Seiki's 50th Year – Part 1 yesterday we looked at Shima's construction of a new factory for Wholegarment knitting machine assembly and introduction of five new machines, as well as five new variations on existing machines. Here in Part 2 we look at additional Shima Seiki events in 2012, most of which are centred on stimulating interest in the company's Wholegarment knitting technology.
Shima Seiki launches new Wholegarment brands
Shima Seiki launched two brands in 2012, one in the United States and one in Japan.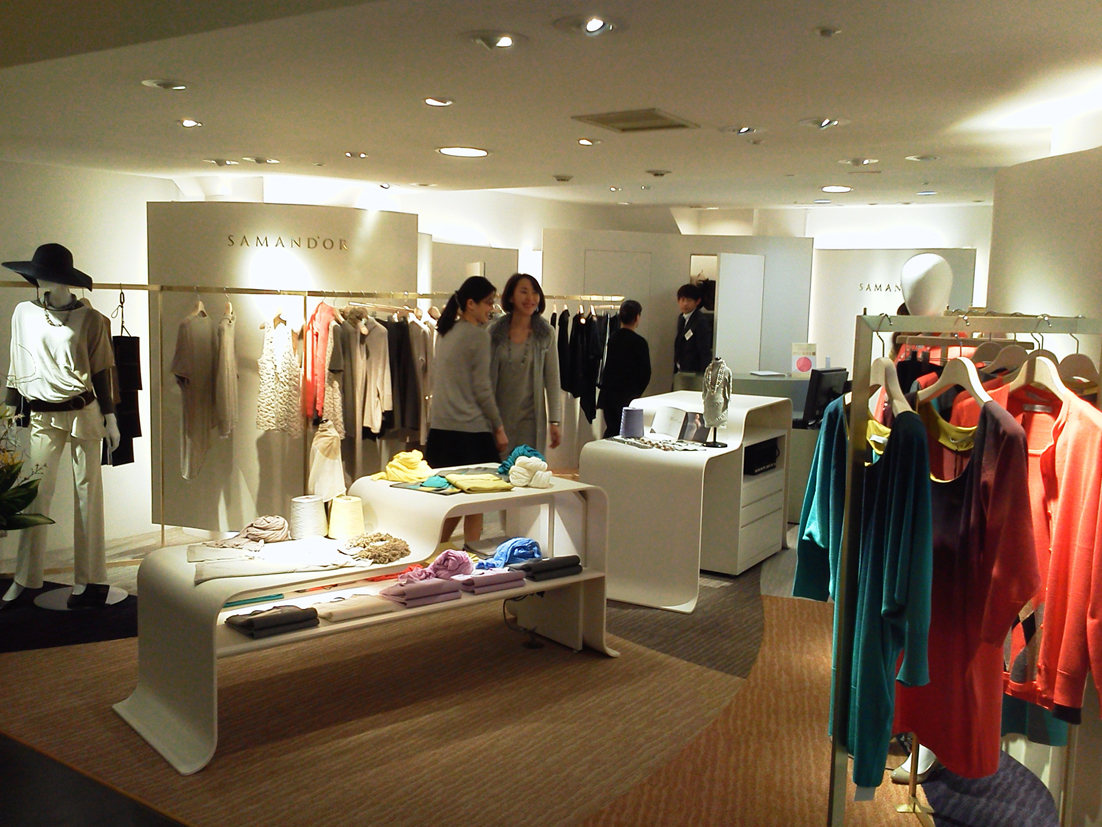 KOTOBA
Shima Seiki's subsidiary in the United States, Shima Seiki U.S.A. Inc., launched its Kotoba brand with an inaugural Spring 2013 collection introduced during New York Fashion Week in September. Kotoba, the Japanese word for 'language', is a collective brand of knitwear intended to focus consumer attention on the benefits of the company's Wholegarment knitting technology, promoting not only the brand but the technology as well.
Due to the lack of seams, Kotoba fashion is knitted as a whole, producing minimal waste during the production process. Its pieces are soft, light and comfortable with superior draping characteristics. In addition, because the entire production process relies on minimal labour, it is economically feasible to source and produce the collection within the United States. Kotoba manages to produce unique and comfortable knitwear that is environmentally and socially responsible as well. Kotoba is produced at Shima Seiki U.S.A. in Monroe Township, New Jersey.
SAMAND'OR
Shima Seiki has also launched a brand of its own in Japan, called 'SAMAND'OR,' A high-end brand featuring Wholegarment knitwear using the highest quality cashmere yarns, SAMAND'OR is a fusion combining superior fit and comfort with the warmth and softness of cashmere. In addition, the brand is unique in that it accepts orders for made-to measure knitwear, further adding to the luxury of the brand.
Order-knits are made possible through minimized lead times and quick-response production realized by the combined capability of Shima Seiki's SDS-ONE APEX3 3D design system and Wholegarment knitting machines. Orders for custom knitwear are taken at its specialty store boutique on the luxury zone floor of Takashimaya department store in the Nihonbashi district of Tokyo. SAMAND'OR is produced by Shima Seiki's new subsidiary Shima Co.Ltd.
Masahiro Shima inducted into Hall of Fame
On 10th September 2012, Dr. Masahiro Shima, president and founder of Shima Seiki was inducted into the American Textile Hall of Fame. Located within the American Textile History Museum in Lowell, Massachusetts and affiliated with the Smithsonian Institute, the Hall of Fame honours individuals, corporations and institutions that have made significant contribution to the American textile industry.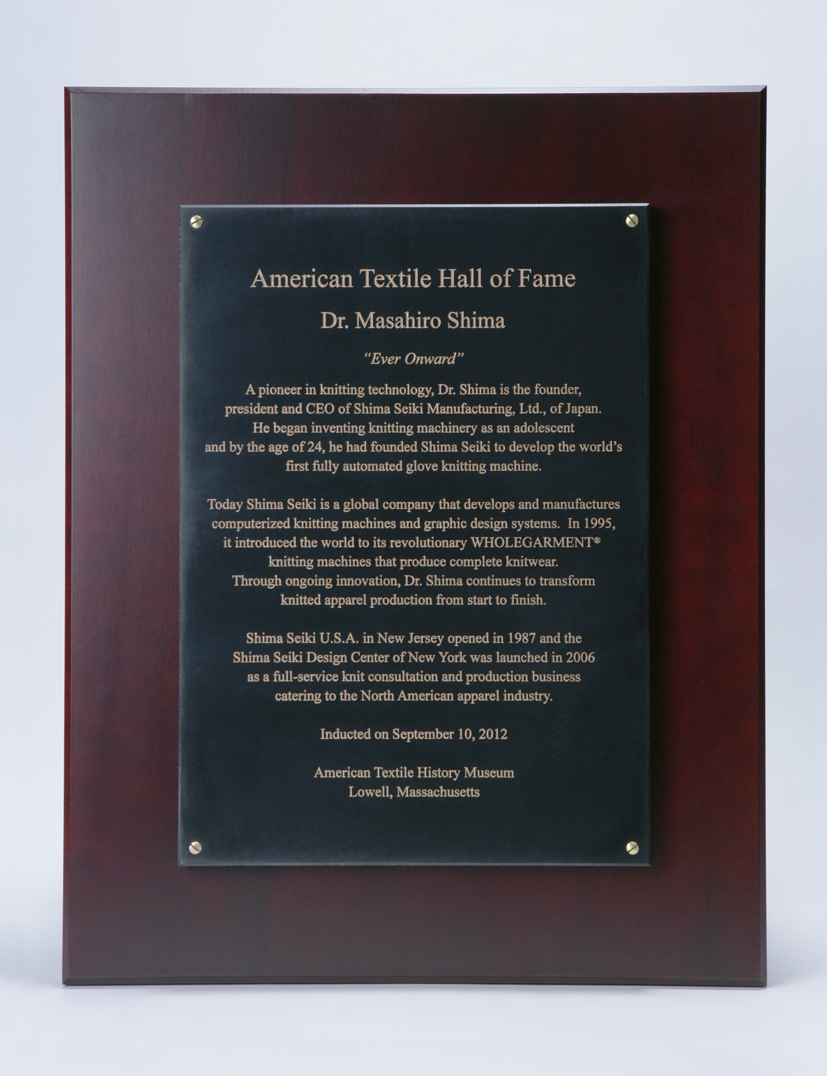 Dr. Shima was selected for being a pioneer in knitting technology, inventing knitting machinery as an adolescent and having founded Shima Seiki by the age of 24 to develop the world's first fully automated glove knitting machine. He is also recognized for his pioneering role in the development of the world's first Wholegarment knitting machine, as well as his role in Shima Seiki's continued leadership in the industry through ongoing innovation of both computerized knitting machines and computer graphic design systems.
He is also acknowledged for opening Shima Seiki U.S.A. and Shima Seiki Design Center of New York as a full-service knit consultation and production business catering to the North American apparel industry. Previously reserved for Americans, the Hall of Fame now recognizes that innovation in the industry has no boundaries. Dr. Shima therefore becomes the very first international recipient of this honour.
Shima Seiki establishes Wholegarment subsidiary
In October 2012 Shima Seiki established its new subsidiary company Shima Co., Ltd., for the planning, production and sales of high-quality Wholegarment knitwear. The new company serves as a business model for implementing Wholegarment knitwear production in specialty store retailer of private label apparel (SPA) and original design manufacturing (ODM) applications within an established consumer market. It also aims to promote and increase recognition of Wholegarment knitwear, as well as promoting Wholegarment knitting machines and SDS-ONE APEX3 3D design systems.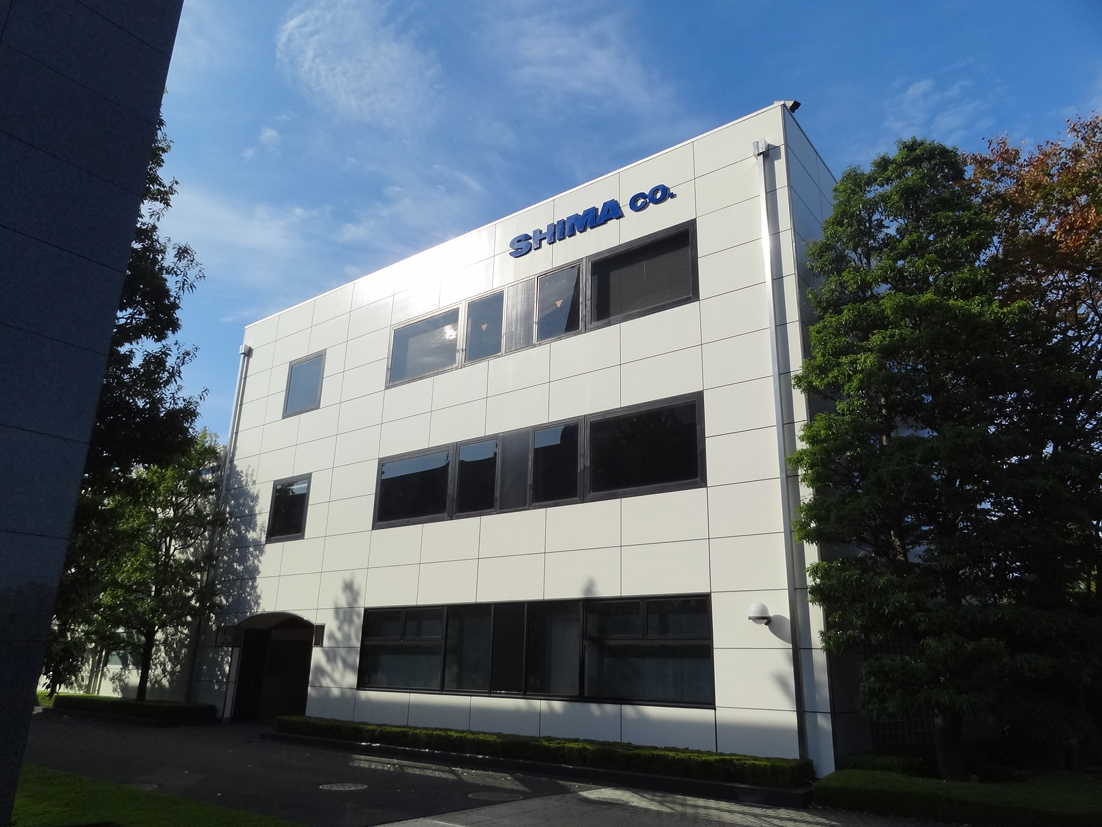 Shima Co. is situated within Shima Seiki grounds and currently operates 20 MACH2X and 2 SWG-Mini series Wholegarment machines. With a computer controlled yarn inventory system and state-of-the-art production management, Shima Co. sheds any image of a labour-intensive textile factory.
"With Shima Seiki's know-how and technology as resources, our next-generation factory aims to become a model factory for state-of-the-art Made in Japan textile manufacturing," says newly appointed president Kiyokata Nishikawa. "As a business model," adds Shima Seiki vice-president Mitsuhiro Shima, "Shima Seiki hopes that Shima Co. can become the archetype for modern knit production, so that our customers all over the world can look to it and learn from its example."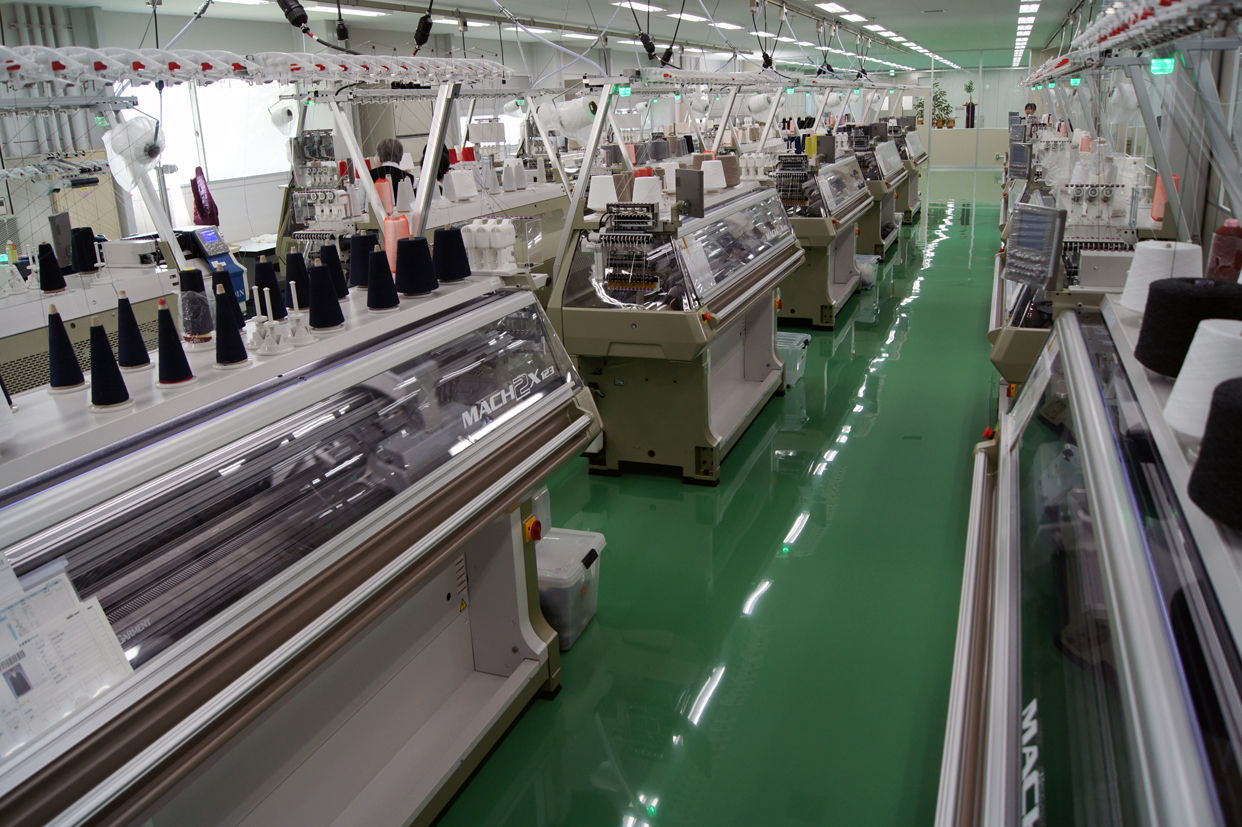 Shima contributes to advanced textile research
Drexel University in Philadelphia, Pennsylvania is the recipient of a $1 million sponsorship from Shima Seiki. Fashion Design Program Director Genevieve Dion of Drexel University's Antoinette Westphal College of Media & Design has been conducting research in identifying production methods that advance the field of wearable technology.
"She has found just that in the Wholegarment knitting technology donated by Shima in launching the Shima Seiki Haute Technology Laboratory installed at its newly opened Expressive and Creative Interaction Technologies (ExCITe) Center," Shima says.
The state-of-the-art laboratory will conduct research for the development of new smart textiles and wearable technologies, and to explore new methods of production for commercialization of those technologies.
Wearable technology— also known as 'smart garments', are garments made of textile fabrics embedded with various forms of technology such as flexible circuitry, flexible antennas and non-infringing power sources for use in, for example, monitoring physiological parameters such as vital signs, and have the potential of impacting a number of market sectors ranging from consumer electronics to sports, safety, health, medicine and military.
In fact, the multidisciplinary research initiative involves members from Drexel's Colleges of Nursing and Health Professions, Engineering, Information Science & Technology, Medicine and Biomedical Engineering.
Shima seiki is contributing to that research with its donation of 16 SDS-ONE APEX3 3D design workstations and 3 Wholegarment knitting machines, as well as R&D support through its U.S. subsidiary Shima Seiki U.S.A. Inc.