Billy Hunter reports from Wakayama
Almost 1500 guests assembled in Wakayama, the capital city of Wakayama Prefecture in the Kansai region of Japan, for the Shima Seiki 50th Anniversary Celebration last week.
Approximately 750 guests and Shima Seiki representatives gathered at the company's headquarters and at the city's Big Whale arena on each of the 8th and 9th November to celebrate the historic occasion. In addition, almost 1350 employees celebrated their company's 50th on Saturday 10th November at the same venue.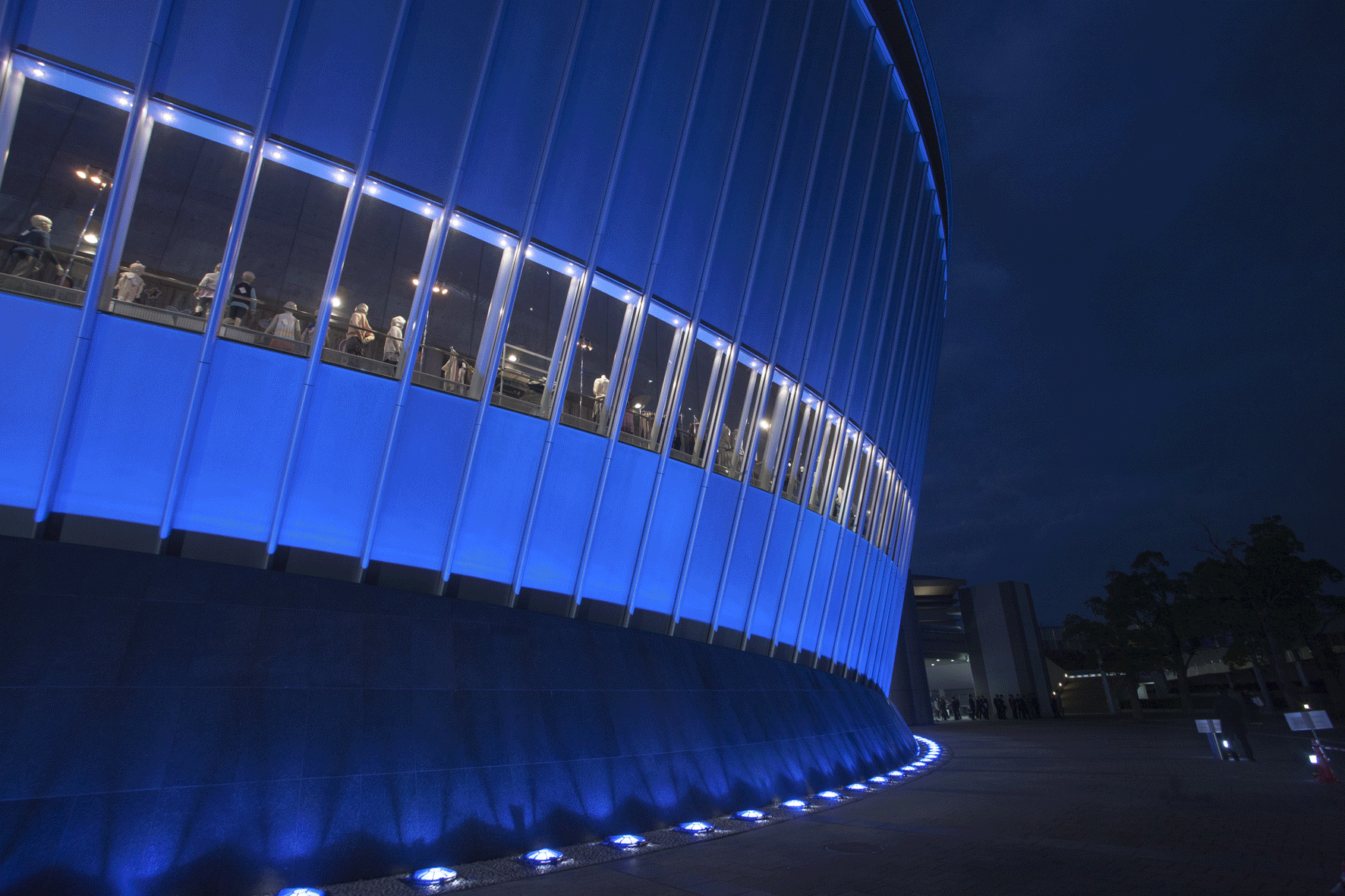 After early morning guided tours of Shima's very impressive factory, guests from all over the world arrived by coach at the Big Whale for a full day of events and celebrations including knit sample and machine displays, CAD demonstrations, a superb afternoon fashion show, and an early evening dinning extravaganza with absolutely unique entertainment.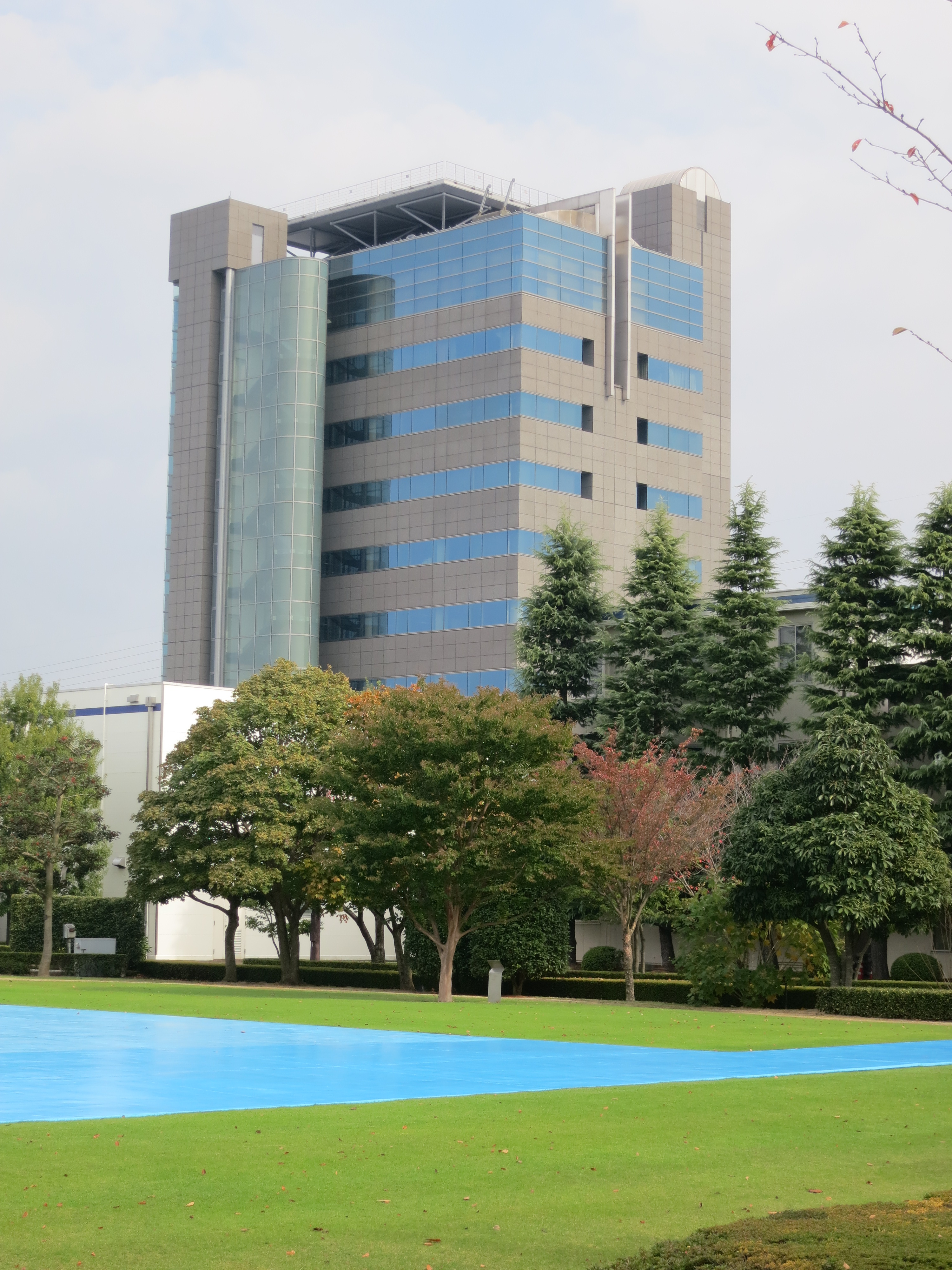 Meanwhile, back at its headquarters and to mark the occasion, the high technology flat knitting machine builder launched two new machines one of which provides an innovative solution for improving dimensional stability and strength in technical flat knitted fabrics. Shima unveiled an interesting 5 gauge version of its high speed four needlebed MACH 2X, which is a new coarse gauge option for X technology, and an all new and even more interesting SRY123LP flat knitting machine for 'inlay' fabrics using the company's loop presser technology. Read the full article here.
Knitwear showcase
In the early part of the day, visitors walked around the perimeter of the upper floor glass fronted gallery of Wakayama's Big Whale to view a fantastic range of 660 knitted samples from around the world.
The display included a huge range of Shima's own Wholegarment creations, collections from its own Japanese and US brands, some fabulous knitwear from the world's leading brands, knit collections from prestige Japanese brands and department stores and some weird and wonderful spirited collections from knitwear design students at the world's leading Universities.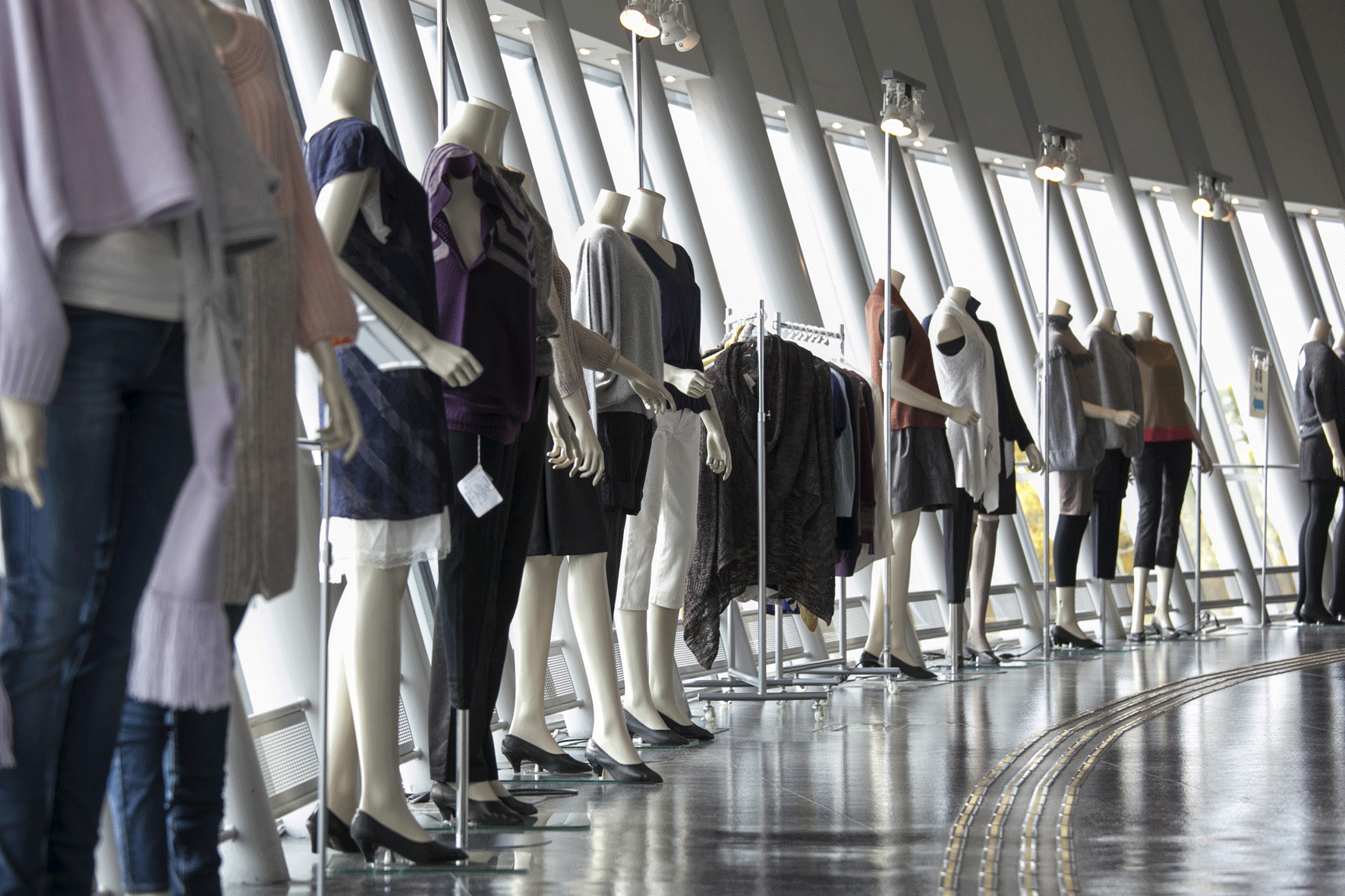 The Knit Sample Display also included Shima SIP print samples, virtual samples, samples by category, samples from the fashion show, high efficiency programming samples and a range of samples from this year's ITMA ASIA + CITME 2012 exhibition.
Themed fashion show
Sixty one different 'looks' were showcased by a group of twenty top models at the afternoon themed fashion show which was held in the Big Whale's main arena amidst a fully charged atmosphere created by the excitement of Shima's guests, stunning lights and pulsating music.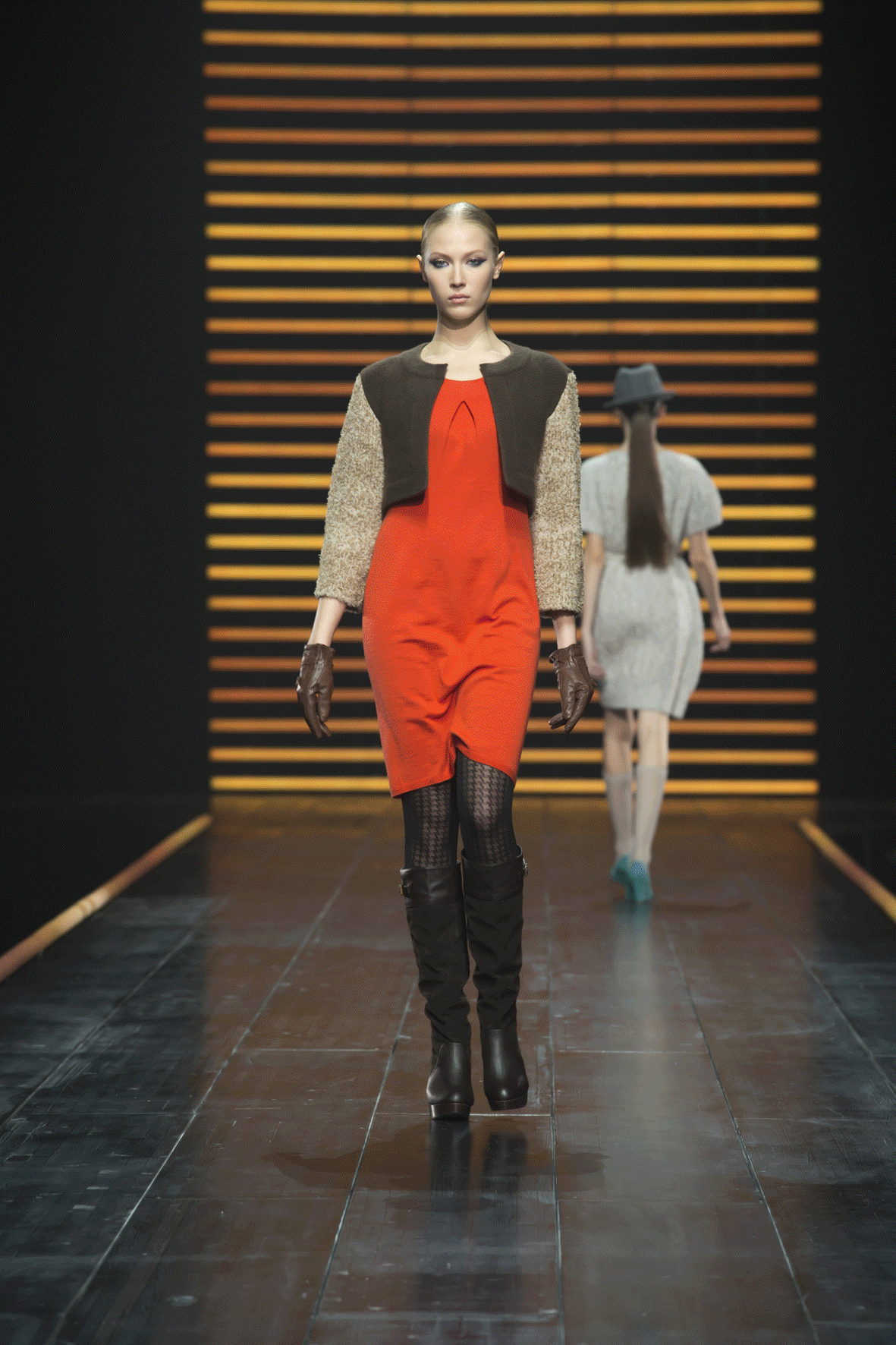 One of the most memorable moments of the whole 50th Anniversary event was watching the great man himself, Dr Masahiro Shima, taking his bow under the lights at the end of the fashion show to a rapturous standing ovation.
Fashion Show Themes: Ever Onward
Noble: Refined Baroque-like patterns and structures in ultrafine gauge
Future: Unique silhouettes in coarse and middle gauges under a military theme
Wardrobe: Wholegarment in high-quality materials for everyday scenes (Relax, Private, Party)
Innovation: Taking full advantage of Shima Seiki technology in the pursuit of possibilities in knitting
Beautiful line: Silhouettes only possible with Wholegarment; knit haute couture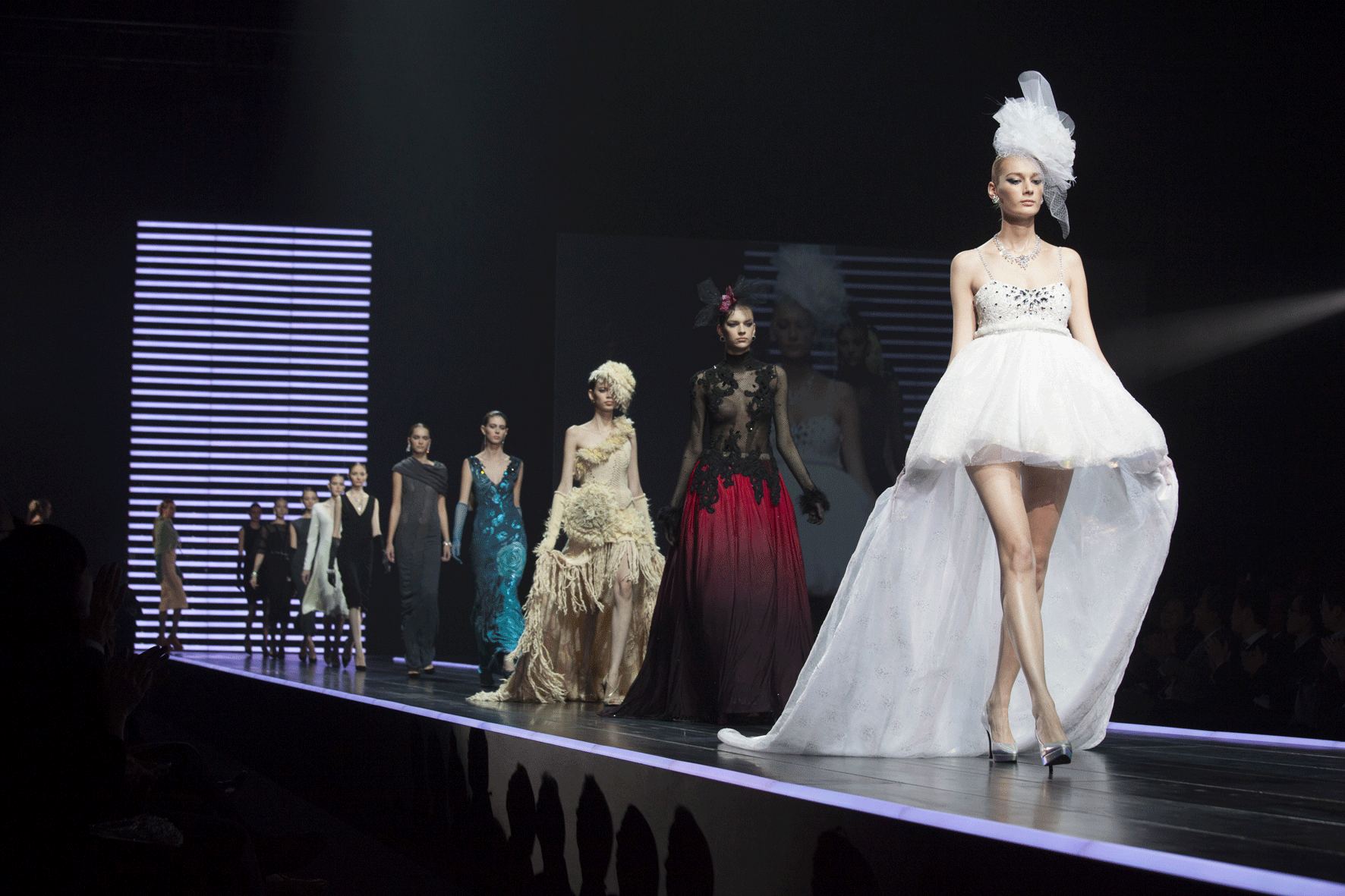 A night to remember
In the early evening guests were treated to top class international cuisine with simultaneous superb entertainment from a range of Japanese entertainers which included performances from MC Moeyan, traditional Japanese Geiko dance Kamogawa Odori, a unique and highly popular Tuna Preparation performance were a highly skilled tuna chef prepared a huge whole tuna fish live in front of the audience, vocal group Le Velvets and tap dance group LiBLAZE.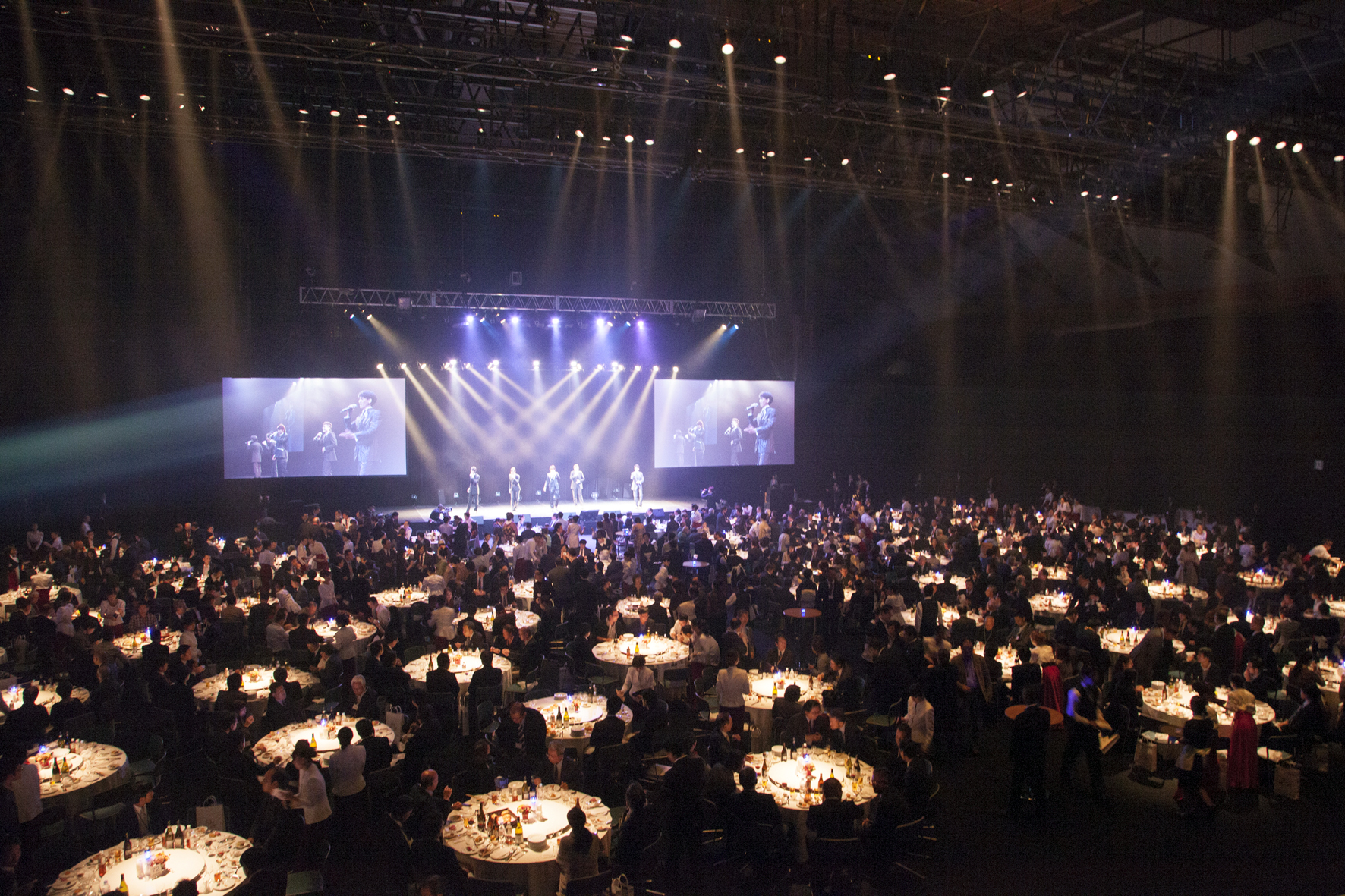 This was not a quiet sit down dinner but a lively mix of speeches, tributes to the Shima Seiki company and its founder, comedy, dancing, music and general high spirits with many guests being photographed together with entertainers, dignitaries, celebrities and of course hosts Dr and Mrs Shima.
Dr Shima addressed guests to another standing ovation thanking them for their continuing support and the delightful Mrs Shima told her audience about how tough life was in the early days of the company before entertaining enchanted guests with a beautiful rendition of a Japanese love song.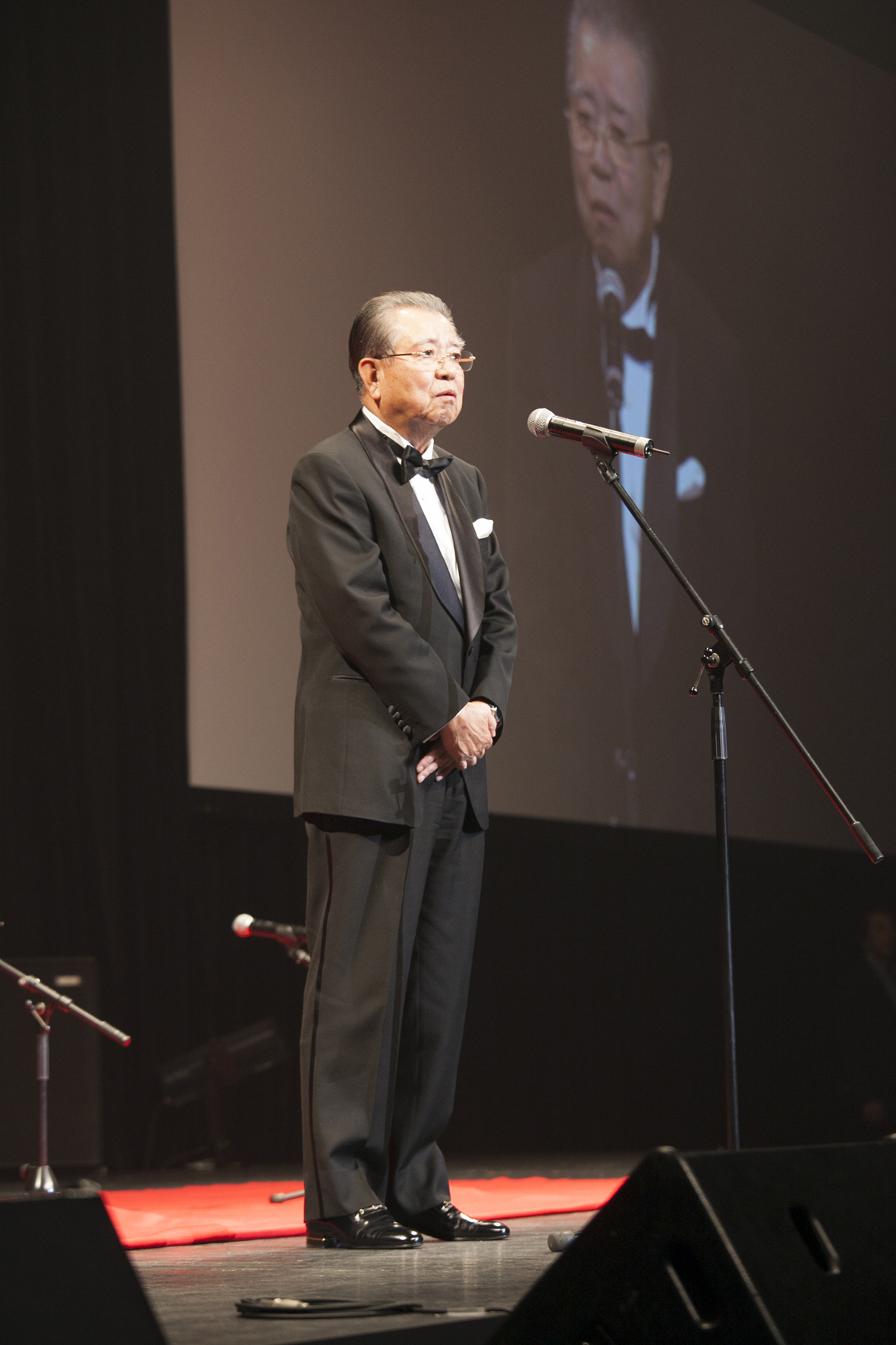 Exhibits at the Big Whale
A number of Shima exhibits were on permanent display during the three days of Shima Seiki 50th Anniversary Celebration and the Machine Zone was of course the most visited. The Machine Zone at the Big Whale housed no fewer than 9 flat knitting machines, 1 printing machine and 1 design system.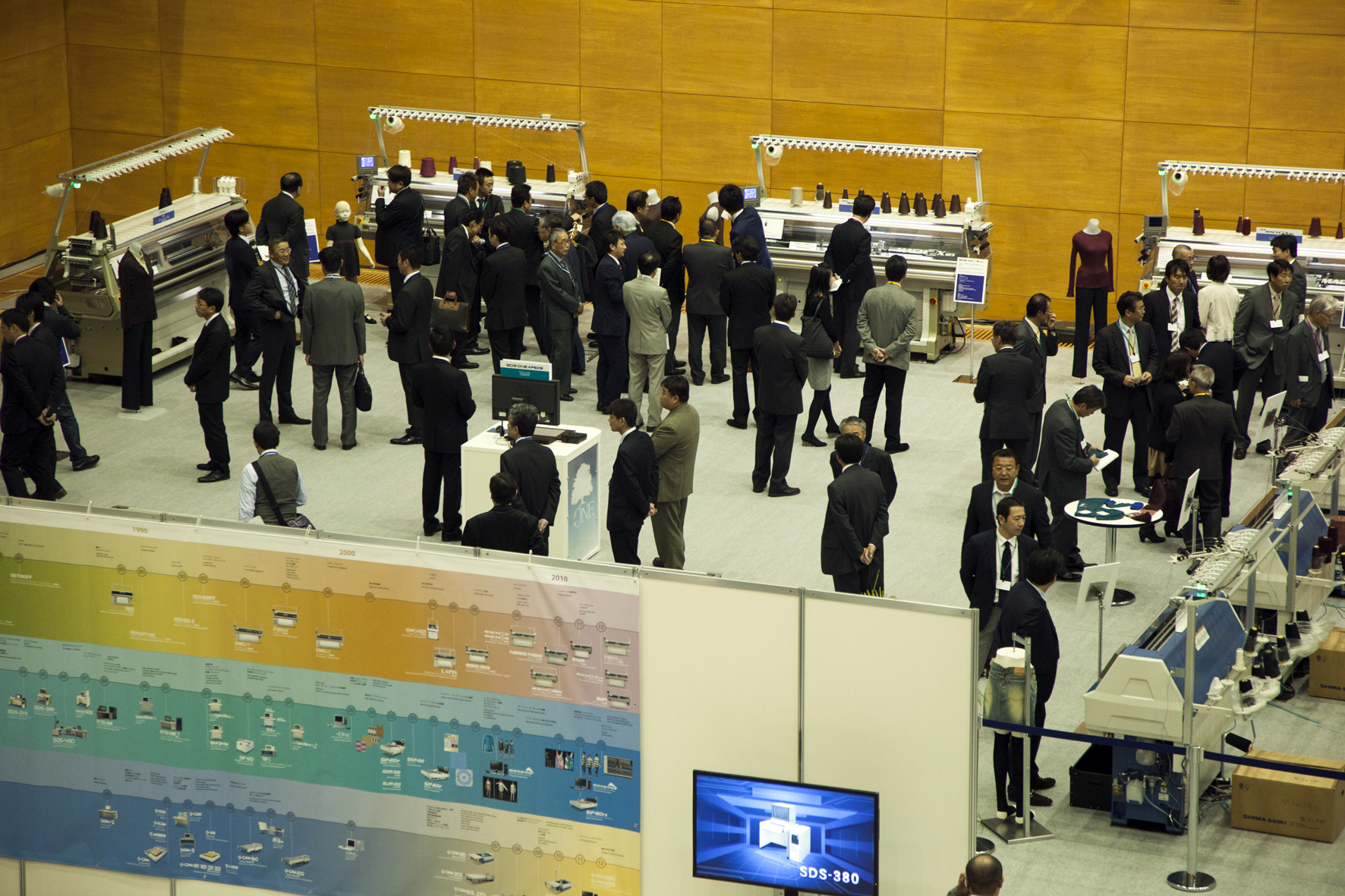 SWG-FIRST154 - S18, S21
Introduced as a prototype at ITMA 2011 and then premiering at ITMA ASIA + CITME 2012, SWG-FIRST154 S21 is the world's first flat knitting machine that can perform shaping (knit and transfer) in 21 gauge.
Also shown at the 50th Anniversary Celebration was the SWG-FIRST124 in S18, introduced for the first time at the Wholegarment private exhibit in March of this year. Both machines feature, in addition to the SlideNeedle, loop pressers and transfer jacks, permitting a wide variety of patterns in a wide range of gauges never before possible.
MACH2X123 - 8L, 15L, 18L
The 4-bed SlideNeedle-equipped MACH2X series line-up is now joined by the compact MACH2X123, introduced at ITMA ASIA + CITME 2012. Complementing the 68-inch MACH2X173 and 60-inch MACH2X153, Shima says the 50-inch (125cm) MACH2X123 gathers high expectations as the most flexible of the trio.
Its compact size is said to allow easier shipping and installation, while it's knitting width is thought to be adequate for everything from small accessories and childrenswear to menswear and ladieswear.
According to Shima, the same machine can knit Wholegarment knitwear as well as integral knits as well. At the 50th Anniversary Celebration MACH2X123 was shown in 8L featuring a large-hook version of the SlideNeedle mounted at 8-gauge pitch, 15L with needles mounted in 15-gauge pitch, and 18L in 18-gauge pitch.
SWG Mini series
Affectionately referred to as 'SWG-Mini', Shima's compact line of Wholegarment machines aims to allow customers to participate in the Wholegarment market with minimal investment. The SWG-Mini line-up includes 4 different knitting widths for a whole range of specialized applications. Machines on display were the SWG021N 10G, SWG041N 15G, SWG 061N 7G and SWG 091N 18G.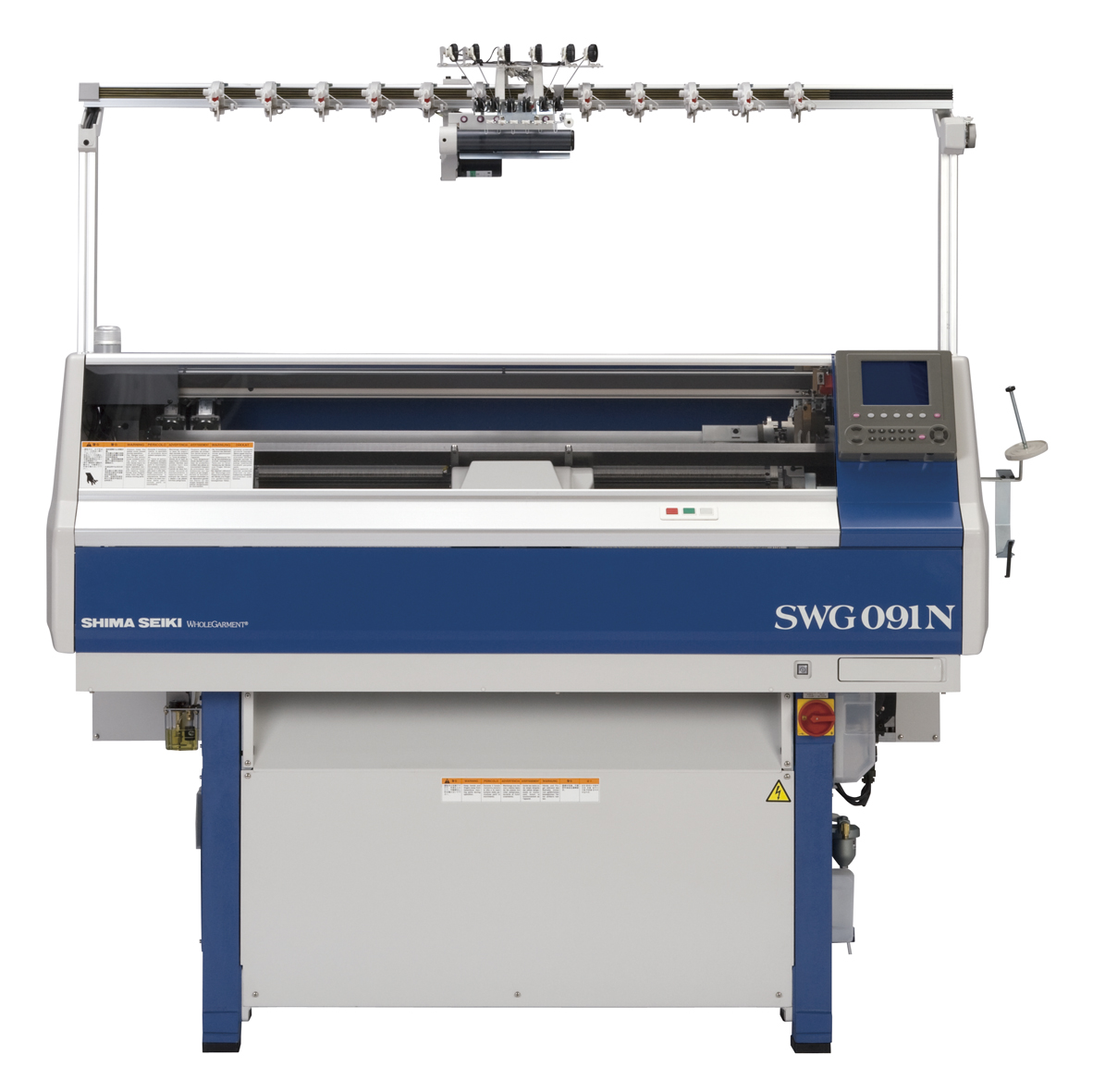 Depending on the model, they are capable of high-quality knitting of Wholegarment gloves, socks, five-toe socks, leg warmers, scarves, mufflers, hats, neckties and other accessory items, as well as garments such as infantwear, kidswear, ladies' legwear and tanktops. All 4 models shown at the 50th Anniversary Celebration in different gauges made different products.
SIP-160F2S
SIP-160F2S is the compact model in the SIP-160F2 printer line-up, introduced for the first time at ITMA ASIA + CITME 2012. At half the size of the larger SIP-160F2L, its possible range of installation is increased dramatically. With the same printing speed and features as its larger counterpart, SIP-160F2S is said to enjoy an even greater cost-performance ratio. At the Big Whale the SIP-160F2S was printing using reactive dyes, with a special dye package that consists of blue, orange and red inks replacing light cyan, light magenta and light yellow for greater tonal range and higher saturation.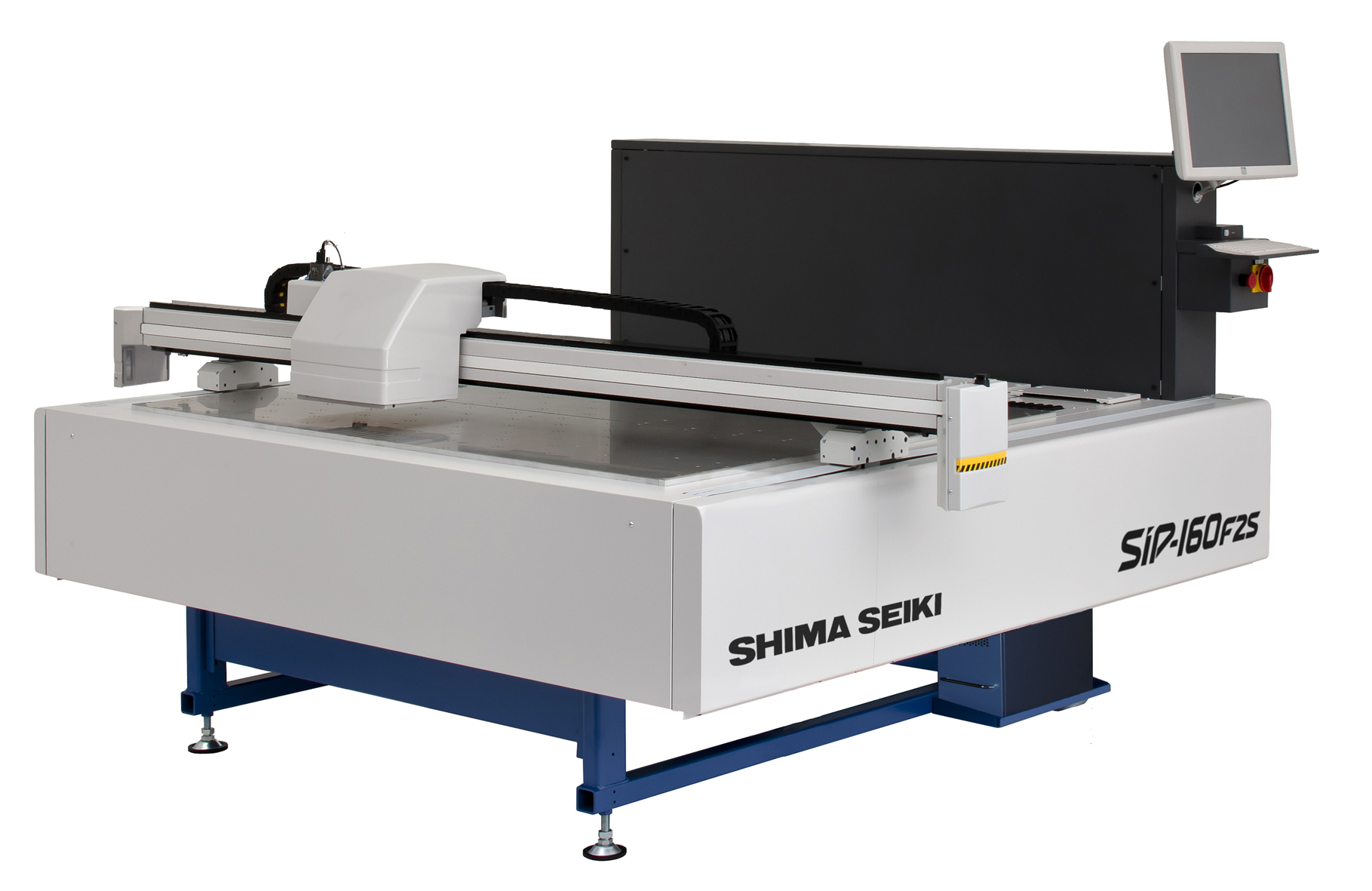 Demonstration Zone
Demonstrations on SDS-ONE APEX3 3D design system were performed in the Demo Zone and other nearby highlights included a large 7-meter long timeline, displayed along the wall of the Meeting Zone, reviewing Shima Seiki's history through patents and other technological achievements in knitting machines, design systems, printing machines and CAD/CAM systems.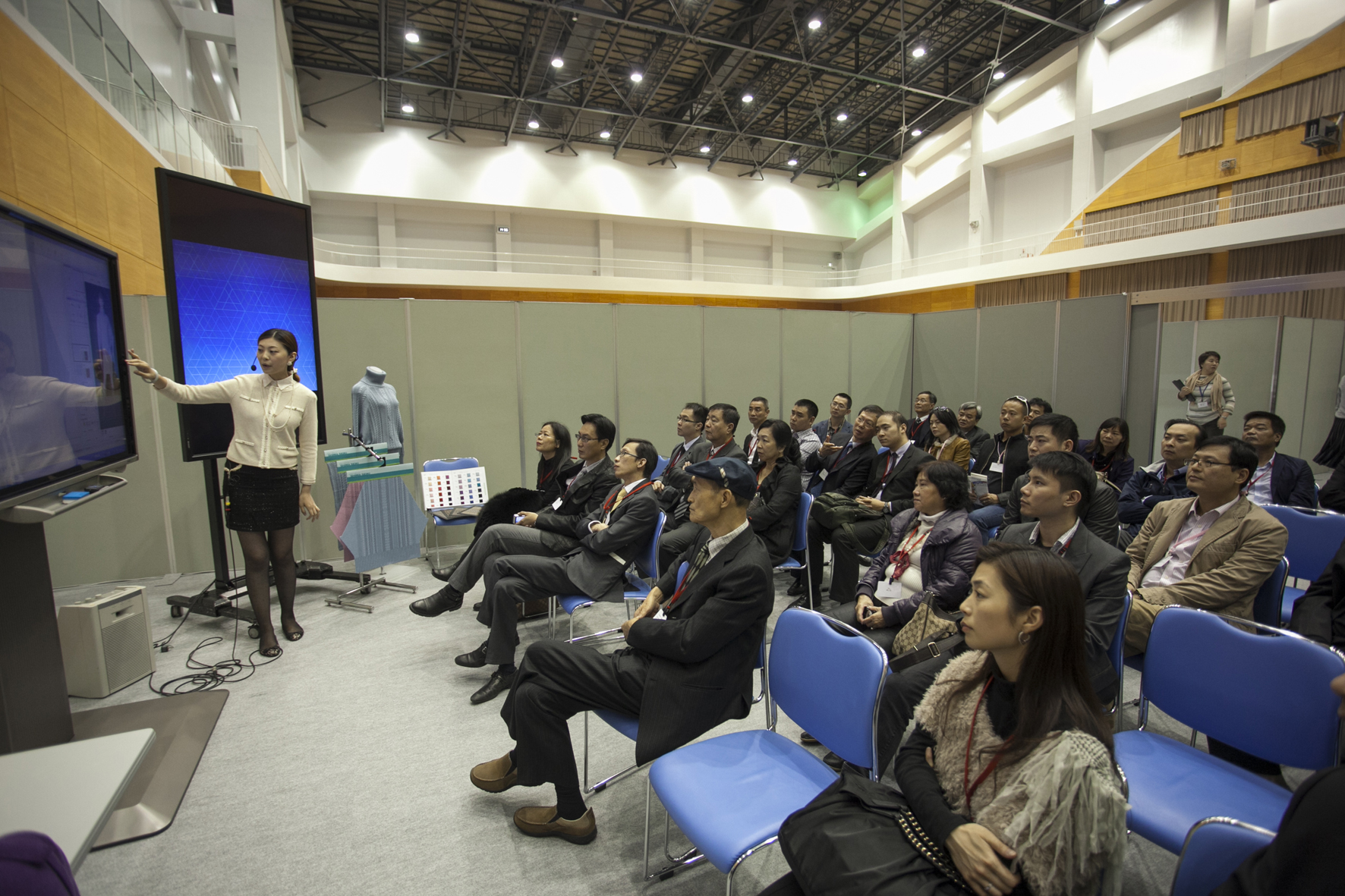 According to Shima, one of the problems in product planning is sampling and it is usually difficult to settle on a design and give accurate specifications to a technician. Therefore, the company says, sampling is repeated many times spending time and cost. SDSONE APEX3 is not only equipped with abundant tools dedicated for design work, but is also capable of drastically reducing sampling by creating virtual samples.
Moreover, Shima says, communication between designer and engineer will become very smooth. SDS-ONE APEX3 offers solutions to create more attractive products while shortening the lead-time of sampling.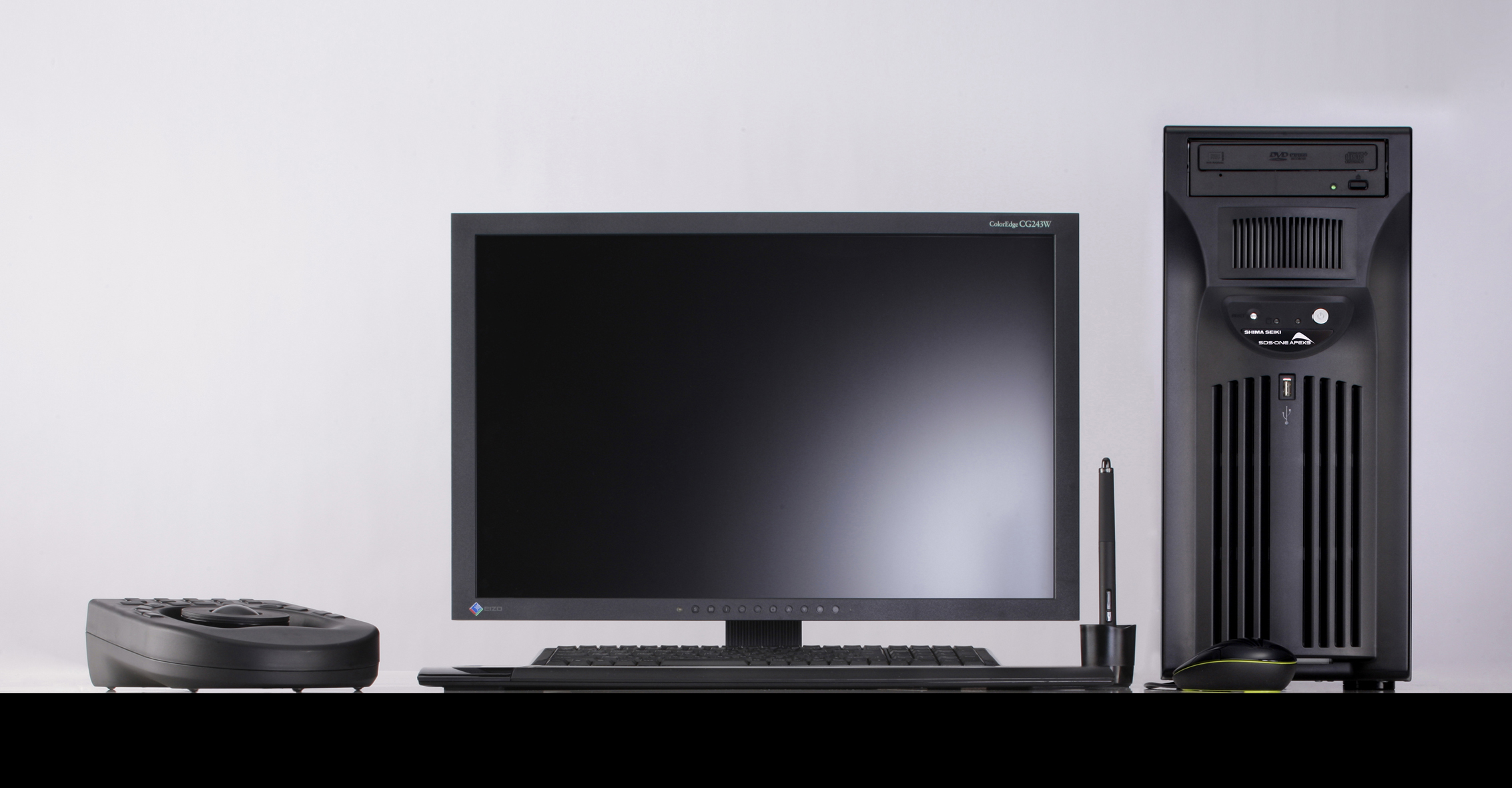 The three day Shima Seiki 50th Anniversary Celebration was a truly memorable event and one that will always be held fondly in the memories of Shim'a 1500 guests. The standard of hospitalty was second to none - from the formal regitration process and greeting of guests at the Big Whale arena to the outstanding Fashion Show and evening entertainment and warm welcome offered at the company's impressive manufacturing facility.
Our congratulations go to Shima Seiki on reaching its 50th anniversary and for hosting a truly wonderful celebration.