1st October 2018, Wakayama
Shima to hold private show in Romania
Shima Seiki Italia, Italian subsidiary of leading Japanese computerised knitting machine manufacturer Shima Seiki, in conjunction with its Romanian sales agent Knit-Tex Rom, will hold a private exhibition in Iasi, Romania this month. On display will be a line-up of Shima Seiki's computerised flat knitting machines, ranging from conventional shaping machines to the latest Wholegarment knitting machines.
The flagship MACH2XS machine features Shima Seiki's original SlideNeedle on four needle beds and spring-loaded moveable sinkers for knitting a wide variety of high-quality fine gauge Wholegarment knitwear in all needles. MACH2S is a versatile V-bed machine that supports production ranging from conventional shaped knitting in all needles to Wholegarment knitting using every other needle.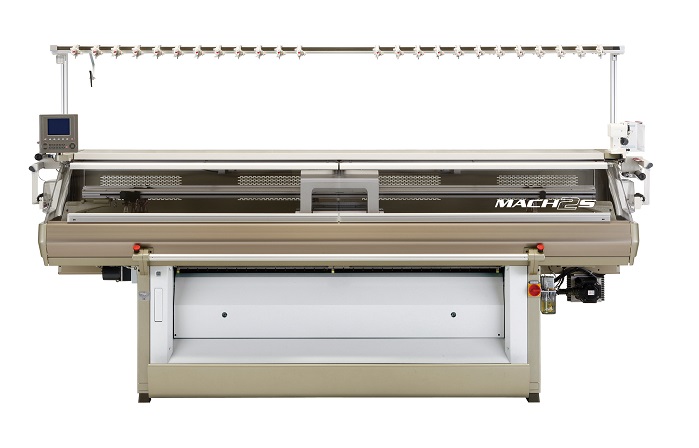 SRY183LP features loop pressers capable of producing hybrid inlay fabrics with both knit and weave characteristics and is also suited to the production of technical textiles. SIR machines represent the new reference standard in computerised flatbed shaped knitting technology ranging from coarse to ultrafine gauges. The SSR series features Shima Seiki benchmark technology in a compact, economical package.
The latest version of Shima Seiki's 3D design system SDS-ONE APEX3 will also be demonstrated at the show. At the core of the company's Total Fashion System concept, APEX3 provides support throughout the production supply chain, integrating production into one smooth and efficient workflow from yarn development, product planning and design to production and even sales promotion.
"Especially effective is the way APEX3 improves on the design evaluation process with its ultra-realistic simulation capability, whereby virtual samples minimize the need for actual sample-making," the company explains. "This realises significant savings in time, cost and material, contributing to smart, speedy and sustainable manufacturing."
Exhibit details
Date: 10-12 October 2018
Hours: 10:00AM ~ 5:00PM
Location: Hotel International Iasi
Str Palat 5A, 700032 Iasi, Romania
Exhibited technology:
MACH2XS153 15L Wholegarment knitting machine
MACH2S 16G Wholegarment knitting machine
SRY183LP-SV 14G computerised flat knitting machine
SIR122-SV 05G computerised flat knitting machine
SIR123-SV 14G computerised flat knitting machine
SSR112-SV 12G computerised flat knitting machine
SDS-ONE APEX3 3D design system
For more information please contact:
Knit-Tex Rom
Tel +40-2-33-217801
Fax+40-2-33-220491
E-mail: [email protected]
Shima Seiki Italia
Tel: +39 02 216621
E-mail: [email protected]
This article is also appears in...