18th May 2018, Reutlingen
Stoll's CMS 202 HP B on display in London
Leading flat knitting machine manufacturer Stoll will exhibit its latest developments at the upcoming Make it British Live! trade show that will be held from 23-24 May at the Truman Brewery London. The UK Fashion and Textile Association (UKFT) will be teaming up with Make it British to curate a manufacturing skills exhibition, which hosts around 200 exhibitors.
The company will be presenting its CMS 202 HP B machine. The two system CMS 202 HP B is similar in technical capability to Stoll's entry level CMS 502 HP+ machine, which has a 45"/114cm needlebed. The CMS 202 HP B is fitted with 8 feeders with clamping and cutting on the right-hand side of the needlebed. The machine also comes with Stoll's new belt takedown system and its EBO touch screen interface.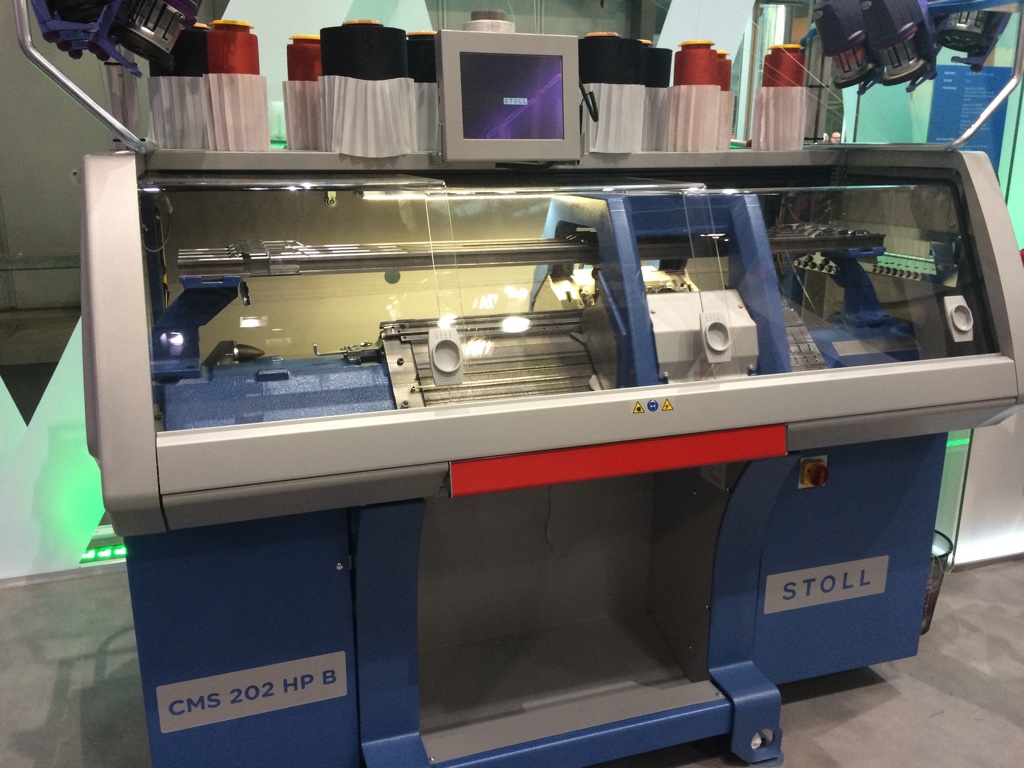 Last month, the company also launched a new addition to its ADF family of machines. The German machine builder has expanded its range of machines for coarse knit production and now offers the ADF 530-24 in addition to the ADF 530-16 for this sector. With 24 independent yarn carriers and three systems in gauges E2,5.2, E5 and E7, the new model is designed to enable sophisticated colour and pattern designs, allowing more room for creativity and the chance to react quickly to trends.
In addition to new applications, Stoll promises significantly more productivity with the ADF 530-24. "Furthermore, the entire knitting process is optimised by shorter sequences and set-up times and by direct yarn feed which makes knitting with low thread tensions possible. By reducing the system distance to 5.2 inches also the knitting time is reduced at the same time. The standard equipment also includes the EKC operating system, which can be operated intuitively and without much training," the company explains.
Stoll also exhibited its latest developments at its own booth, as well as at a joint booth with Mayer Mümessillik and Mayer & Cie. at the 34th International Textile Machinery exhibition ITM in Istanbul, Turkey, last month, receiving positive feedback from visitors. One of the highlights was the company's CMS 502 HP+, which was knitting a traditional kelim-design. "The famous subject of knitting shoe uppers is now becoming a more and more important field of application in Turkey. We had several shoe uppers on display which found great interest for our customers. We hope that Turkey will get its well-deserved share in this market soon," the company explains.
H. Stoll AG & Co. KG, with headquarters in Reutlingen, Germany, is a leading manufacturer of flat knitting machines. The long‐established company was founded in 1873 and has 1,000 employees around the world. Its brand portfolio includes flat knitting machines and pattern software that are used to produce fashion and technical textiles. Stoll exports its products to more than 50 countries worldwide.
This article is also appears in...