Opinion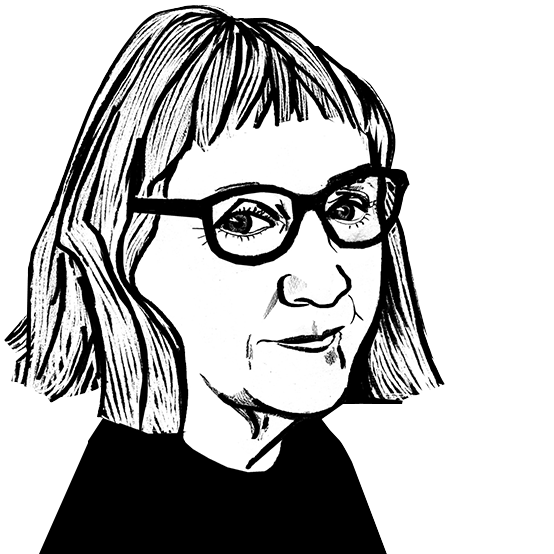 Focus on responsible production at Première Vision Paris
Janet Prescott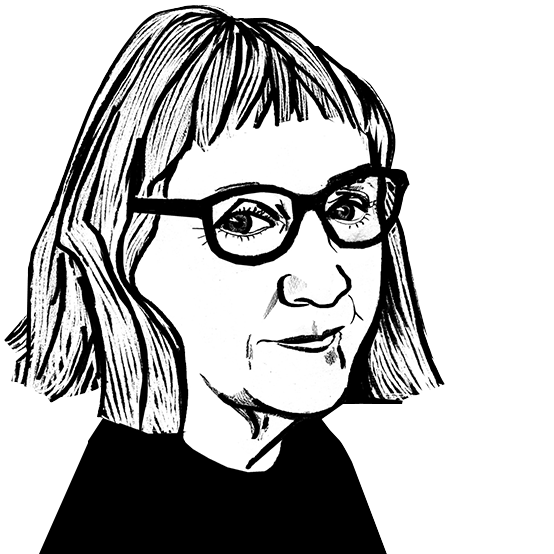 The halls in Première Vision Paris for Spring/Summer 2020 were light and airy.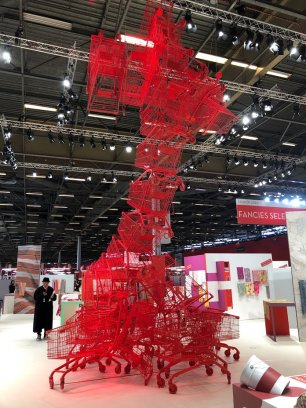 8th March 2019
Janet Prescott
| Paris
Recycling art at Première Vision Paris. © Janet Prescott
The halls in Première Vision Paris for Spring/Summer 2020 were light and airy. The staging chimed well with colourful fabrics shown for Spring/Summer 2020. One of the main trends in the sportswear section were the bright pink, orange, blue and red fabrics with specific technical features which dominated the largest Hall.
The themes were clear, based round concepts of responsible production and a greater emphasis on craft, quality and science. The aim is to create useful fabrics and to exploit ways of harnessing the power of design and technical advances to suit modern urban life. This season's symbol was a scarecrow of black plastic silage bags striding across grassy farmland It was a clever metaphor for many live issues that now centre on waste and wastefulness.
Fibres and fabrics were mixed and combined in the techno garments in Hall 6 where the Wearable Lab and Sport areas were located. They were knitted and woven, the dynamic sense of moving forward aided by music, colour and movement, skateboarders performed extreme moves on the curved surfaces at the end of the Hall, successfully drawing people to the hub of technology and invention. Here performance fabrics were on show destined for sport, leisure and importantly, urban wear.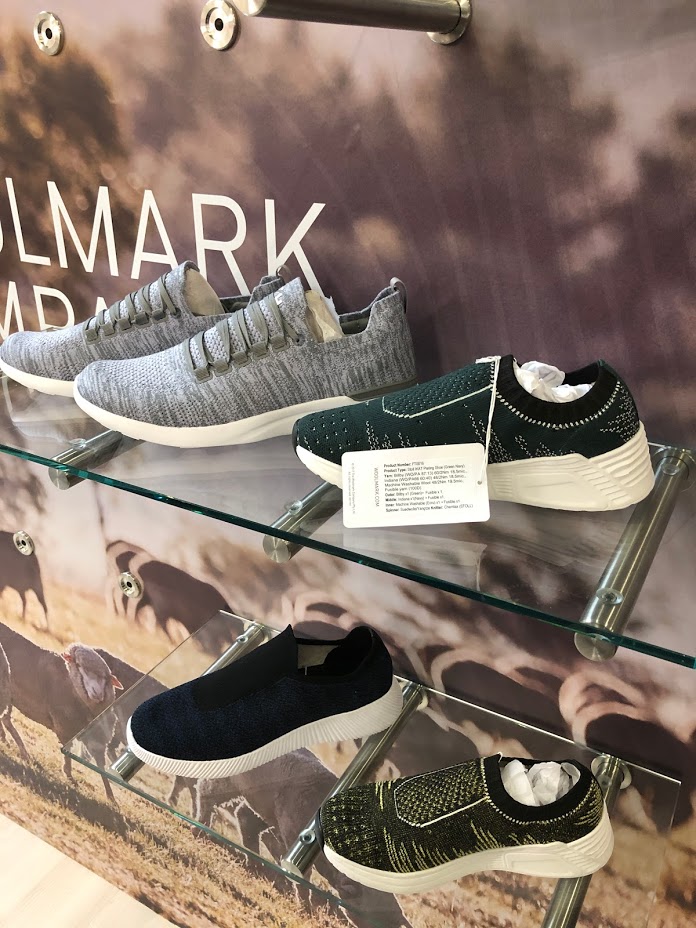 Knit Merino footwear on the Woolmark stand. © Janet Prescott
Knitted, bonded and appliquéd fabrics contained complementary yarns of many types, in the complex garments on show. The feeling of something new was present as the work of designers and technology developers was revealed to investigate and refine what they could do to change or disrupt existing protocols Knitting with oyster shells and fish scales, shoes made of knitted heated wool, raised the stakes on sustainable yarns with specific benefits.
The Sport section majored on developments for cycling and sailing, most of them resulting in very lightweight, malleable fabrics, using synthetics and natural fibres in tandem, reacting to control temperatures reaching new areas of use for example designs incorporating membranes on the outside of garments.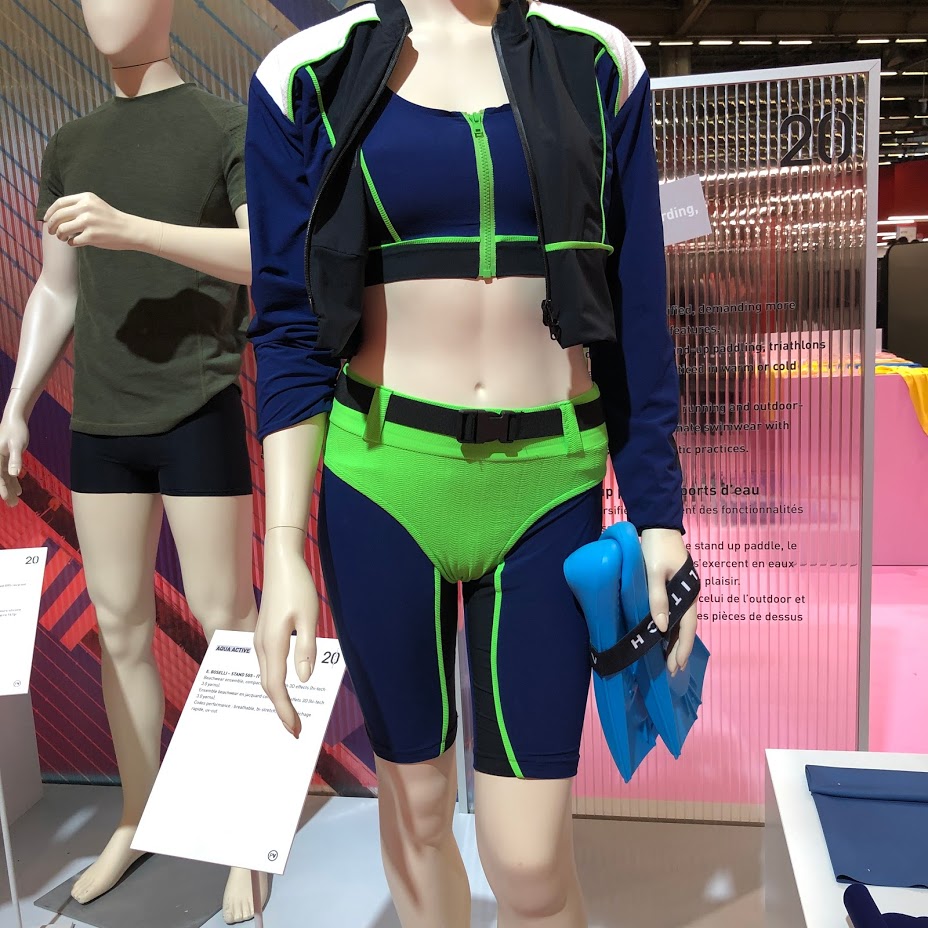 E. Boselli bi-stretch beachwear in 3D yarns, with technical features including breathability. © Janet Prescott
In the Wearable Lab innovations were grouped together. Graphene fabrics are made from a single layer of graphite, bonded carbon atoms arranged in a hexagonal pattern. They conduct heat easily, yet its qualities have yet to be fully exploited for textiles. Potential applications include incorporating lightweight, thin and flexible electric/photonics (the transmission of photons e.g. in fibre optics), say Kyorene, the graphene oxide fibre. The yarns are bacteriostatic, deodorant and UV protective, anti-dust mite, and withstand several wash cycles. Merino wool T-shirts developed by Kyorene and The Woolmark Company was displayed showing the market it is reaching now. Kyorene was developed by the large international private company, the QS, known for protective equipment and renewable solar cells. Graphene is the strongest material found and has more potential to develop further.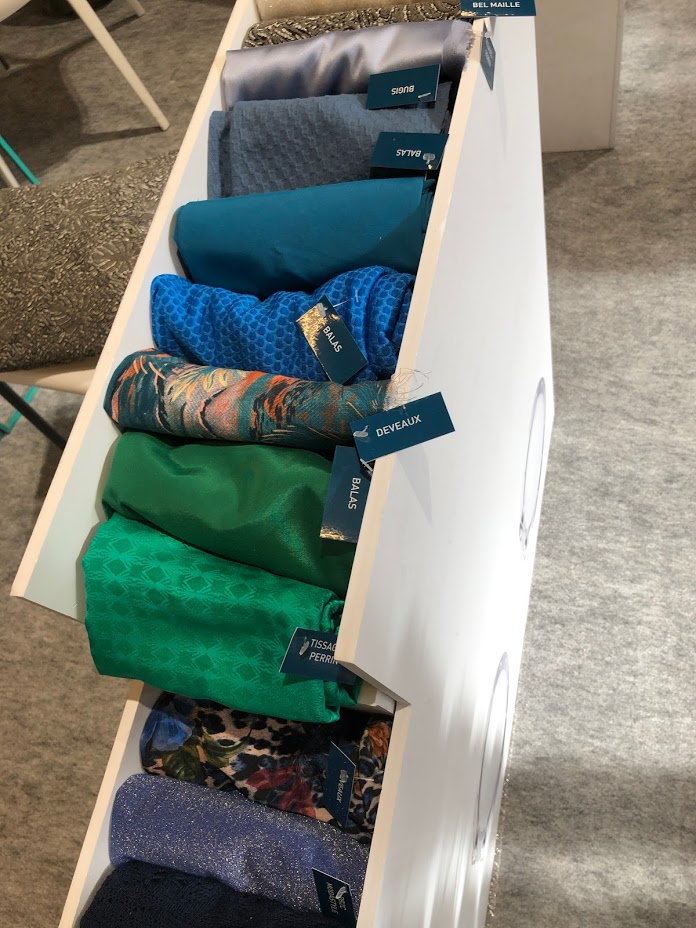 Colours for denim, France Tissu Maille. © Janet Prescott
Other exhibits in this area also made waves here. The female mannequin fashioned by Euveka was designed to fit the differences, or evolution, of the human body, taking into account age and morphology. It is driven by software and designed to evolve in height and width according to information about the scale of garments, knitted and woven. Sensors and lighting visualise production defects or errors, notified by the software. The software edits data sheets so changes can be followed. It is seen as having medical potential.
Added value fabrics included one by Barla Textile, which has produced a T-shirt knitted with anti-insect technology, seamless and with 3D effects, like many of the ideas, with multiple attributes.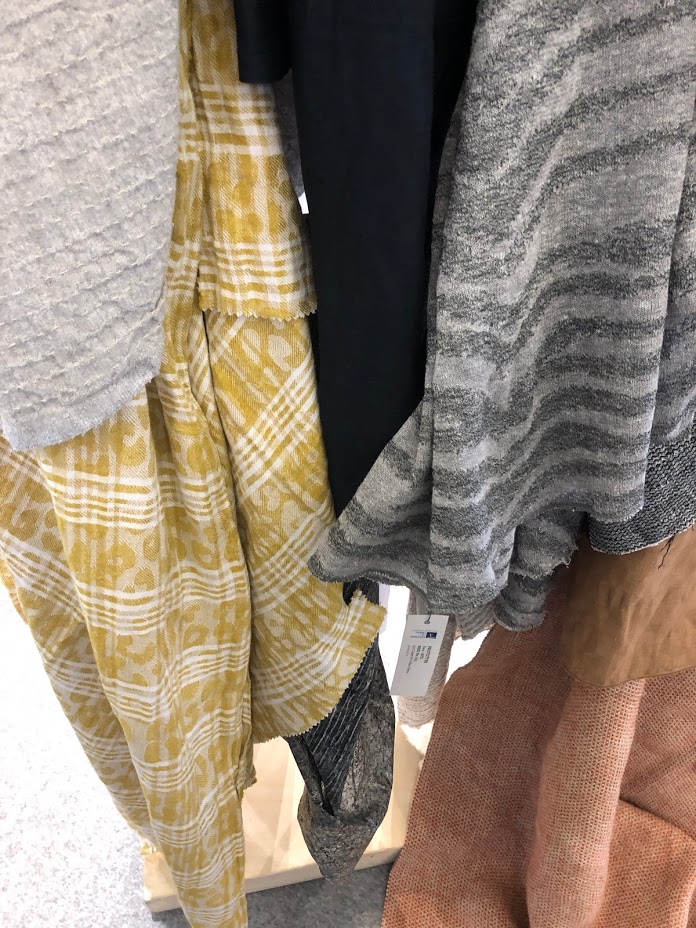 Linen and cotton fabric, made with Iafil yarn, on CELC linen stand. © Janet Prescott
Some urban sports are popular enough to have been admitted to the Olympics in Japan 2020, Fabrics destined for basketball, skateboarding and even yoga (the latter not in the Olympics) were identified as the key to engage a new knowledgeable set of younger customers looking for casual, easy care garments which have to work and play. Colours used in the active and sport area were remarkably bright and unisex; peach, pink, neon green, red. A towering construction of supermarket trollies in bright red became an impressive monument to recycling as art, the spaces between the metal acting like a filigree pattern.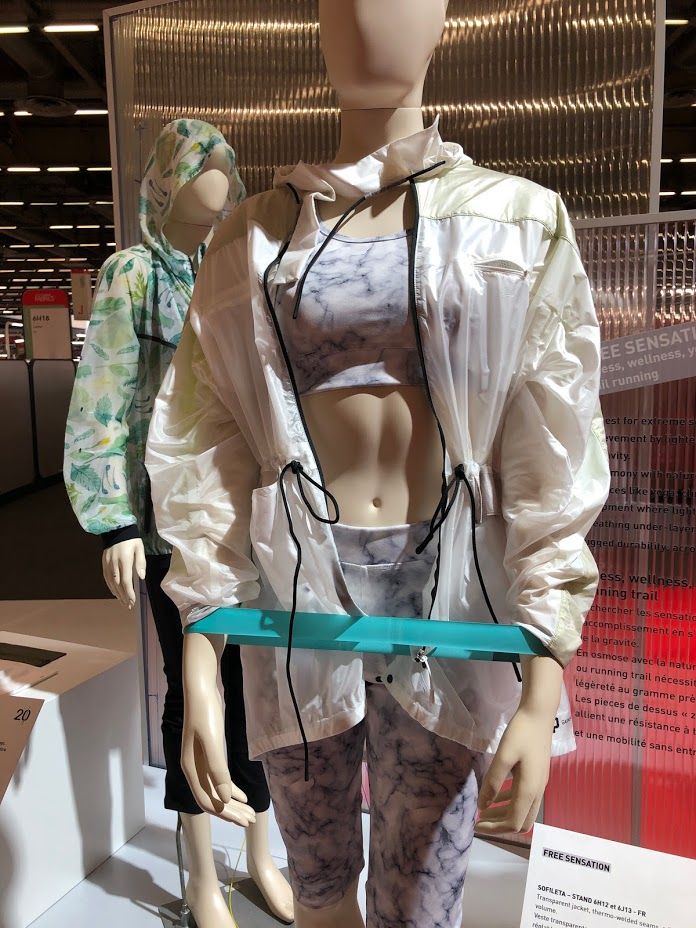 Sofileta thermo welded sportswear. © Janet Prescott
Knitted shoes have developed fast, the uppers, inside structures and whole look in ultra-cool greys in different fabrics like wool and cotton, where major brands are showing interest. Heat is used to form the wool or whatever fabric has been used, to form a permanent shape. Some are designed to be worn without socks, playing about with colour and stitch, transforming the design of sports shoes, which are now extremely lightweight.
Certification of sustainability is becoming vital. For example, Roica has an Eco Smart label with various labels – Oeko-Tex and ISO; Eco Smart family, certified with Global Recycled Standard or GRS, with more than 50% consumer recycled fabric now striving to eliminate chemical pollution. Bemberg is working with Euromaglia, Jackytex, Sidonios Knitwear and Tintex fabrics, reporting that buyers are showing increased interest in the recycled cotton lint Cupro that is Bemberg, now fully certified.
Sensitive Fabrics membranes by Eurojersey. © Eurojersey
Eurojersey's development of cutting-edge technology continues. Putting the latest technology to work for the dynamic and frenetic pace of life and the stresses of urban living. Citywear has gained performance from innovations including knitted membrane photographically printed to imitate a woven country check, which is extremely lightweight but cool.
Sports design calls for structure and pattern in fabrics, many of which are knitted, but they are no longer merely utilitarian, the fashion element is strong. Nautical fabrics featured windproof, bi-stretch knits with eco-friendly finishes and fashion colours. Schoeller are pioneers in eco-friendly and technical fabric. Cold Black fabric was on display, teamed up with ultra-thin warp knit for ski, the garments made by Eschler.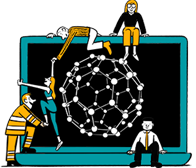 Business intelligence for the fibre, textiles and apparel industries: technologies, innovations, markets, investments, trade policy, sourcing, strategy...
Find out more