21st June 2016, New York City, NY
For The Love of Wool
I'm purposely writing about wool during Summer in New York because I want those who are unfamiliar with this miracle fibre to snuggle up with the idea that wool isn't only meant to be worn in the cold. Wool can be your breathable summer tank top.
It can also be worn multiple times before having to wash it. "I went six days before washing this shirt!" is a victorious statement for avid wool fans. Not gross, trust me, keep reading. In the Outdoor and Performance markets, wool is the go-to fibre for all of its natural performance properties.
Awesome Properties of Wool:
Biodegradable
Renewable
Temperature Regulating
Breathable
Moisture wicking
Anti-microbial
Odour Absorbent
Washable
Elastic
Durable
Wrinkle Resistant
Colour Fast
Water Repellent
Fire Retardant
UV Protectant
Insulating
Nature takes pretty good care of itself, doesn't it? Wool has been used as clothing since primitive times. We've crossbred sheep and refined the process over thousands of years for it to be as soft and lightweight as it can be today. The process is ongoing as companies and mills strive to develop the finest, softest, lightest weight wool possible.
While Australia has notably been the largest producer of wool in the world, did you know that we've got 100% American wool fibre in our own backyard? For some heavy hitting active brands, wool is literally in their own backyard in Oregon. About a two hour drive Southeast of Portland, exists a hidden gem called Imperial Stock Ranch in Maupin (pronounced "MAHpin").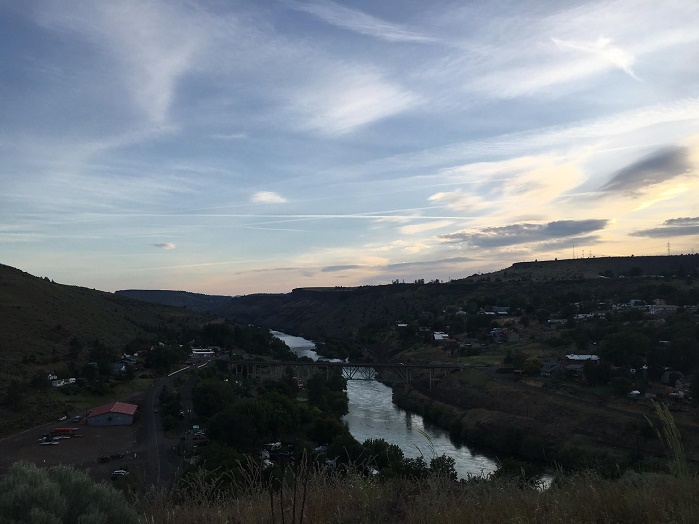 Owned by my friend, Jeanne Carver, and her husband Dan, the Imperial Stock Ranch headquarters is a National Historic District all by itself. Beyond being owners, Jeanne and Dan are agriculturalists. They've owned the ranch for almost 30 of the 146 years that it has been in operation. Everyone and everything on the land serves a vital purpose. A perfect cycle. Theirs is a story of true sustainability. Jeanne is passionate about what she does and she's worked hard to build a supply chain that offers 100% traceable, American wool fibre. Simply put, Jeanne is a rockstar and she and her team on the ranch contribute to making the world a better place.
Jeanne describes Imperial Stock Ranch as, "A return to what was. Untouched landscape, historic structures, timelessness, grazing animals, and healthy land." I'd been meeting with Jeanne and talking with her about the ranch for over a year and counted down to the day when I could see this magic for myself. In person, it's absolutely revitalizing.
My drive out to Imperial was a spectacular experience, through vast green crop fields and clear blue skies, rolling hills, and barely another car on the road. This city girl was in heaven. When I met up with Jeanne at the entrance of the ranch, I was immediately given the lay of the land and a lesson in agriculture.
Processing wool involves shepherding the land and animals, harvesting, washing, cleaning, carding, spinning, dying, and then knitting or weaving the wool into fabrics or products. I got a history lesson on the ranch, learned about the lineage of owners, and how various equipment worked. Historical equipment is still being used today and is even studied by universities!
There's a deep respect for the animals here. They roam the land and are happy. While most of the sheep were off grazing freely, I got to play with the lambs who frolicked behind Jeanne wherever she went like she was their mother.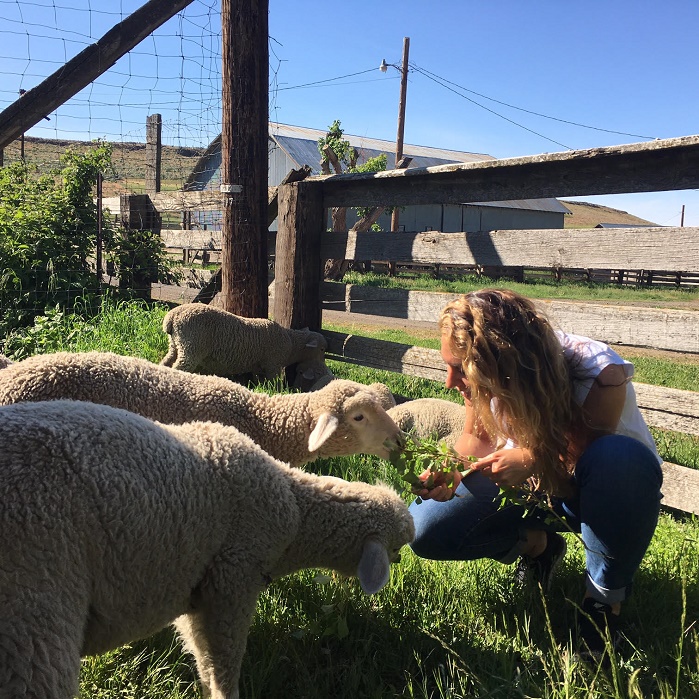 For a long time, Imperial Stock Ranch had not been on the garment industry's radar for wool fibre. After thirteen decades of wool production, in 1999, regional wool processing shut down, and most wool manufacturing was already overseas. Imperial Stock Ranch survived in wool production by developing and selling wool products into direct markets. Long before anyone was taking this direct to consumer approach in fibre, the Carvers were doing what has only recently begun to catch on significantly in the textile sector. The challenge has been connecting brands to ranchers. How do they find one another? Partially through deep digging on behalf of brands looking into domestic yarn suppliers, and partially through Jeanne's passion and thorough marketing, they have managed to meet somewhere in the middle. In 2009, Imperial was inserted into the craft market, and in 2014, Ralph Lauren used Imperial's wool yarns to make 100% USA made sweaters for Team USA's opening ceremony uniforms for the Olympics.
Using natural and biodegradable fibres, like wool, is ideal if we want to lessen the negative impacts of production on the planet, especially if we continue to design products with short lifespans that end up in landfills. Looking forward towards innovation is exciting, but it isn't the only answer. Wool is the original gangster of natural fibres: it's a classic, it's our history, and it's very much a part of our future. It's a tried and true fibre that's withstood the test of time. Wool represents a natural technology in all of the ways it weathers the elements. By supporting this agricultural cycle and keeping it healthy, it keeps us healthy. It's a perfect system. We can connect to the fibres that we wear and to where they come from. Seeing this in person at Imperial Stock Ranch, helped me to fully understand the importance of this connection.
This article is also appears in...