18th November 2019, Cologne
Ford's 3d-knitted car seat covers target infinite personalisation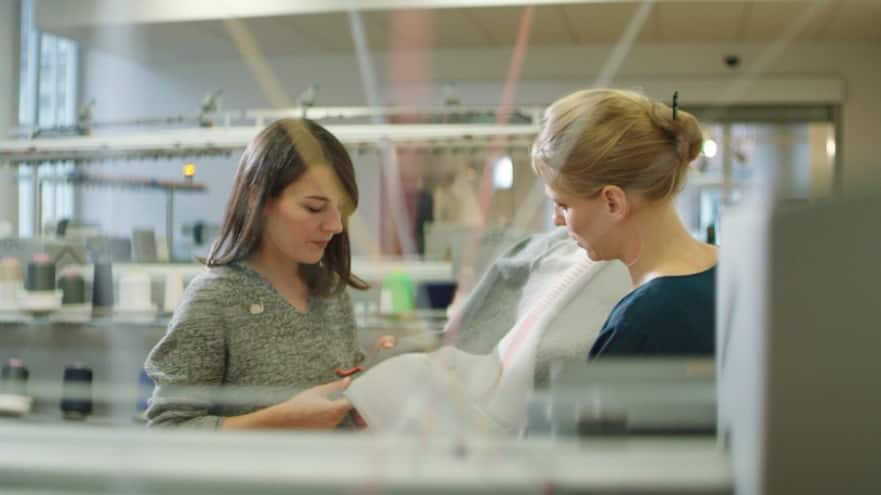 Ford's 3D knitting machines create covers without any stitching and can use different yarns, such as polyester, wool, silk, carbon fibre, and even recycled materials. © Ford Motor Company.
Automotive giant Ford Motor Company reports that its European subsidiary Ford of Europe is introducing 'cutting-edge technology' to produce seamless seat covers using '3D knitting' or flat knitting technology.
"Employing production techniques found in the manufacture of running shoes, clothing and furniture, Ford is exploring the opportunity for customers to design their own seat covers, add bespoke touches such as pockets and padding, and use more breathable materials for summer," the company said in a press statement.
Whereas, the use of flat knitting machinery to make 3D knitted seat covers is not new in the automotive sector, it is encouraging from a sustainability and waste reduction point of view, and could be the next 'killer application' for the flat knitting machine builders following on from the success of flat knitting technology in shoe uppers.
Research into the use of flat knitting for car seat covers goes back decades when Courtaulds developed the technology in the UK. The technology was licensed to partners who set up manufacturing units in both the UK and USA, to supply general motors with jacquard 3D knitted car seat covers for commercial vehicles. Knitting Industry belives that there are at least a couple of companies still engaged in such manufacturing in the USA.
Ford says that the technology also enables the use of textiles with potential for built-in connectivity, able to integrate heating; controls for the doors and windows; wireless smartphone charging; and sensors to monitor the driver's health. Again this all ties in with research that has been carried out by numerous companies and universities in recent years, and it is good to see these technologies coming close to commercialisation.
"We love to personalise our possessions and as part of our Human-Centric Design process we are exploring how to achieve this through seat covers that could also offer intuitive functionality," said Anais Castinel, interior designer, Ford of Europe. "3D knitting offers intriguing possibilities that push the boundaries of design and make journeys more comfortable and convenient for the driver and passengers."
"As well as offering greater design flexibility, 3D knitting reduces production steps and creates less waste by removing the requirement to cut and sew together various fabrics and pieces. The 3D knitting machines create covers without any stitching and can use different yarns, such as polyester, wool, silk, carbon fibre, and even recycled materials," Ford said.
"Customers could have the option of different covers on the front and rear seats, a set featuring designs for children or rear-seat covers made especially for pets. Further personalisation might include individual colour combinations and graphics, plus seasonal and region-specific designs."
"The technology results in higher precision and quality than a traditional cover, enabling 3D knitted covers to be engineered for the best fit to the seat shape and reducing imperfections such as wrinkles."
"Any part of the interior made from material has the potential to be 3D-knitted. The dashboard and doors could feature designs that appear different depending on the angle from which they are seen. Logos and graphics might be added to the upholstery using this effect."
Ford says it is leading the way in developing seat covers for the comfort and convenience of its customers. "The new Ford Puma features the company's first ever removable seat covers, with an elegant integrated zipper system. The covers offer a high degree of personalisation, enabling customers to integrate their own images, names or logos. Being washable, as well as removable, they also make it easier to clean up after juice spills or pets, helping keep the interior feeling fresh," the company concluded.
Ford Motor Company is a global company based in Dearborn, Michigan. The company designs, manufactures, markets and services a full line of Ford cars, trucks, SUVs, electrified vehicles and Lincoln luxury vehicles, provides financial services through Ford Motor Credit Company and is pursuing leadership positions in electrification, autonomous vehicles and mobility solutions. Ford employs approximately 191,000 people worldwide.
Ford of Europe is responsible for producing, selling and servicing Ford brand vehicles in 50 individual markets and employs approximately 47,000 employees at its wholly owned facilities and consolidated joint ventures and approximately 62,000 people when unconsolidated businesses are included. In addition to Ford Motor Credit Company, Ford Europe operations include Ford Customer Service Division and 19 manufacturing facilities (12 wholly owned facilities and seven unconsolidated joint venture facilities). The first Ford cars were shipped to Europe in 1903 – the same year Ford Motor Company was founded. European production started in 1911.
This article is also appears in...