18th November 2011, Hong Kong
Fountain Set subsidiary gets WWF low carbon award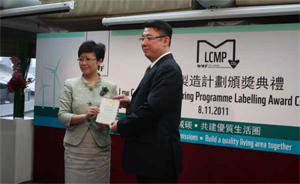 Fountain Set (Holdings) Limited, a global leader in the manufacture of circular knitted fabrics has announced that its subsidiary Dongguan Shatin Lake Side Textiles Printing & Dyeing Co., Ltd. (Lake Side) has been awarded a Gold Label in the WWF Low Carbon Manufacturing Programme (LCMP) from WWF Hong Kong, a branch of WWF, the leading global conservation organisation.
The WWF Low Carbon Manufacturing Programme (LCMP) aims at reducing carbon emissions generated by manufacturing facilities in China's Pearl River Delta (PRD) and developing environmental social governance for those manufacturers. By providing manufacturers with a carbon accounting and labelling system, LCMP helps to measure their effectiveness in reducing carbon emissions and equip them with best practice in greenhouse gas management.
The PRD is said to constitute about 30% of the total value of China's exports and represent the world's highest concentration of manufacturing infrastructure.
"Lake Side has demonstrated a satisfactory performance in carbon intensity reduction, greenhouse gas management and best practices in energy efficiency of manufacturing process and operations. Being the second year participation for Lake Side in this programme, the result is an encouraging leap from the 'Certified Label' in 2010," Fountain Set said in a statement.
Mr. Andrew Yau, Senior Vice President of Fountain Set, received the award from Dr. Kitty Poon Kit, Under Secretary for the Environment, HKSAR, at the award ceremony in Renaissance Harbour View Hotel Hong Kong on 8 November 2011.
Striving for cleaner production
"Fountain Set Group has been striving for cleaner production, energy saving and pollutant reduction. The group co-founded Sustainable Fashion Business Consortium (SFBC) in 2008 with 11 other textile and garment manufacturers with strong sense of corporate social responsibility. It was the first textile organization embracing environmentally friendly and sustainable development as its core founding value in Hong Kong," Mr. Yau said on receiving the award.
"The group has been implementing environmental protection measures in different levels. Lake Side has a reduction of 12% of CO2 emission per pound of the finished product in 2010. In addition to our effort for a better environment and producing higher value-added low carbon products, the expenses that we saved from consuming less steam, electricity, chemicals and water exceeded the capital that we invested for greener facilities and measures," Mr Yau added.
"Here I express my gratitude to all the staff in Lake Side and those who have involved in this project for their efforts and hard works. Last but not least, we sincerely thank Dongguan Shatian Environmental Industrial Estate Government for their continuous support," Mr Yau conluded.
The carbon reduction measures of Lake Side are said to include but are not limited to the categories of air pollutants reduction, energy conservation and water resource management in the aspects of production and daily lives of its staff.
Energy savings
Fountain Set said the energy saved in 2010 was over 75 million kWh, which was equivalent to 50 thousand tons of CO2 reduction. Lake Side plans to further invest over 18 million RMB in converting electricity generation and coal combusting facilities for achieving higher levels of energy conservation.
Fountain Set (Holdings) Limited and its subsidiaries are recognized in the industry as one of the world's largest circular knitted fabric manufacturers and has long been a driving force in the global market through its vertically integrated operations in spinning, knitting, dyeing, printing and finishing. The group's product range also includes dyed yarns, sewing threads and garments.
As a major fabric supplier to garment manufacturers in over 40 countries that supply to internationally renowned retail brands, Fountain Set's worldwide sales reached HK$6.1billion (US$782 million) in the financial year 2010.
Headquartered in Hong Kong and listed on The Stock Exchange of Hong Kong Limited, Fountain Set (Holdings) Limited (SEHK: 420) has production facilities in the PRC, Sri Lanka and Indonesia, with marketing and representative offices in 6 countries and a global staff force of over 16,200.
This article is also appears in...