18th September 2015, Paris
Four textile graduates win prestigious Texprint Awards
The charity Texprint has announced the winners of its prestigious awards at a prize-giving ceremony held at Première Vision Designs in Paris this week. Making the presentations was legendary designer and long-time head of the Missoni brand, Rosita Missoni.
"I am very pleased to be here to applaud the young talents coming from the UK colleges and Universities," said Signora Rosita Missoni. "Première Vision Designs is a wonderful opportunity to bring them to the attention of the industry and the Fashion World which need to invest in new fresher talents and ideas. I wish to the 24 designers to keep their curiosity, enthusiasm, passion and to transform them in wonderful careers."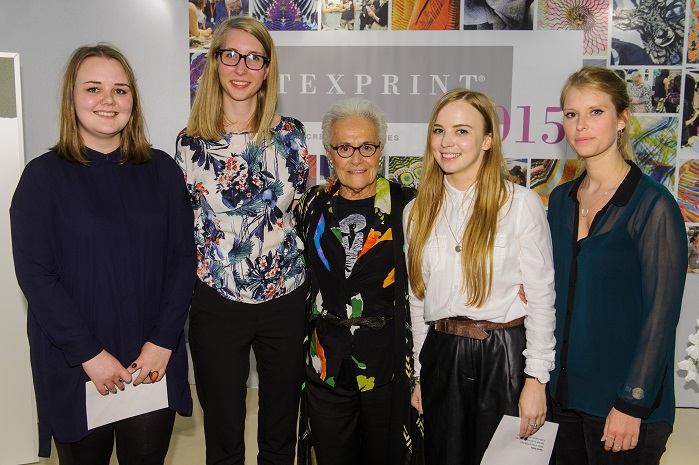 More than 200 graduates apply to Texprint to be considered for its extensive professional mentoring programme. Each year 24 are selected and go on to showcase their developing collections in London, Paris and Shanghai.
Awards and winners
Four textile design graduates won prizes for Colour, Pattern, Fashion and Interiors. The Texprint Awards highlight the exceptional textile design, techniques and innovation skills that are developed at UK colleges and universities.
The Texprint Colour Award, sponsored by Mode Information, went to Emma McCluskey, who studied Textile Design at Duncan and Jordanstone College of Art & Design.
The Texprint Pattern Award was presented to Joanna Robins, who graduated from University of West of England (Bristol) having specialised in Textiles for Fashion Design.
The Texprint Fashion Award winner is Jessica Leclere, who has just completed an MA in Textiles – Knit, at the RCA (Royal College of Art).
The Texprint Interiors Award went to Anja Alexandersdottir, who studied Weave at Heriot Watt University.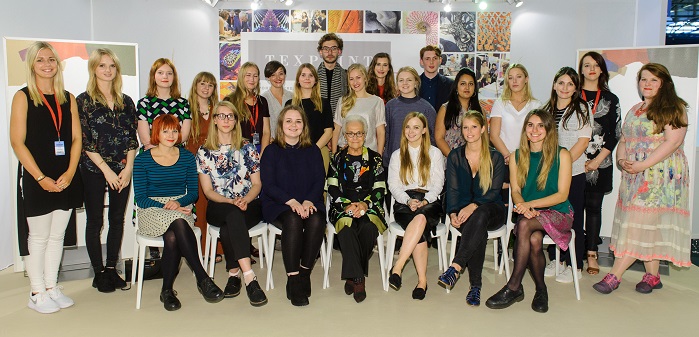 Texprint Woolmark Company Prize
The Texprint Woolmark Company Prize was judged at Première Vision by Franco Fabrello, Head of Design at Marzotto, together with UK designer Kit Neale. Those eligible for this Texprint award must incorporate a minimum of 60% of Merino wool into their textiles, and demonstrate a good understanding of its qualities and potential application in fabric.
"Texprint has been and remains one of the key programmes we support. It is critical to the future of fashion as textile designers are the key to matching emerging consumer demands to products that can meet those aesthetics," said Rob Langtry, Chief Strategy and Marketing Officer at The Woolmark Company.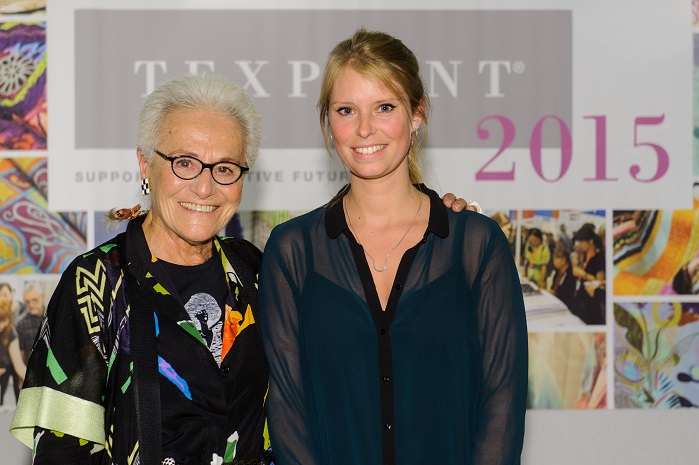 The Texprint Woolmark Company Award went to Jessica Leclere for her knitted wool collection that combines positive and negative imagery in two colours to create intricate optical illusions. The judges remarked on Jessica Leclere's intricate handmade work and her vision, which sees her match her imagination to the model.
Optical illusion patterns
Jessica Leclere has created optical illusion patterns using machine knit, and made a signature fashion collection demonstrating how her positive/negative designs could become whole garments.
"I like to use Merino wool because of the way that it falls and because of its luxurious feel. Winning The Woolmark Company prize means that I will be able to investigate manufacturing and it will be invaluable in sourcing wonderful yarn. I am thrilled to win this, given the stiff competition amongst this year's Texprint designers," said Jessica.
This article is also appears in...