31st March 2010, Montreal
Gildan acquires Bangladesh manufacturing facility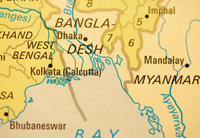 Gildan Activewear has announced it has completed the acquisition of Shahriyar Fabric Industries Limited (Shahriyar), Bangladesh, for a total purchase price of approximately U.S. $15 million.
According to Gildan, Shahriyar owns and operates a vertically-integrated knitting, dying, finishing, cutting and sewing facility for the manufacture of high-quality ring-spun T-shirts near Dhaka, Bangladesh, with annual T-shirt production capacity of 2.2 million dozens. As a first phase of further expansion, Gildan plans to increase the facility's annual production capacity to 3.5 million dozens, to support its growth strategy to grow its international business in Asia and Europe.
Gildan says its previously announced textile expansion plans in its Central American and the Caribbean Basin manufacturing hubs remain unchanged, including the construction of a third state-of-the-art textile manufacturing facility in Honduras (Rio Nance V) to support its projected future sales growth in the North American screen print and mass retail markets.
Gildan says it expects that its acquisition of Shahriyar will generate a return on investment in excess of its risk-adjusted cost of capital. The company says its acquisition of Shahriyar is the end-result of substantial analysis carried out to identify a strategic location to begin the development over time of a potential major vertically-integrated manufacturing hub in Asia with an infrastructure and geographical location to position Gildan as a low-cost, high-quality producer to serve its target markets.
Gildan says it intends to utilize its operating expertise and established manufacturing processes to further enhance the operating efficiency of the Shahriyar facility. In addition, Gildan says it is committed to ensure that its vertically-integrated manufacturing operations in Bangladesh are operated in full compliance with the Code of Conduct for social responsibility and leading practices for sustainability which have been implemented throughout its existing operations.
This article is also appears in...