12th April 2011, Montreal
Gildan buys Gold Toe Moretz for U.S. $350 million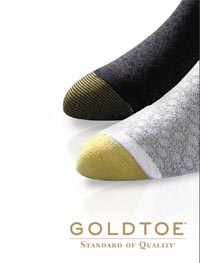 Canada's Gildan Activewear, a leading apparel manufacturer, has announced it has signed a definitive agreement to acquire 100% of the ordinary shares of Gold Toe Moretz Holdings Corp. (Gold Toe Moretz) for a total purchase price of approximately U.S. $350 million. Under the agreement Gildan will not assume any of Gold Toe Moretz's outstanding debts.
Gold Toe Moretz is a leading supplier of high quality sports, casual and dress socks for mass-market retailers, national chains, department stores and specialty sporting goods stores in the U.S.
The company owns a number of brands including the Gold Toe brand, as well as the Silver Toe, GT, Auro, PowerSox and All Pro brands. It is also the exclusive U.S. licensee for Under Armour and New Balance branded socks. The majority of the purchase price paid by Gildan under the new agreement will be represented by intangible assets, including the value of these brands.
"The acquisition of Gold Toe Moretz represents an important and exciting step in Gildan's ongoing strategic development", said Glenn J. Chamandy, President and Chief Executive Officer of Gildan Activewear.
"In addition to the introduction of leading consumer brands, the acquisition provides Gildan with enhanced brand management experience and expertise, best in-class merchandising and strong technical innovation and design capabilities to complement Gildan's existing competitive strengths for retail. These capabilities can also be utilized to further the development of our own Gildan brand," Mr Chamandy said.
Gold Toe Moretz's senior management team, including John Moretz, Chairman and Chief Innovation Officer, and Steve Lineberger, President and CEO, are said to have committed to continue their careers with Gildan.
The acquisition will more than double Gildan's current revenues from the sale of socks and will significantly expand and diversify its customer base and channels of distribution within the U.S. retail market. Revenues reported by Gold Toe Moretz for the year ended December 31, 2010 amounted to over U.S. $280 million, and adjusted EBITDA for the same period amounted to U.S. $48.6 million.
Gildan believes that the combination of the competitive strengths of the two companies, and its support for the further development of Gold Toe Moretz's owned and licensed brands will create a strong platform for further organic sales growth in socks and other retail product categories. In addition, Gildan currently expects to be able to achieve U.S. $10-$15 million of annualized cost synergies, which would be gradually realized over the next 24 months.
The acquisition of Gold Toe Moretz by Gildan is expected to close imminently and will be financed out of Gildan's cash balances and the utilization of its revolving bank credit facility.
This article is also appears in...