Glenevan is taking artisan crafted intarsia to new destinations by creating cashmere Dishdasha's for wealthy Saudi Arabian clients to keep warm in the cold of desert nights.
Intarsia has been one of the most instantly recognisable of all the Scottish knitting arts, with Argyle check being the best known, however, since 1978, Glenevan has raised this artisanal technique to a high art creating one-off pieces for a very discerning clientele.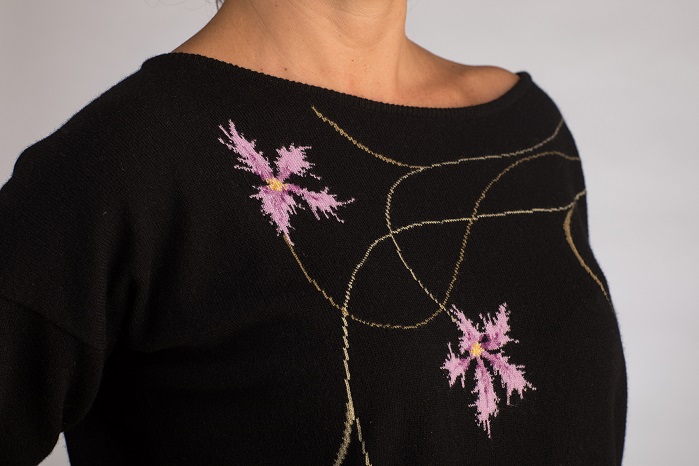 Glenevan is a family owned company based in Innerleithen, in the Scottish Borders, and is one of the last hand intarsia manufacturers in the UK. When other knitting companies were closing, the luxury brand managed to keep going and is now looking to expand its business.
Knitting Industry spoke to Glenevan's Director Alex Gunn. "Glenevan was established in 1978, my [Italian] grandmother [Alessandra] smelled the opportunity especially for the Italian market and we came up with a name easy to pronounce for Italian market," he said.
Glenevan's signature are their floral designs. "My grandmother loved flowers and gardening and so we have still retained these designs so the next step was Japan in the early 1980s, because Japanese love flowers," Alex added. Designs became ever more complicated to suit Japanese taste and became their first market, "we had a contract with the famous Mitzukoshi."
Alex is the third generation of Gunns to run the mill having previously worked in the whisky business that the canny Alessandra had also built up. When their uncle Paul retired, production slowed down, but three years ago Alex and his wife Aurelie Auffray decided to take it on.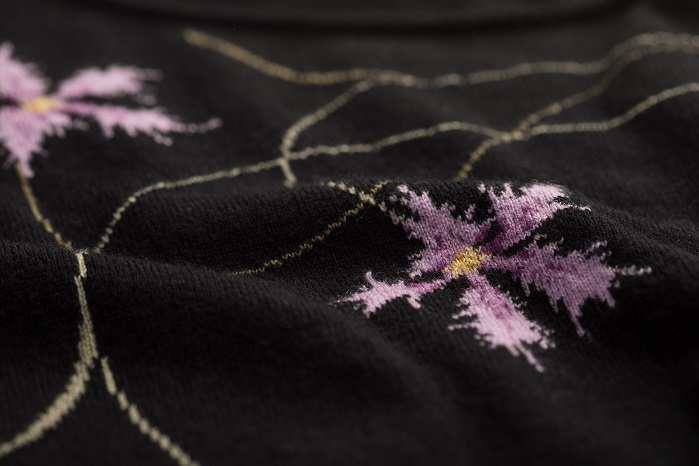 Gunn said: "We went back to some old customers, we managed to get back some contacts and then it was by word by mouth." He also added: "We are using the network for the scotch but this also opens doors for the knitting."
"We launched the website this week, the last three years we have been working with very wealthy customers, such as Saudi Arabia and in Italy, when they place an order they don't just buy just one jumper they buy for their wife, for themselves."
Glenevan sweaters retail from £900. "Liberty London could sell [a sweater] for around £1,500," Alex Gunn said. "We don't want to compromise on quality, we want to stay on niche ad re-establish some small niche boutique retailers."
With direct selling the company is now developing a bespoke service. Aurelie, whose family were tailors, says that the "made-to-order" aspect is an essential part of their business. "Men like either really tight or really heavy, they like the space. For the dishdasha," she says their advantage is "it is in the plus sizes, in fashion if you don't have the three sizes then you're out."
"We can knit requirements that unfortunately other people can't do," added Alex.
The process is the very opposite of mass production. "We have designed to do everything handmade, even though you can do argyle with a machine, but you can't get the levels of detail," Alex explained. The initial design is done by Alex's sister Catarina who is based in New York. "You have to draw the chart with all the stitches, you must have a very good eye for the colours and aesthetics as it is very difficult to combine the colours in a real way," said Alex.
Catarina then sends the scanned design back to the factory where master craftsmen work up the design. All the work is done on old hand operated Protti machines. "We have three of these machines," said Alex. "The knitter has to look at the chart and transpose, it is mind blowing because you have to do the contrary of what you see in front of you."
Most quality intarsia creates a smooth flat design, but Aurelie says they also use the push-down technique – "you add the colour on top of the background colour, so you create an embossed effect," she explained.
Currently, production averages around 40 pieces a month. According to Aurelie, an intarsia panel of average complexity takes around six knitting hours, with 1.5 knitting hours for the back and front. With linking and finishing, one sweater takes an average 1.5 days to complete.
"We buy yarn from Italy. In terms of the colour and the way they treat it, probably the best are [filati] Biaggioli from Prato," she said. The company also buys from Loro Piana, Cariaggi and Scotland's Todd and Duncan. Aurelie says that the main thing is that they have a very wide range of colours and shades for their designs.
Knitting Industry was able to see a sample knitted in the 1980s – Italian cashmere and contemporary pieces. The handle of the sample from the 1980s was noticeably softer and felt more luxurious.
"We are working on a sample for Saudi Arabia, the dishdasha [also called a thawb]. Nobody is doing that in cashmere, with Intarsia offering very luxury finishes for that specific market," said Aurelie. According to her, it is important "not [to] just stick to the usual sweaters, but to do a bit of parallel thinking to come up with new ideas and models."
The UK textiles and garment sector are facing a crisis of expertise, Alex said. "The knitters are getting older, the youngsters are not very keen – they like to play with the keyboard," he said. Aurelie Auffray says that the working life of an intarsia knitter is limited. "It is the eyesight that goes, and there's nothing you can do, you need younger eyes, not just the hands," she said.
"We are now discussing a Business Gateway, and we have started the discussions about opening a kind of school and [run an] apprenticeship," said Alex. He describes many challenges in terms of retaining skilled workers, as the current knitters are getting older, and the need to attract young people. They face the same problem that many textiles and garment companies are now facing – as without growing a skilled work-force the business is limited in how much it can grow.
Alex Gunn is looking for new strategies to not only attract but to retain workers in the company. "For me it is important for the older ones to participate in the business. The knitters are the heart, they are the engine of the company, to make them feel like they belong."