10th June 2014, Nottingham
Graduate Fashion Week success for design students
Nottingham Trent University designers have won four categories at this year's awards at the Graduate Fashion Week that took place in London from 31 May – 3 June with their creative concepts and quality craftsmanship.
Now in its 23rd year, Graduate Fashion Week remains an unrivalled platform for the promotion of new talent, representing the future of creative design, the University reports.
Creative and inspiring
Students from the university's School of Art & Design showcased their work in front of celebrities, fashion industry experts and retail giants at the Old Truman Brewery in London's creative quarter.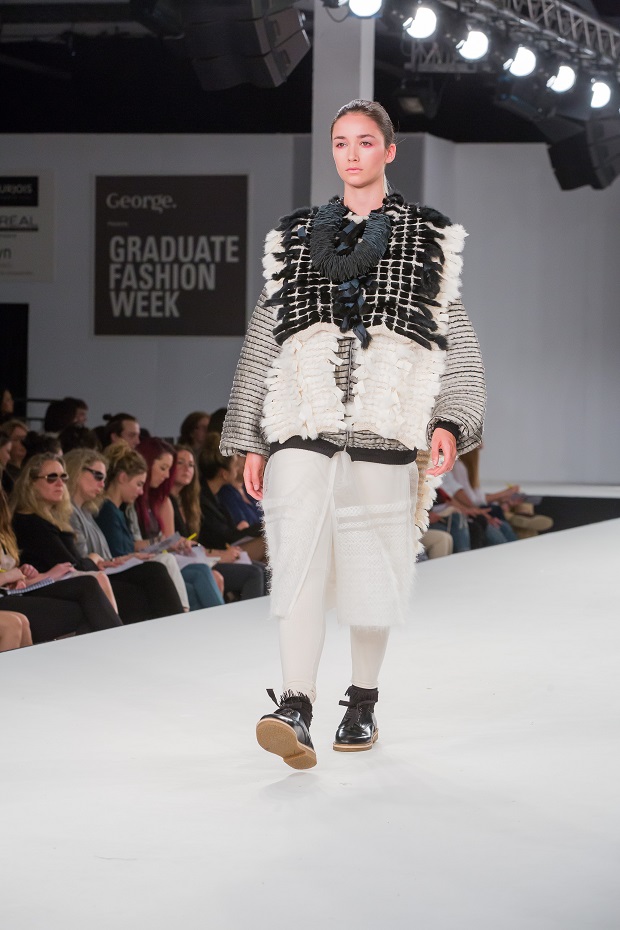 Aimee Dunn won the Menswear Award with £5,000 for herself and £1,000 for the Fashion Design course. She created a monochrome collection with a political message. Her men's jackets contained anti-Thatcher slogans subtly embroidered on the back and a sweater featured Margaret Thatcher's face knitted into it.
Outstanding fashion knitwear
The university maintained its reputation for outstanding fashion knitwear with Rebecca Swann collecting the Stuart Peters Visionary Award and £1,000 for her chunky, luxurious knits based on the concept of guilty pleasures.
Stephanie Brindley won the coveted Mulberry Accessories Award in the Fashion Accessory course's first year of entering the competition. Her collection of bags, belts, gloves and a bib inspired by the concept of a snake constricting. She used braiding, rather than stitching, to create each piece.
Stephanie said: "I use hand braiding for the majority of my seams in oppose to stitching, it takes a lot of time but I really like the craftsmanship involved and think it's most definitely worth the extra hours for the overall effect."
Digitally-inspired concept
Gaining recognition for his digitally-inspired concept was Oliver Royce who won the Fashion Innovation Award for his debut K-50 men's clothing range. His collection features designs which show up as a completely different image and colour when viewed through a smartphone or tablet.
And it was not just designers who impressed the judges at Graduate Fashion Week. Olivia Yelf from the university's Fashion Marketing and Branding course came second in the Barclays New Business Award for her project around skin care.
Fantastic achievement
Marjolijn Brussaard, Dean of the School of Art & Design, said: "I am extremely proud of the stunning quality, creativity and professionalism that our students displayed at Graduate Fashion Week. To win four major awards at such a prestigious event is a fantastic achievement for the University and it comes during a particularly special year for the School as we celebrate 170 years of art and design history in Nottingham."
Work by students can still be seen as part of the Degree Shows which are open to the public until 7 June across several of the City site buildings, including Newton Arkwright.