17th December 2013, Obertshausen
Green Christmas with the MJ 59/1B
A delicate, lace fabric in warm shades of gold and brown was specially developed by Karl Mayer to decorate the seductive green Christmas outfit shown on this page. The fabric consists of a fine, tulle-like net ground crossed by oval, charm-like effects featuring fine, floral motifs and tiny flowers with an openwork look.
The upper and lower edges of the full-width fabric form a border featuring the same floral pattern. This design bears all the hallmarks of typical Chantilly lace but, instead of the characteristic black, is worked in an exclusive combination of gold, light yellow and earthy brown.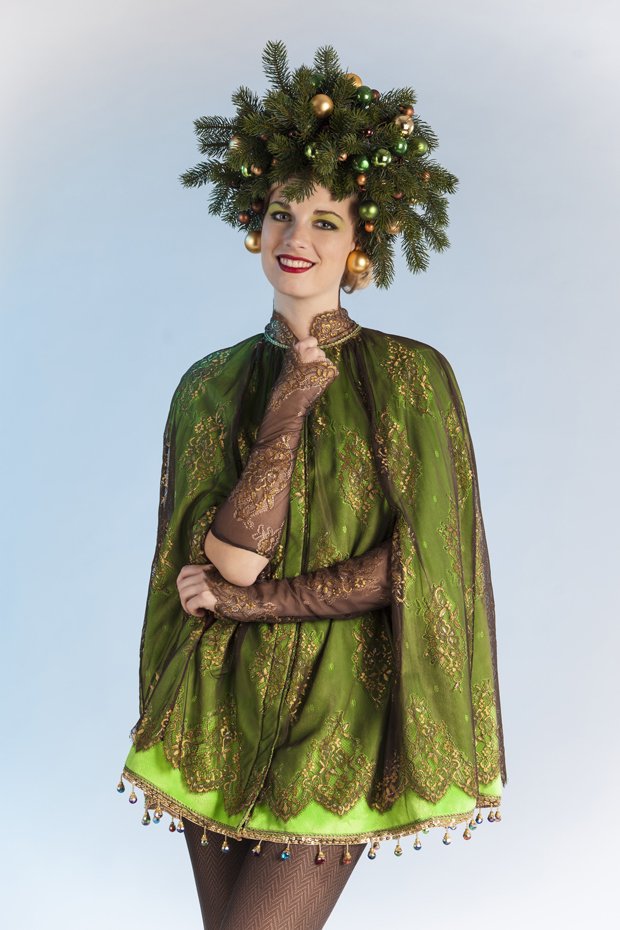 Karl Mayer explains that the stylish gift to the world of women's fashion was produced on an MJ 59/1B. This new machine in the Jacquardtronic Lace range, with a low and average number of bars, was launched in the middle of this year at the Shanghaitex fair in June, and demonstrates all of its capabilities with this romantic, cross lace pattern.
In general, the ML 59/1B is based on similar technical principles to the ML series, but its pattern repertoire is similar to that of the JL models. It is designed to operate at a maximum speed of 900 rpm and has an excellent cost: benefit ratio, Karl Mayer says.
The multibar Jacquardtronic Lace machine worked floating pattern yarns, which were subsequently detached to produce the free-standing, oval floral designs. Polyamide, pre-dyed polyester and Lurex yarns were used to create the matt/shiny effects and the multicoloured palette. In addition to its exclusive feminine design, the fabric, which was produced in a gauge of E 24, is said to feel exceptionally soft and have a beautiful, flowing drape.
The filigree lace fabric was combined with a dense, fleecy, warp-knitted velour fabric and the result is an unusual, two-layered effect, whose structure and colour contrasts produce a fresh, romantic design.
This article is also appears in...