China's Yiwu International Exhibition on Hosiery, Knitting, Dyeing And Finishing Machinery (Yiwu Knitting) will now run concurrently with Zhejiang Government's Yiwu International Manufacturing Equipment Expo starting this year, as China's knitting sector continues to grow in importance.
The event will take place from 19-22 November this year at Yiwu International Expo Centre, together with the third Yiwu International Exhibition on Automatic Garment Machinery and Sewing Equipment (Yiwu Sewing), which organisers say will bring 'a variety of thematic zones and experiences to visitors'.
Importance of knitting sector
Knitted garments play an important role in fashion industry in China and have become hot property with both the public and the fashion industry. With the rapid development of China's clothing industry, changes in consumption behaviour, improvements in living standards, and the continuous enhancement of knitting and dyeing and finishing technology and diversified applications in raw materials, the knitted garments industry has entered what organisers refer to as a 'high-end development stage'.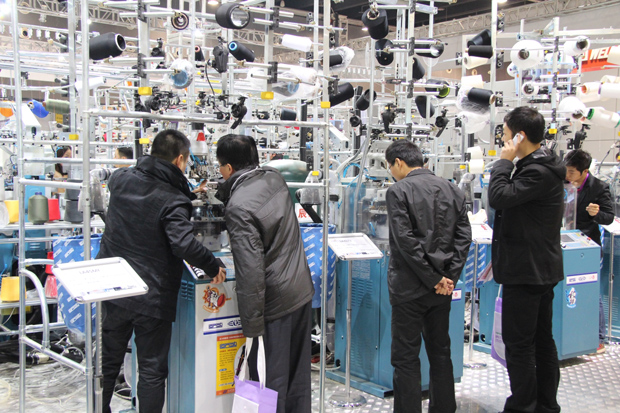 Statistics show that over 40% of knitted garments produced in China are exported every year. In January - October 2012, Yiwu's exports of garments and accessories were valued at USD 1.83 billion, while there was only 30.1% of the total value of exports for the same period last year. Organisers say that the above data shows that knitted garments have not only become an important part of modern clothing, but have also taken an important position in fashion design, research and development and production.
High-end sourcing platform
With 12 years of experience, Yiwu Knitting exhibition focuses on business effectiveness and integrated market demand.
The show demonstrates the latest knitting technologies, the high-end and fashion concepts and it is renowned as the leader of knitting and hosiery industry and as the preferred sourcing platform for enterprises to get the latest nformation.
Yiwu Knitting provides buyers with a one-stop sourcing and exchange platform, which has attracted numerous local and international buyers and associations to visit the show.
Last year's edition displayed over 400 sets of high-end hosiery and knitting related machinery by 153 exhibitors from 11 countries and regions, including France, Germany, Hong Kong SAR, Italy, Korea, PR China, Sweden, Switzerland, Taiwan Province, Turkey and United Kingdom.
Success in 2012
Yiwu Knitting has received strong support from industry representatives with more than 10 associations and enterprise delegations visiting the show in 2012, including first timers Wenzhou Chamber of Commerce-Ladies Wear Branch and Nanjing Women's Clothing Chamber of Commerce, who organised delegations. It was also the fourth year that Hanning Hosiery Industry Association organized a group of over 30 companies to visit the show.
The 4-day shows recorded 10,866 professional trade visitors and buyers, which the organisers say affirms Yiwu Knitting as a highly professional and international exhibition which brings significant business opportunities.
This article is also appears in...