15th November 2016, Milan
Growth in Italian textile machinery exports
The orders index for Italian textile machinery recorded an increase for the third quarter of 2016, thanks to positive sales figures abroad, according to ACIMIT, the Association of Italian Textile Machinery Manufacturers.
Based on an industry survey conducted by ACIMIT, for the period from July to September 2016 the overall order intake increased by 16% compared to the same period last year. The third quarter value for 2016 stood at 101.1 points (2010 basis = 100).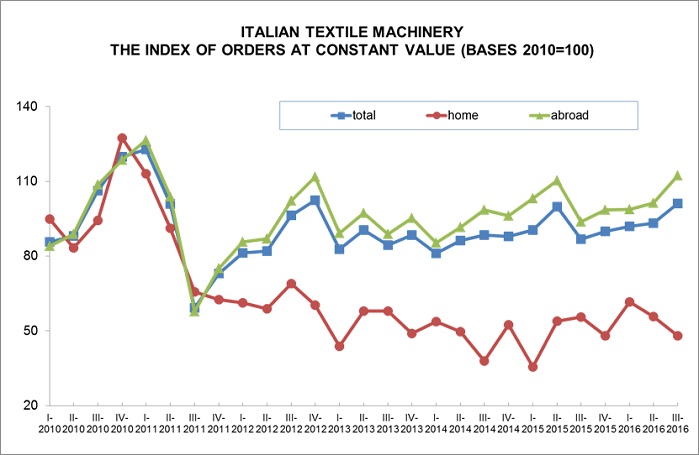 However, this growth applied to exports only, where the index recorded an absolute value of 112.3 points, a 20% increase compared to July - September 2015. In Italy, the index stood at 48 points, dropping by 14% over the same quarter in 2015.
Outlook
ACIMIT President Raffaella Carabelli commented on the figures from Shanghai, where ITMA Asia + CITME concluded last month. The trade fair closed with over 100,000 visitors, 20% of which hailed from abroad. "This data on orders confirms the significant vitality in foreign markets," explained Ms Carabelli. "Here too in Shanghai, we've met many entrepreneurs who want to invest; and not just the Chinese."
On the other hand, the situation in Italy's domestic market appears to be less positive. "The order intake has declined after two consecutive quarters of growth," said Carabelli. "We're still far from an effective recovery for the domestic market. However, we're confident that the plan put forward by the Italian Government for 2017 fiscal year can give confidence to businesses who need to invest."
ACIMIT
ACIMIT represents an industrial sector comprising around 300 manufacturers, employing close to 12,000 people and producing machinery for an overall value of about EUR 2.6 billion, with exports amounting to 86% of total sales.
This article is also appears in...