23rd September 2014, Albstadt
Groz-Beckert hosts conference for circular knitting machine builders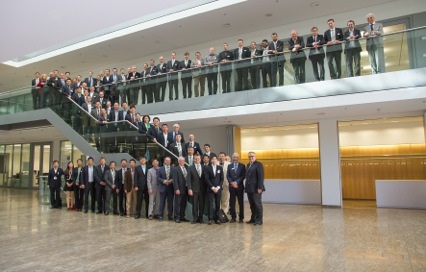 Leading provider of industrial machine needles Groz-Beckert has held a first international conference for large diameter circular knitting machine builders from 16-17 September in Albstadt, where it welcomed 70 visitors attending to exchange information about recent developments and coming trends in the textile sector.
On the first day of the conference Eric Schöller, Member of the Management Board, welcomed the guests. After a short presentation of the company, he shared the concept of the conference with the participants.
"We want to create a platform for our customers providing room for ideas and exchange. Bringing all big players together under one roof and getting experts for interesting presentations was our aim," said Schöller.
Room for ideas and exchange
After the welcome, the guests were invited to a tour of the Technology and Development Center (TEZ). The first technical presentation of the conference was held by Roland Karle of the Solidian GmbH.
He presented the topic of textile-reinforced concrete by the example of the world's longest concrete bridge with textile reinforcement, inaugurated in Albstadt-Lautlingen in 2010.
Till Krauss of the Forschungsgesellschaft Textiltechnik Albstadt (FTA), went then into the details of the potential of so-called non-crimp fabrics (NCF) – textile scrims of unidirectional fibre systems that can be produced on flat knitting machines as 2D or 3D structures.
Technical presentations
The second day of the conference was dedicated to technical presentations on different topics. The group listened to the representatives of the companies Triumph International, Memminger-IRO, Lenzing, and Hermann Bühler.
Their presentations and the following discussions included trends in the lingerie sector, innovative accessories for circular knitting machines, and innovations from the world of fibres and yarns, specially developed for the production of ultrafine knitted fabrics.
Internal market analyses
Later, with the presentations of companies Brückner Trockentechnik and CHT R. Beitlich, the finishing of textiles was in the limelight. Among others, the challenges of dry finishing sensitive and ultrafine knitted fabrics were discussed.
Another issue was suitable auxiliary products for the finishing of sports and functional wear and the ever more challenging requirements on finishing considering the increased use of fine microfibre fabrics made of polyester (PES) and polyamide (PA).
As last item of the agenda, Groz-Beckert provided insight into internal market analyses concerning current and future developments of the global large diameter circular knitting sector, one focus being on Asian markets.
Groz-Beckert
Groz-Beckert is the leading provider of industrial machine needles, precision parts and fine tools as well as systems and services for the production and joining of textile fabrics.
The products and services support the fields of knitting, weaving, felting, tufting and sewing. The company, founded in 1852, operates with agencies, production and distribution subsidiaries in more than 150 countries around the world.
This article is also appears in...