8th February 2010, Winston-Salem, NC
Hanesbrands sends shelters to Haitian T-shirt workers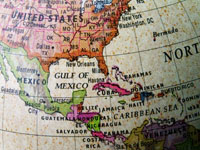 Hanesbrands, owner of the Hanes, Champion, Playtex, Wonderbra and other well known apparel brands has donated 2000 tents to employees of its contract sewing operations in Haiti as part of the company's efforts to help feed, clothe, shelter and employ thousands of earthquake victims.
The company said last week that the family-sized tents, purchased for $250,000, were in transit to the port of Miami and were expected to arrive in Haiti late this week for distribution to the families of employees in need in Port-au-Prince.
"Our contractors have done heroic work, supplying food and humanitarian aid to workers, getting their operations functional again and putting employees back to work," said Gerald Evans, Hanesbrands' president, international business and global supply chain.
"Many employees have requested tents for their families to seek shelter because their homes have been rendered uninhabitable or they fear returning to damaged homes. With the help of others, we have expedited the process for finding, securing and transporting tents to our contract partners in Haiti," Evans said.
The company has two primary sewing contractors in Port-au-Prince, each of which had production suspended because of the 12 January earthquake. Hanesbrands says that virtually all of the 3200 contractor employees who worked on Hanesbrands T-shirt sewing are now back at work.
"We are proud of the efforts of our contract partners and the outpouring of support from Hanesbrands employees around the world, including in the Caribbean basin, Central America and North America," Evans said. "We are committed to getting these Haiti contract employees back on their feet. In addition to ongoing food, shelter and humanitarian aid, one of the most important things we can do is to get employees back to work to provide stability in their lives and a source of income."
Hanesbrands expects to return to pre-earthquake levels of T-shirt production by mid-February. The T-shirt production in Haiti is small part of Hanesbrands total production and is not expected to have a material impact on sales.
This article is also appears in...