20th August 2014, Selkirk, Scotland
Hawick socks paraded to worldwide audience
Hawick's House of Cheviot hosiery mill has been celebrating a Commonwealth Games triumph, having provided socks for the Scottish team.
Jilli Blackwood, designer of the athletes' blue shirt and pink/blue/yellow kilts, approached the mill's owner and Managing Director James Wright, and director Robin Deas to coordinate their socks with her outfit.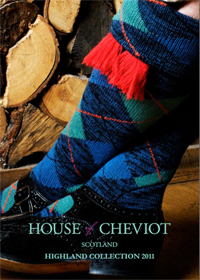 James Wright said: "In innovation, in colour and design, we're leading the way. We want to show the world what we do in Scotland."
Best socks
"Everything had to be made in Scotland, and they came to us knowing we produced the best socks. When Jilli produced the kilts, shoes, sporran and shirt, I looked at the outfit, and I chose a shade to match the kilt – it co-ordinated beautifully," said Robin Deas.
"They had a budget of £7 a pair. We could meet that, but we wanted to give them something to be very proud of, so we suggested our top-of-the-range Rannoch-style sock, at £14. They came back and ordered 320 pairs. It was a far superior sock, and they were happy to pay twice the price. They asked us to keep our end of things confidential until the games ended, and we agreed."
Great success or a tragedy
The Scottish team's outfit attracted significant press coverage in the lead up to the opening ceremony of the Commonwealth Games. Mr Deas commented: "In the run-up there was a huge controversy about the colours and design of the Scottish outfits."
"I was a little sceptical, but Jilli was speaking her mind, and sticking her neck out: it's either going to be a great success, or a tragedy. It was innovative, pushing the bounds of Scottish tradition into the 21st century, and I think she did it."
"As the Scottish team came out in the opening ceremony, they looked fantastic, and I thought: 'Wow! We contributed to that.' The staff here were chuffed," he said.
This article is also appears in...