13th November 2009, Tiverton, Devon
Heathcoat spacer keeps police and military cool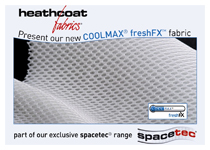 UK manufacturer of warp and weft knitted fabrics, Heathcoat Fabrics Ltd, have introduced Coolmax into their collection of high tech spacer fabrics, which offer maximum and permanent evaporative cooling to users such as police or military. The next-to-skin side of the spacer fabrics are made from Coolmax polyester fibres from Advansa with an increased surface area. The fibres which have unique shaped channels in their cross section, create a transport system that pulls moisture away from the skin to the surface of the fabric and ensures that it evaporates fast, thereby helping to maintain a balanced body temperature.
The physiological advantages of the high-tech fibres that were originally developed for multifunctional textiles for sportswear are now being used more and more in police and military applications. This is hardly surprising as the end-user requirements are comparable; keeping the wearer dry and providing good wearer comfort over long periods of time.
Spacetech fabrics are said to be exceptionally good when used as the inner layer of body armour and in pieces of kits such as rucksacks and web gear. Heathcoat says that it keeps the moisture management layering system working from the underwear, through the various layers right up to the bulletproof jacket. This allows space for evaporated moisture to exit the armour without condensing back inside, as tends to happen when the body armour is tightly compressed against the body without leaving space between the ballistic protection and the apparel.
Heathcoat's latest innovation incorporates Coolmax freshFX fabrics which, through non migratory silver ion technology, actively suppress the growth of bacteria which can be the root cause of body odour and smells related to perspiration on garments.
Advansa, Heathcoat's fibre supplier says that by incorporating silver based additive to Coolmax, the resulting fabric supplies not only an antimicrobial effect but also a permanent freshness feeling to the user. With Coolmax freshFX not just sweat, but also the odour from sweat is removed so users feel cool, dry and fresh, even during the heaviest exertion, the company says.
Jordi Lopez of Advansa commented, "We are really excited that Coolmax freshFX fabrics are used in Heathcoat's Spacetec , for technical end uses such as body armour with outstanding moisture transport and anti-bacterial performance.
This article is also appears in...