30th September 2016, Milan
HF Filati debuts its first circular knitting yarn collection at Filo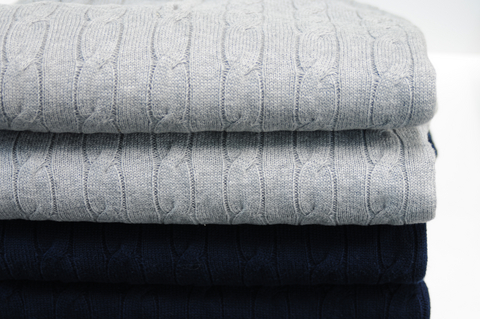 HF Filati, the Italian producer of fancy yarns acquired by Suedwolle Group, the worsted spinner, in January 2016, has debuted its new Fancy Spring/Summer collection featuring circular knitting yarns at Filo trade fair in Milan, this week.
HF presented fancy ranges with a variety of yarns featuring micro or more perceptible effects and combining the natural and man-made fibres with state of the art twisting technology.
The company was established in Schio, near Vicenza, in 1963 and owns two brands, HF and LORIS, leading specialists in fancy knitwear yarns in the Italian market. With the acquisition, the aim of Suedwolle Group was to start off a new expansion phase of HF Filati's product offer within and outside Europe and widen its product range even further, intensifying its presence in the Italian and European market.
Spring/Summer 2018 yarns
The Ondé Lux line includes yarns containing a large percentage of very fine bourette silk or coated organzine silk, which gives fabrics a crepe but very soft and silky touch. Yarns that are especially interesting and rich in noble fibres are Swing Nm 84/2 in linen/silk, and Lino Chic Nm 64/2 in cashmere/silk/linen, the company reports.
The Crépon line consists of Crespino-type yarns but with a soft, silky touch. Natural fibres are combined with continuous nylon filaments, including trilobal, which gives the fabrics a discreet sheen with an iridescent effect. Yarns of particular note are Barbuda Nm 90/2 in linen/trilobal nylon, and Bequia Nm 142/2 in Modal/matte nylon.
Three-Dimensional is a series of yarns for the production of fabrics with discreet geometric patterns. These yarns are produced with up to three components, including wool in some cases, and the different degrees of absorption of the fibres means melange effects can be obtained with piece or yarn dyeing, the company explains. Particularly interesting are Scacco Nm 23.000 in wool/cotton/nylon and Chiffon Nm 90/2 in viscose/nylon.
The Wavy Line is a series of wavy, frisée, vrillé, bouclé, nubby and stretch yarns in fine, discreet patterns for the creation of rich, cool, light and comfortable fabrics. Especially noteworthy are Trinitad Bouclé Nm 25.800 in cotton/nylon, Guana Stretch Nm 35.000 in viscose/nylon and the nubby yarn Tortuga Nm 20.000 in wool/cationioc polyester, according to the manufacturer.
Südwolle Group
Südwolle Group delivers worsted wool and wool blend yarns alongside specialist service for weaving, flat knitting, circular knitting, hosiery and technical textiles.
Produced in Europe and in Asia with a focus on sustainability, and delivered globally from Germany, Italy, China and the USA, Südwolle Group has both wide range of stock service dyed yarns and an expert custom development service.
This article is also appears in...