9th September 2014, Obertshausen
High tech meets folklore in burnout warp knits
Warp knitting machine manufacturer Karl Mayer reports that the burnout technique has now become well established for use in the all over patterning of large areas of warp knitted fabrics. In the field of window fashions in particular, burnout fabrics are widely used as an 'in-between' which sits between transparent net curtains and heavy drapes.
Woven and warp knitted textiles are basically suitable for processing by this technique, which is similar to screen printing. Warp knitted burntout fabrics can be produced very efficiently and are generally suppler than the woven versions – characteristics that have been generating a strong demand for them from sari producers for some time now, Karl Mayer reports.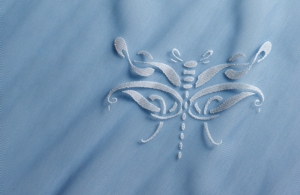 An example of burntout, warp knitted fabrics is shown on this page. The decorative fabric features oriental pattern motifs in a filigree construction, which were placed all over the lightweight ground – a traditional sari design produced on a high-tech machine.
A Karl Mayer HKS 4 machine in gauge E 28 was used to produce it. Ground guide bars GB 2 to GB 4 of this high-speed tricot machine produced a marquisette ground, into which ground guide bar GB 1 worked a tricot construction.
The underlap of the tricot construction was therefore placed on the upper side of the fabric. By using the different yarns – polyester monofilaments of 22 dtex in GB 2 to GB 4 and viscose of dtex 67 f 24 in GB 1 - the dense, non-stretch, warp-knitted textile was decorated in a subsequent finishing stage using a screen and etching paste.
In this process, which is known as the burnout technique, the viscose is removed as required to create the intended design. The result is a semi-transparent fabric, on which the pattern elements, with their delicate shimmer and sharp contours, protrude slightly three-dimensionally from the surface.
This look can be varied by using a tulle ground lapping, which can be worked on a high-speed tricot machine with three guide bars. The burntout fabrics produced by using the HKS 3-M machine are lighter and more delicate, and are therefore also more unstable than the higher-quality version based on marquisette.
The viscose yarns used can be processed on the HKS 4 without any problems, Karl Mayer says. When using these yarns, which are made from regenerated cellulose, the machine can reach speeds of 1200 rpm.
This article is also appears in...