23rd January 2012, Hong Kong
Hong Kong hosts Knitwear Symphony 2012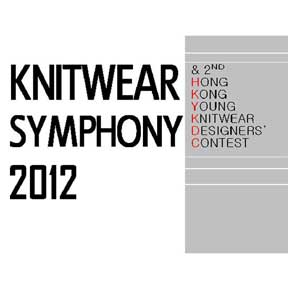 Hong Kong's Knitwear Innovation & Design Society (KIDS) presented its 'Knitwear Symphony 2012' and the '2nd Hong Kong Young Knitwear Designers' contest featuring the theme LOVE on 18 January 2012 at Hong Kong Convention and Exhibition Centre Grand Hall.
Industry VIPs attending the event to show their support to knitwear industry, included Mr. Anthony Keung, the Chairman of Knitwear Symphony 2012 Committee and CEO and President of Fenix Holdings Ltd; Mr. Jose Yu, the Chairman of Hong Kong International Group and designers Mr. Walter Ma, Mr. William Tang and Ms. Kimbee.
Lawrence Leung, the Chairman of Knitwear Innovation & Design Society said:
"KIDS focus on innovation and design. It hopes to increase the interest of designers towards to knitwear. Moreover, the industry becomes more energetic with the innovative designs on knitwear which can fulfil the market needs."
This year, KIDS has cooperated with Tuff, the production house which handles fashion spectacles of many international fashion luxury brands. This is their first collaboration which organisers say was a tremendous success. KIDS has also invited Patrick Tsang (nicknamed Tarzan) as the MC of the fashion show and famous band C All Star as guests to perform in the show as well.
Three top local designers Johanna Ho, the show Director, Manix Wong, and Judyanna Ng showcased their collections. Organisers say the success of these three designers attests to the sustainable development of Hong Kong knitwear industry.
Manix's collection is said to have been inspired by his love of rain forest animals, especially the extinct ones. He applied elements that are similar to animal skin and pattern into his collection.
"Manix's style is daring and exaggerating. He uses bright colour tone in his design. The highlight of his collection is the finale piece, with a huge black swan sculpture made with feathers," KIDS said.
KIDS-CCCU 2012
"The clothes of Johanna Ho are layered and contain different textures with cold colours. Every piece is matched with poker dots stockings to create interesting visual effects. The collection is elegantly slim and gracious," it said, adding:
"Judyanna Ng's inspiration is orientalism, especially Japanese culture. The pattern of her pieces is mainly traditional flowers and leaves mixed with modern patterns to create harmony. Judyanna's design is graceful and slick. The whole collection gives a feeling of spring with light and warm colour tone. Her collection uses the techniques of whole garment technique and digital print machine."
Another highlight of the evening was the 2nd Hong Kong Young Knitwear Designers' Contest. The winner was Gloria CHAN, Lai-ping, whose collection, 'Fading leaves in fall triggers beauty' also won the 'The most popular Online Award' and "The Best Marketability Award".
The 1st runner-up was Venus LO, Chan-Chit who also won the Woolmark Prize. Her collection, "Absolutely Hyperactive", was inspired by the festive spirits from different nations. Lo's collection focuses on using strong colours, dramatic patterns and big pieces of loosely fit clothing. "Hong Kong is so depressed. Therefore I used some bright colours to present the feeling of happiness," Venus said'.
"As one of the winners of the competition, I hope the local knitwear industry can enter the international stage."
The 2nd runner-up was Sammul Ng. "I think this competition can promote the knitwear industry and provide a platform for young designers. I will keep trying new things and maintain my passion for fashion."
"Knitwear is very famous in Hong Kong and South East Asia. Many local manufactures support young designers. I am looking forward to seeing the creativities of the contestants mixed their creativities with advanced technology." Manix Wong, Chief Designer of LACLOS said. "People may think that knitwear has many limitations, but it can have variations. I hope the contestants can explore more new idea and design. "
This article is also appears in...