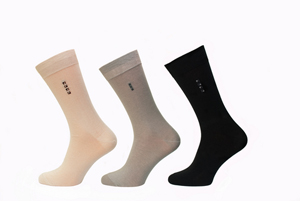 New York City based hosiery designer and marketer, Royce Too LLC, announced on Friday it is moving its headquarters to Winston-Salem in North Carolina from NYC in order to capitalize on the local industry talent pool and lower operating expenses there.
According to a report in the Winston-Salem Journal (WSJ) today, the Empire State Building based company which is owned by Japanese hosiery manufacturer Okamoto, plans to move its headquarters to a 10,000-square-foot facility in the city next week.
Royce was bought by Okamoto in 2008 and specializes in men's and women's hosiery and is a licensee for major national brands, such as Dickies, Dockers, Nautica and Saucony. It also is a supplier of private label products to retailers.
Royce's Barbara Rosenthal, told the WSJ its headquarters will have 25 employees most of which will be hired locally. Royce will hire staff in hosiery design, supply chain, logistics, production, brand management and marketing.
"We're coming here for two primary reasons," Rosenthal said. "Winston-Salem is a hub for consumer product companies, particularly in the hosiery industry. We look forward to hiring from the rich talent pool in the area."
Rosenthal also told WSJ that Royce's decision was influenced in part because of industry job cuts involving companies such as Hanesbrands Inc., Renfro Corp. and Gildan Actionwear.
"We are looking at employees who want to choose a different career path, or people who have been affected by job cuts and want to get back into the industry," Rosenthal said.
"Our expenses will be lower here, which will enable us to plug some of the overhead savings into growing the company."
Royce will maintain an office in Hickory, where it has six employees, a showroom and sales team in New York City, and a distribution centre in Martinsburg, West Virginia.
"We want to establish roots in North Carolina, including reaching out to the Center for Design Innovation in Winston-Salem and to current students and alumni at N.C. State University," Rosenthal said. "We plan to offer internship opportunities."
Gayle Anderson, president and chief executive of Winston-Salem Chamber of Commerce, said attracting Royce's headquarters helps contribute to the area's critical mass in design.
"Growing the design industry is a priority for our community," Anderson said. "The 25 new jobs will provide excellent opportunities for some of our talented executives."
Source: Winston-Salem Journal
This article is also appears in...