Castel Goffredo is a 'comune' in the province of Mantua, in Lombardy, northern Italy, with a population of around 12,000. It lies 35 kilometres from Mantua and a few more from Brescia in a region of springs at the foot of the slopes that drain into beautiful Lake Garda.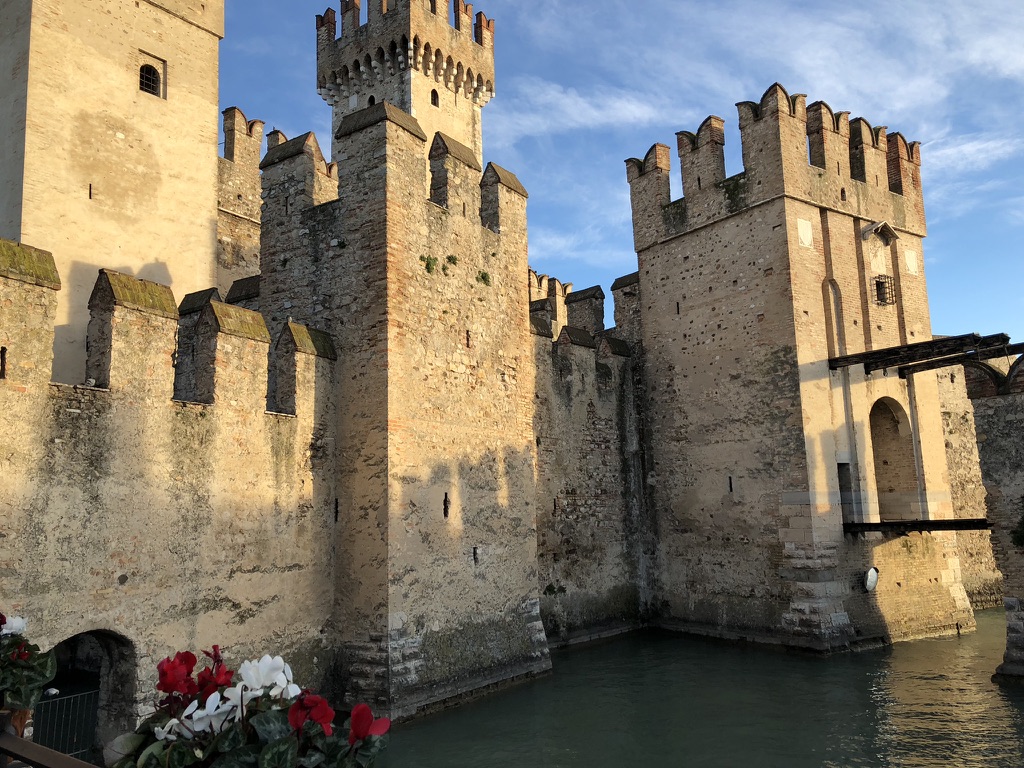 The town of Castel Goffredo has been involved in textile production since medieval times. The original source material was wool, but in the 1700s, the leading family of the town, the Acerbi, introduced silk-worm farming and silk-production became an important sector. Cotton weaving was also introduced around this time and the production of cotton and silk was revolutionised by the industrial processes of the twentieth century, which also saw the introduction of the new synthetics into the business. During the 20th century, the area underwent a period of sustained and steady economic development and growth.
The first modern textile-factory was built in 1925 and others soon followed. They took great advantage of the post-war boom and began to specialise, in particular, in the manufacture of hosiery. The area became a centre of expertise in the production of woman's hosiery and was known internationally for its quality and inventiveness both in terms of product and business innovation. Some of the great names of the Italian hosiery industry hail from the district, including Golden Lady and Calzedonia.
Knitting Industry recently visited a number of producers in the area around Castel Goffredo to find out if the 'district' was still in fact world class and to try to gauge how it is evolving to compete in the now globalised and highly competitive hosiery industry. This article, the first in a series, looks at two companies who have reinvented themselves, having started life as private label manufacturers for the big brands and retailers.
Duelegs
A typical entrepreneurial and innovative approach is taken by Duelegs Srl, a producer and marketer of ladies' hosiery based in Castel Goffredo. Owner-manager William Gambetti runs a family business, which was founded in 1969 by his father and his father's brother, which sits under the family holding BBF Group. Duelegs is a vertical, 100% Made in Italy manufacturer – it buys in yarns and knits, dyes and finishes and packs and despatches finished goods. The company has experienced rapid growth in recent years, going from a turnover of EUR 5 million to EUR 36 million in just nine years.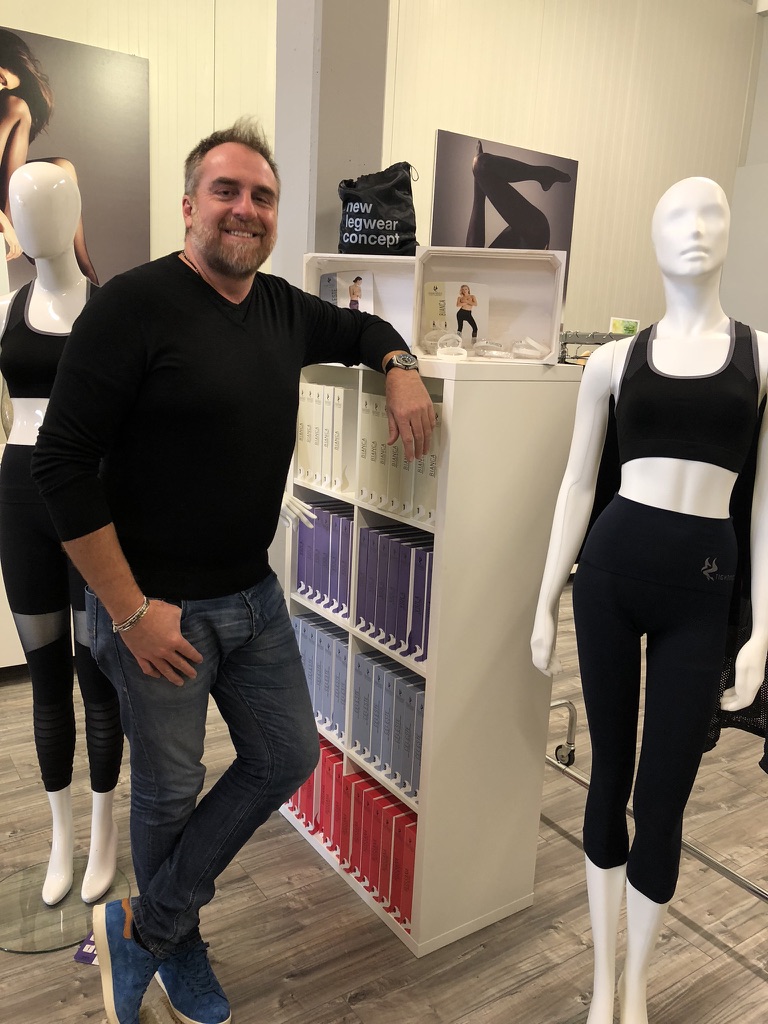 Brand development
Duelegs' William Gambetti is a real 'go getter', and developing new brands and markets seems to be his forte – the company had 37 stores in the USA prior to 9/11, when the market collapsed.
Gambetti has an agreement with a large hosiery marketer for much of his production but is also continuously actively looking into new markets. Duelegs manufactured 26 million pairs of tights last year and until four years ago the company, like many others in Castel Goffredo, was a 100% 'private label' manufacturer making for the big brands. Now it has invested in developing its own brands for the medical hosiery and fashion segments, as well as in other new projects.
On the fashion side the company has invested in its own Gambetti brand – with its strapline 'maximum quality hosiery' signalling that it operates in the medium to high quality end of the market. For the fashion sector Duelegs has also developed the Nina Ray brand, which is doing very well in China and other parts of Asia. Be on Top is the company's 'sexy compression' brand for prevention of venous insufficiency, with a new image. It aims to bring in new customers, as its customer base is ageing.
The perfect fusion between tights and leggings
Duelegs latest project, and the one that William Gambetti is most excited about is Tightings. Tightings are seamless leggings made on adapted circular seamless technology as opposed to hosiery technology like the company's other products. "Tightings are in effect leggings without vertical seams – the waistband still needs to be sewn on, which helps bypass the problem of finishing labour," William Gambetti says.
"The product was first exhibited in January this year at the Salon De La Lingerie in Paris and then a few weeks later at the ISPO winter outdoor exhibition in Munich, where we were absolutely unique."
High-tech yarns from Fulgar
Tightings are made using high-tech yarns from locally based international hosiery yarns maker Fulgar – Emana, EVO, Q-Skin and Nanofibra yarns are all supplied by the yarn covering specialist. The focus for Tightings is no seams, '100% Made in Italy' and special yarns and the company plans to build on its current capacity of 4000 pairs per week.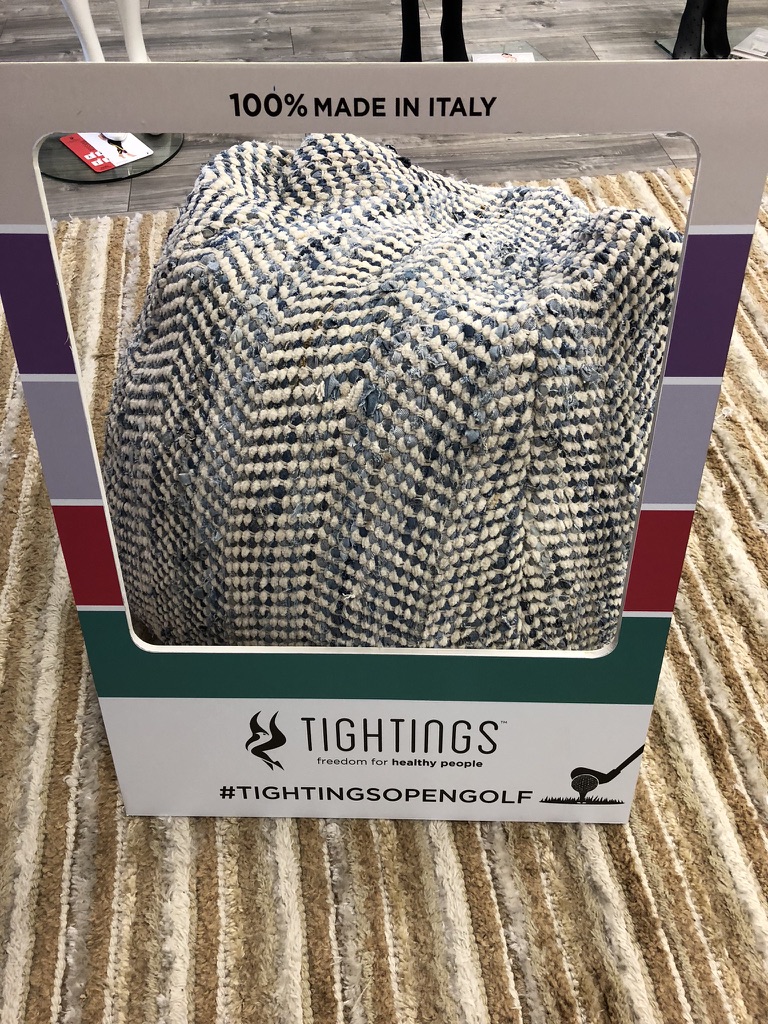 "More than just a garment, Tightings is a technical innovation that has inspired a new product category. It's made using an exclusive patent pending technology by Duelegs based on a development of the classic tights machine, adapted to create garments that can be worn as outerwear," Fulgar commented at the 2018 launch.
For the global lift-off, Duelegs created a collection made exclusively with Fulgar yarn and LYCRA stretch to provide maximum comfort and fit. Four unique models, each featured a high-performance yarn: BIANCA with Nanofibra by Fulgar, with a thermal effect; CELESTE with EVO by Fulgar, with an ultra-light effect; ROSSANA with EMANA by Fulgar, with a Kinesio Taping effect; and VIOLA with Q-SKIN by Fulgar, with a skincare effect. Since the launch, the company has also added GIADA to the collection, which uses Fulgar's MULTIFIBRA yarns.
"It's a significant challenge for us, one that means breaking out of the world of female legwear to enter the much wider sportswear world, which has experienced exponential growth in recent years. We've invested two years of our energy in research and development, to the point where we are now ready to launch Tightings and we have chosen, also for this important project, a qualified partner such as Fulgar, a company that always supports us with its innovative yarns. We are optimistic that our innovation will shake up the legwear market, which has long remained static," William Gambetti said at the official introduction in Paris.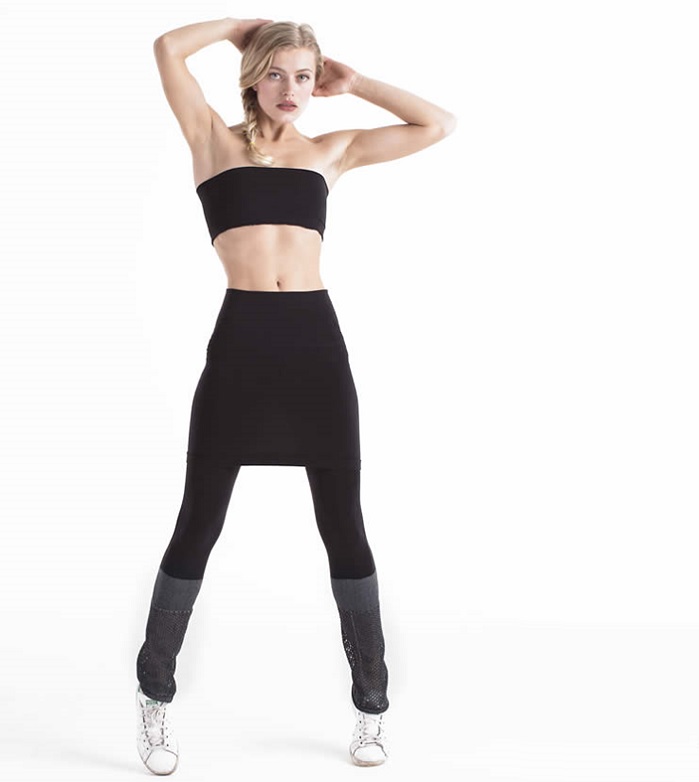 BIANCA, CELESTE, ROSSANA, VIOLA and GIADA are all aimed at different types of woman, each of whom have different lifestyles and very specific requirements in terms of look, feel and performance. BIANCA for example is a woman who prefers training and exercising outdoors and loves wearing sportswear even during her daily social life. She loves comfort but always keeps an eye on fashion trends.
William Gambetti really focusses on fine detail. Even his packaging is well thought out – Tightings are sold in hard back book like packages, which have a distinct '50 shades' look about them and can be displayed in a bookcase format at retail.
Trademarked and patent pending Tightings are, according to William Gambetti, "the perfect fusion between tights and leggings" and are sold on the company's own website to both the public and to retailers. The company is very active on social media platforms like Facebook and Instagram. Gambetti explains: "We have to create an image online, because after all, we are only a village manufacturer."
Gambetti talks about his hopes for the brand. "When you think about globally known brands, like for example, the Post-It-Note – the brand is the product – and the product is the brand. I have the dream to do the same with Tightings."
To complete the offer, Duelegs offers Toppings, a range of tops, including Sport Jacket, Sleeve T-Shirt and Sport Bra. The company's innovative Tightings can be worn with the new complementary Toppings, which have been "developed and created to complete the outfit for those who want 360-degree freedom." Tightings come in a range of solid colours and coloured intarsia patterns and Toppings in various colours.
Solidea
Calzificio Pinelli Srl is a family owned business which has become known internationally for its Solidea compression hosiery brand. The company was founded in 1976 by Enzo Pinelli and was supplying famous private label brands with women's fashion hosiery until 1997, when the market became price sensitive and was flooded with cheap imports from countries like Turkey and China.
Family member Michele Pinelli, accompanied by marketing manager Ilaria Sereni, told Knitting Industry that the company was then forced to make the choice between doing something different and remaining in Italy or staying in the fashion business and moving its production to a lower labour cost region.
It was at this point that Calzificio Pinelli decided to target the growing preventative compression hosiery market, combining graduated compression with its flair for fashion, something the established compression hosiery brands were not doing. This allowed the company to continue manufacturing at home, making 100% Made in Italy products using European yarns.
Twenty years on the company reflects on its progress: "The Solidea brand has revolutionized the concept of elastic stockings, offering collections of graduated compression fashion stockings and tights that: combine leg well-being and effectiveness in the prevention of circulatory disorders; elegance, softness and a stylish and perfect fit of refined garments; and refinement in a wide range of styles, patterns and colours," Solidea states on its website.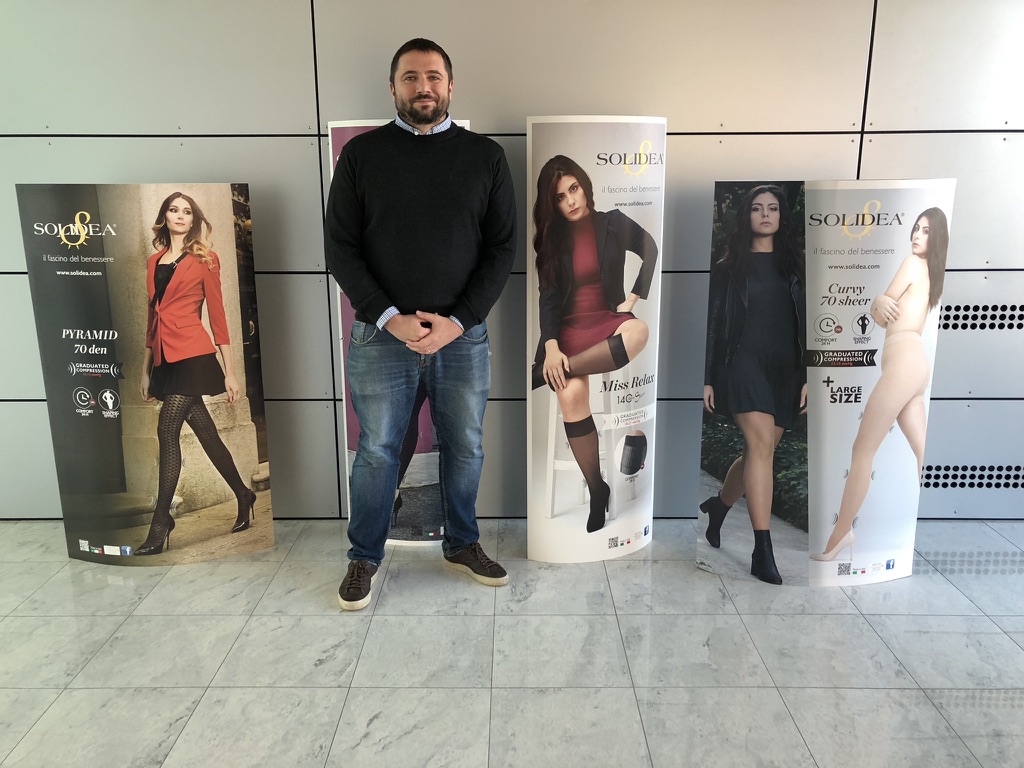 Solidea manufactures more than 110 product lines, adding a few more each year to its Preventiva, Therapeutic, Cellulite Control, For Men, Maternity, Silver Support (Orthopaedic) and Sport categories. The company's highest-quality standards were acknowledged when it achieved ISO 9001 certification in 2003 and ISO 13485 certification in 2015.
Innovation and international patents
The company has been granted a significant number of international patents, which are applied to many of its innovative product lines including, Solidea Therapeutic, Curvy, Wonderful Hips High-Waist Shaper and Night Wellness lines.
Magic collant for example, is described as "a complete and truly revolutionary beauty and well-being treatment in the combined action of top micromassage and graduated leg compression. Micromassage Magic tights have a smooth knit and are extraordinarily sheer, soft and comfortable. Micromassage Magic by Solidea is a line of tights and shorts that combine "effective massage with regenerating compression and that constitute a fully qualified specific anti-cellulitis treatment."
According to the company, clinical studies have shown that the exclusive fabric wave shape, with its special relief knit, exploits natural body movements and exerts beneficial micromassage on the skin and the subcutaneous layer, stimulating microcirculation that is jeopardized by cellulitis and favouring elimination of fluids, the first cause of blemishing "orange peel" skin.
Products in the company's Red Wellness line are made using a special microfibre that concentrates the beneficial properties of Far Infrared Rays. The yarn used, contains a mineral additive which, when stimulated by the natural thermal energy of the body, converts it into Far Infrared Rays and reflects the rays back into the skin tissue, generating a pleasant temperature-control effect. "The action of the infrared rays, in perfect synergy with graduated compression, stimulates blood microcirculation of the skins surface and improves blood circulation in the legs, which functions to help reduce cellulite," the company explains.
Market changes
"More recently there have been big changes in the compression hosiery market with the introduction of e-commerce. Also, more and more people are better educated about venous disease and the benefits of preventative compression hosiery and so demand is increasing," Michele Pinelli explains.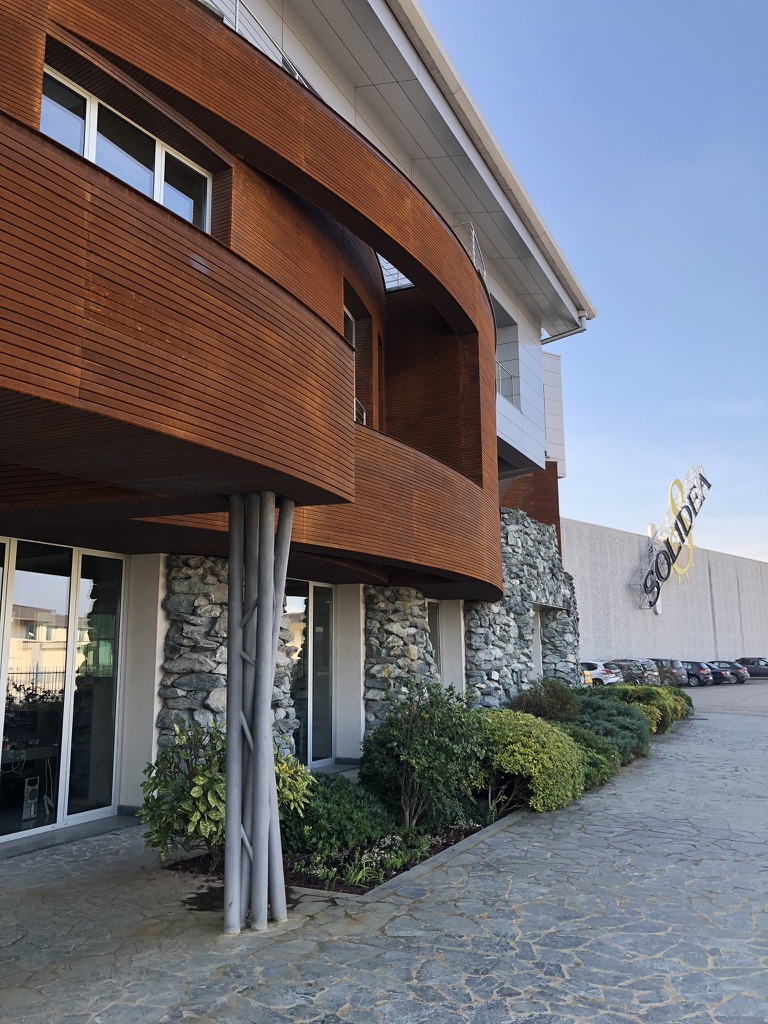 "The market is still growing but other international players entering the market, so we need to keep ahead. Our product focus and main market is prevention, but our products can be worn by everyone. We make products that improve venous circulation and help prevent varicose veins and similar conditions," he adds.
Solidea works with medical professionals in its research and is a regular exhibitor at major industry events like Medica in Germany, Healthy Style in Moscow and Arab Health in the Middle East. Sales are split 50/50 Italy/Export with Italian sales going mainly to pharmacies but also to para-pharmacies (drug stores) via agents.
"Italy is an advanced market and we also sell in the treatment and therapeutic markets," Michele Pinelli adds. In Europe sales are in the medical and orthopaedic fields, including via prescription, whereas sales outside of Europe are made via distributors. Chinese and Japanese sales are made on the company's e-commerce website," Michele Pinelli adds.
"We also look for innovation in raw materials, like yarns with medical properties – there are any new developments in that field. We move towards products that have special function, special performance."
Automation and customer service
The company's stunning architect designed building in Castel Goffredo is its only location, and houses its manufacturing, offices, e-commerce and warehousing facilities. Solidea has of course invested in the very latest knitting technology which is adapted to meet the company's own needs. Michele Pinelli stresses the importance of innovation, not just in raw materials but also in machinery and equipment. He is however, reluctant to discuss machinery in detail, wishing instead to tell us about the company's investment in the automation of its warehouse.
"Our robotic automated warehouse is for customer service, because service is just as important as quality. If you order our product today, we despatch it tomorrow," Michele Pinelli explains.
We go to the warehouse where the first thing we see is an unmanned forklift truck moving freely and speedily between the isles of the floor to ceiling racking, which contain open boxes of packed hosiery items awaiting despatch.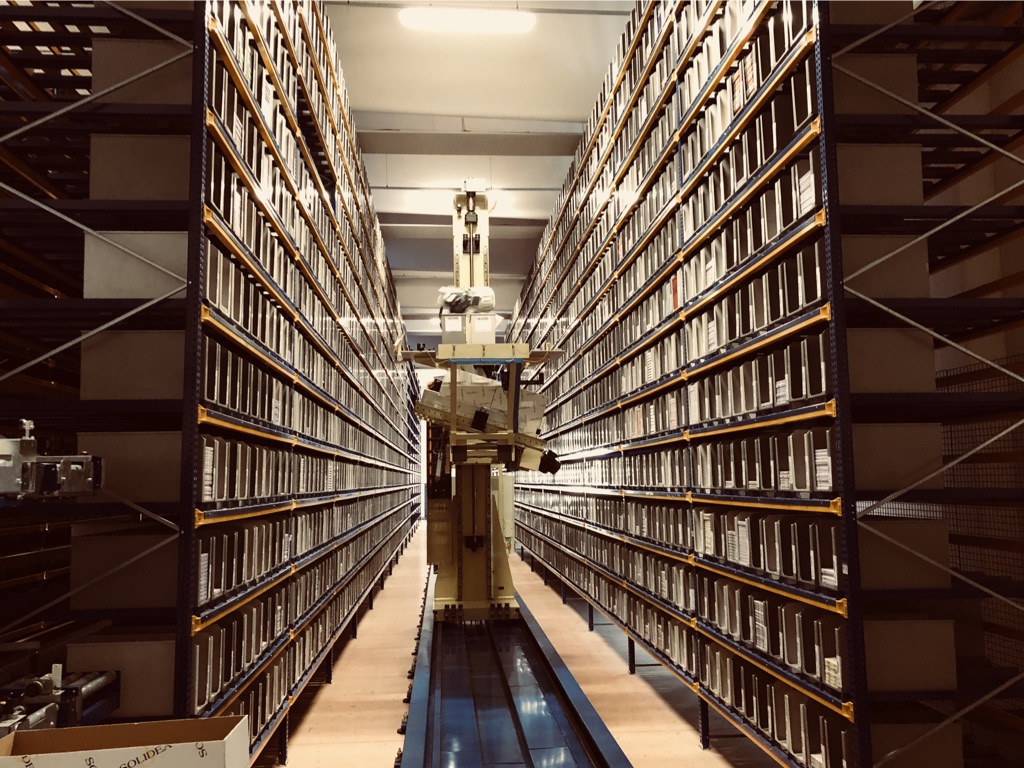 We are introduced to four robotic pick and pack lines – Charlie, Spirit, Opportunity and Curiosity - which are busy packing hosiery to be sent in a timely despatch service to the company's customers who buy online. Opportunity is feeding the other three robots as we pass through but is also capable of picking and packing. This is state-of-the-art warehousing facility is unsurpassed in the hosiery industry, with the first robot being purchased 15 years ago, and the others followed soon afterwards.
According to the Solidea website, the brand makes 7,500,000 pieces per year, has 15,000 sales outlets in Europe alone and is present in 70 countries around the world.
More to follow on Castel Goffredo's hosiery manufacturers soon.
Further reading