4th November 2019, Tirupur
Dollar Industries invests in zero-waste manufacturing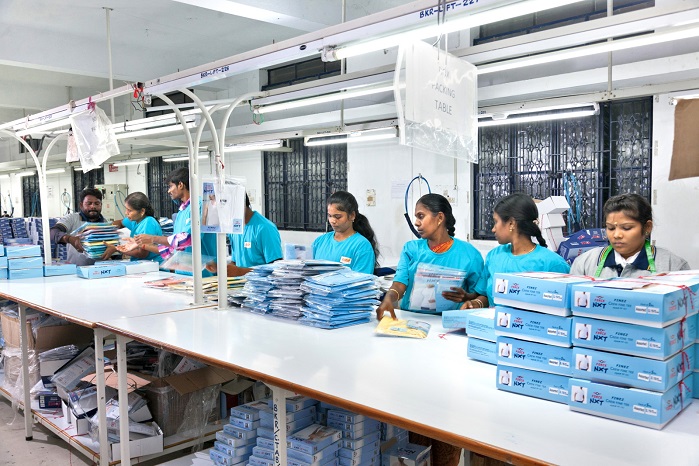 Dollar is amongst the top three hosiery brands in India. © Dollar Industries
Dollar Industries, one of the top three hosiery brands of India, which enjoys a 15% market share in the branded hosiery segment, has been using renewable source of energy for manufacturing and has invested into a five megawatt wind energy farm at Tirupur (Dindigul) and a 1,000 kilolitre zero liquid discharge effluent treatment plant.
"This helps Dollar to utilise treated water for captive use and correspondingly reduce its reliance on municipal sources. Dollar recycles the residue that is automatically converted into cakes," said Vinod Kumar Gupta, Managing Director of Dollar Industries.
Making it the green way
"Eco-friendly manufacturing is becoming the need of the hour. It protects the planet from exploitation and conserves natural resources," he continued. "Products are made from sustainable materials, while waste is reduced through remanufacturing, reuse and recycling. Besides being a friend of the earth, being eco-friendly can reduce business' costs through reduced energy use. With advancement of technology and upgraded production techniques corporate houses are coming up with several green initiatives."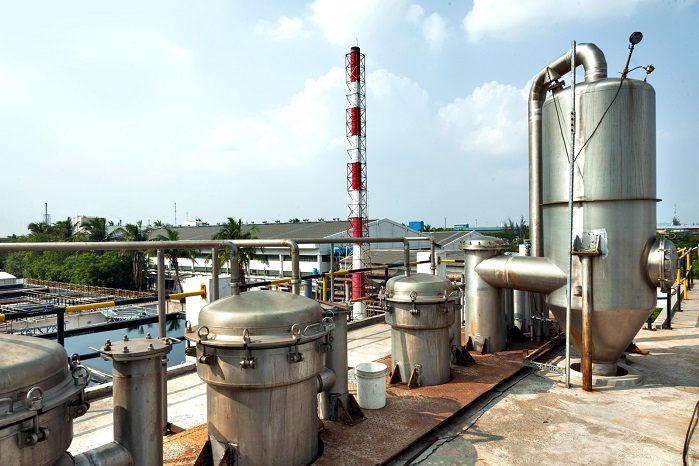 Dollar believes in eco-friendly ways of production. © Dollar Industries
Tirupur has become India's first textiles cluster to comply with zero liquid discharge guidelines. Zero-liquid discharge (ZLD) is a water treatment process in which all wastewater is purified and recycled, therefore, leaving zero discharge at the end of the treatment cycle.
Production capacities
Dollar Industries has invested in high-quality manufacturing assets and progressive backward integration – from fibre to fashion. Its production capacities include:
Spinning capacity of 400 tonnes per month
Knitting capacity of 300 tonnes per month
Dyeing and bleaching capacity of 400 tonnes per month
Elastic manufacturing capacity of 13.5 lakh metres per month and a cutting capacity of 3 million pieces per day
Dollar Industries was founded in 1972 as Bhawani Textiles. It is today amongst the top three hosiery brands in India. Dollar is headquartered in Kolkata and has four manufacturing units in Kolkata, Tirupur (TN), Delhi and Ludhiana.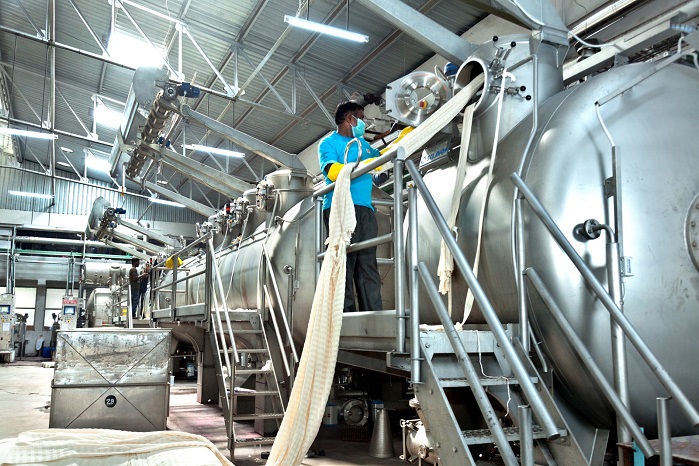 Dollar has invested in high-quality manufacturing assets. © Dollar Industries
Dollar believes in eco-friendly ways of production and introduced a zero-discharge technique with evaporation system. The range of products at Dollar Industries includes vests, briefs, trunks with latest cuts and fits. In apparel category, there are T-shirts, gym-vests, Bermuda, leggings and track pants. For winter, the company offers premium thermals for men, women and children, as well as camisoles, panties and leggings for women.
This article is also appears in...