28th September 2012, Brescia
Good turnout for Brescia hosiery machinery events
Exhibitors at this week's hosiery machinery events in Brescia, Northern Italy seem satisfied so far with both the number and the quality of visitors. Brescia is host to a total of four events this week - FIMAST (International Textile Machinery and Accessories Trade Show), Santoni's Open House, Lonati's Open House and sock machine manufacturer Rumi's private show all of which opened yesterday and close Saturday lunchtime.
FIMAST
Fabiana Colosio of Cesare Colosio SpA, one of the driving forces behind the FIMAST exhibition, said:
"I am delighted with the exhibition so far. Day one attendees were higher than expected and I think today will be similar. It is especially encouraging because more than 50% of visitors are from outside Italy"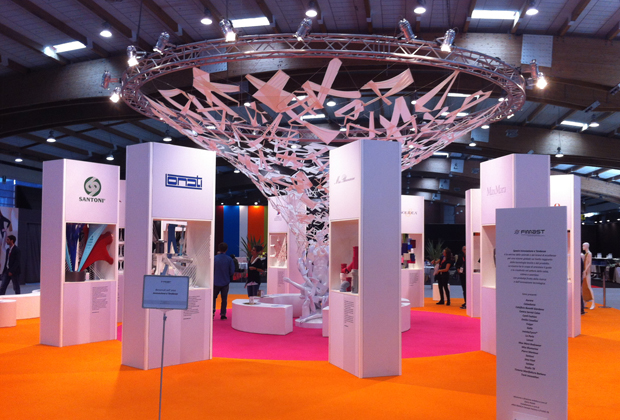 Thomas Liebers of German sinkers and elements producer Christoph Liebers reported that day one was good and that day two looked like being just as good although business tended to tail off towards the end of the day.
The whole FIMAST exhibition area (10,000 sqm) has a very spacious feel about it which can make it look less busy than it is – even though the show is host to 80 companies and a further 20 brands in the Innovation & Trends area.
The spacious stands suit the machine builders who have lots of different machine models to show but the stands of some small equipment, parts or yarn sellers can look a bit bare. The real test of course is when you try to go on to a stand to get to see someone important without an appointment – they are fairly constantly busy with customers.
You also have to take into account the fact that many visitors to Italy's hosiery capital are moving back and forth between the four different events in shuttle buses and taxis.
Fiorenzo Sandonini whose Sandonini company reconditions and upgrades used socks, hosiery and seamless machines for global markets, said: "This is the first time we have exhibited anywhere and I have to say I am very happy with the response. We have had many buyers come to our stand and we expect to close a number of deals." The company, which had a number of reconditioned machines on show, sells around 1000 machines per year and must be one of the world's largest suppliers of used machines.
Santoni Open House
Across town at Santoni day two was getting busy by 10.30am and according to Patrick Silva, Santoni's marketing manager, day one was a busy day. Most of Santoni's visitors were from Europe as the show was organised a fairly short notice leaving it difficult for visitors from further afield to get visas on time.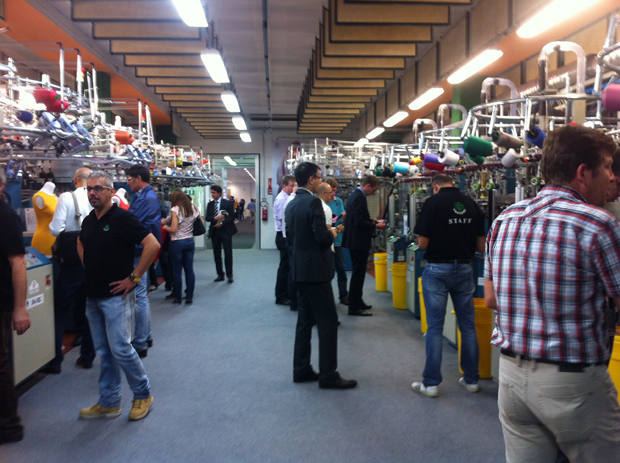 "We are very satisfied with the event so far and expect Friday to be just as good," Patrick Silva said.
Santoni's extensive and impressive exhibition is split into two parts with one hall housing seamless warp knitting, Mec-Mor and large diameter circular machines and the other housing the Santoni seamless range, socks machines and finishing machinery.
Lonati Open House
At Lonati the story was similar – good first two days and optimistic about Friday. Sergio Del Re, Sales Director said:
"We decided to host this event fairly recently and therefore there was a lot of organising to do in a short period of time. But we are satisfied with the number and quality of visitors. We have a lot of serious buyers here."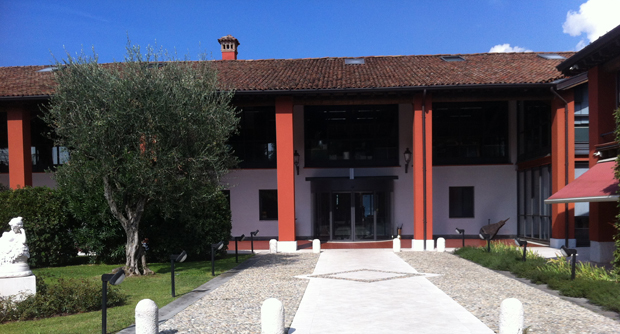 Arriving at Lonati just before lunch time on day two, I found the place buzzing. The machines were surrounded by visitors and Lonati technicians as usual and a good atmosphere prevailed.
Speaking at the Lonati Open House, Jonathan Pears of Alphalex, UK agent for both Lonati and Santoni was very upbeat saying: "I'm very pleased because we actually have customers here to buy machines rather than just looking at what's new. Our market is recovering and this is very encouraging."
Most exhibitors we met painted the same picture with regard to both attendance at the events and the quality of visitors. In terms of overall business performance however the consensus is that international markets are very difficult to predict. China seems to be the most unpredictable along with Europe for many exhibitors.
More to follow...
This article is also appears in...