Lonati's Open House exhibition, which ran from 26-29th September at its Brescia headquarters, was not announced to the press until the beginning of August this year, but nevertheless the event drew a large crowd.
One gets the impression with Lonati though, the world's leading socks and hosiery machine builder, that it is always like this – that there is always a constant stream of visitors, even on days when there is no exhibition.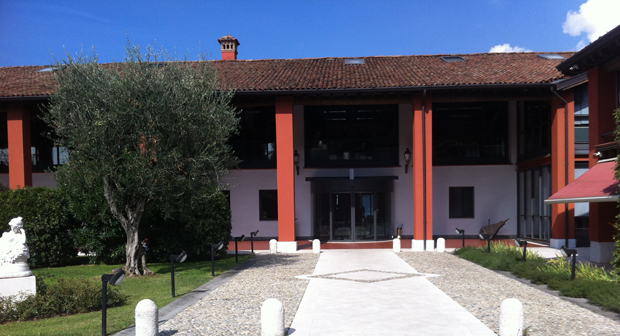 Speaking at the company's in-house exhibition, Lonati Sales Director Sergio Delre told Knitting Industry that 2011 was a really good year for Lonati – in fact one of the best. 2012, he said was more of a 'normal year'.
"But we are optimistic," Delre said. "Optimistic even when most of the world is down or pessimistic."
When asked where Lonati's competition came from these days, Delre said: "China. Our competition comes from China. Yes, from a quality point of view the Chinese builders getting better. But so is everyone – including Lonati."
When Lonati opens its Via Francesco Lonati headquarters for such in-house exhibitions it basically opens up its extensive showrooms which showcase a wide range of its latest models in a range of formats and gauges. Septembers 'Open House' was no exception.
New generation double cylinder machines
An important exhibit Sergio Delre explained was the company's 'new generation' double cylinder DC88, a single feed machine for the production of men's and children's socks and tights in plain, Derby, links and stripes (with short yarn ends staying inside the sock).
The DC88 which was introduced at ITMA in Barcelona last September and is designed to have fewer mechanical moving parts and uses a mono-actuator needle by needle selection system. The pattern drum is no longer required in the machine and sock patterns are created by computer programming.
The DC88 comes in two versions - the DC88 standard model and the DC88 SbyS model with automatic closed toe true linking system. The standard model comes in gauges 14-22 in 3 ½", 3 ¾" and 4" diameters, whereas the SbyS model comes in gauges 14-18 in the same range of diameters.
Maximum speed of both DC88 models is 350-400 rpm in Derby and links and 300 rpm in reciprocating mode.
According to Sergio Delre the SbyS model has been selling well since spring this year, especially in Italy. "Closed toe is the future worldwide," Delre said.
Tights and stockings in natural fibres
A growing trend at Lonati is the demand for machines for the production of natural fibre items. Lonati's Donna LA04JS 4" diameter is an electro-pneumatic 4 feed single cylinder machine for the production of women's stockings or tights in patterned and plain knit.
The LA04JS has specially designed cams and needles suited to the manufacturing of cotton, wool and other natural fibres pantyhose. With individual needle selection on each feed the machine is capable of knitting jacquard, baguette and tucked mesh structures.
Five yarn fingers with dual pneumatic control are available at each feed as well as one plaiting motorised yarn finger for angular movement and two pneumatic controls for setting height and depth.
Stitch cams are controlled by stepping motor for gradual loosening or tightening of stitches in any selected area of the garment and mobile stitch cams produce pantyhose with two colours in each course or relief jacquard. The 4" machine is available with 128-288 needles and runs at a maximum speed of 450 rpm.
Also on show from the Donna range for natural fibre production was the company's 4" diameter LA 4TS terry machine which is fitted with special cams and needles as well as a dust extraction system, which has been specially developed for knitting natural fibre terry fabrics.
Compression hosiery
Another highlight at the Lonati in-house show was the company's LA Medical range which comes in a range of models and diameters – LA40ME (4"), LA45ME (4 ½"), LA50ME (5"), LA55ME (5.5"), LA60ME (6").
The LA Medical range are single cylinder 4 feed machines for the production of class 1, 2 and 3 type compression stockings with reciprocated and tri-dimensional heel and toe in one feed with two raising pickers and two droppers or pouch type heel and toe.
Needle selection is via two electronic selection actuators on each feed (one for tuck and one for clearing position) with traditional jack extraction cams. Motorised stitch cams allow density changes anywhere in the stocking or in each course.
Full electronic programming of the knitting cycle as well as article and knitting adjustment is possible with the LA Medical series. The machine memory can store knitting data for numerous styles each with up to eight sizes.
A wide range of knitted structures can be produced on the Lonati LA Medical series including plain, various meshes, 1:1 non-run, tuck patterns, reinforced needle skip patterns, reinforced band, inlay for bare and covered yarns and various heel sizes and positions. The machines can handle nylon, polyester and elastane based yarns (bare and single or double covered).
Maximum speed for the LA Medical series, like any other machine, depends on the yarns being processed and structure being knitted but Lonati quotes the following:
LA40ME – 176-402 needles (gauges 75, 70, 54, 48) – maximum speed 550 rpm
LA45ME – 240-480 needles (gauges 75, 70, 54, 48) – maximum speed 500 rpm
LA50ME – 312-501 needles (gauges 75, 70, 54, 48) – maximum speed 450 rpm
LA55ME – 352-560 needles (gauges 75, 70, 54, 48) – maximum speed 450 rpm
LA60ME – 366-600 needles (gauges 75, 70, 54, 48) – maximum speed 300 rpm
Machines for medical stockings is a growing area of business for Lonati as Sergio Delre explains: "This is for sure a growth area for us although it is still a niche business. But we see more and more interest from all areas of the world as the trend for applying compression hosiery grows."
Lonati dominates the world's socks and hosiery machine business and as it continues to innovate it will continue to do so. The company can build anywhere between 8000 and 17,000 machines per year and although Sergio Delre would not say how many machines the Italian machine builder produced last year, we can assume it was somewhere near the latter figure. China is the company's largest market.
Download futher technical details