25th November 2019, Cannes
Lycra launches new Lycra FitSense technology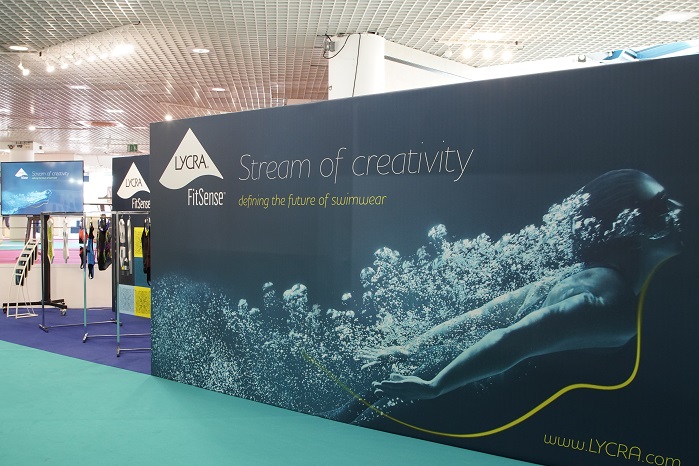 Lycra FitSense technology at MarediModa. © The Lycra Company
Lycra has launched its new Lycra FitSense technology for swimwear at this month's MarediModa trade fair that took place in Cannes, presenting the latest developments in fabrics and accessories for beachwear, lingerie and athleisure.
Lycra FitSense technology is screen printed onto fabric containing Lycra fibre to deliver targeted lightweight support that can be combined with visual effects like patterns or colour blocks. As a result, sewn-in panels or extra seams that may restrict movement and cause discomfort could be eliminated.
Arnaud Ruffin, EMEA Brands and Retail Director, The Lycra Company, led the presentation on Lycra FitSense at the show. Knitting Industry spoke to Mr Ruffin to find out more about the new innovation.
What led The Lycra Company to develop the new FitSense technology? How is it different from other screen printing processes?
Arnaud Ruffin: The Lycra Company prides itself in its consumer insight driven innovations. Today's activewear consumers are looking for tailored performance with outstanding comfort in their garments but find it difficult to achieve both features in a single garment. In intimate apparel, consumers want shape and support without having to sacrifice comfort and style. Lycra FitSense makes it possible to offer these consumers a highly functional garment that is designed to move with them.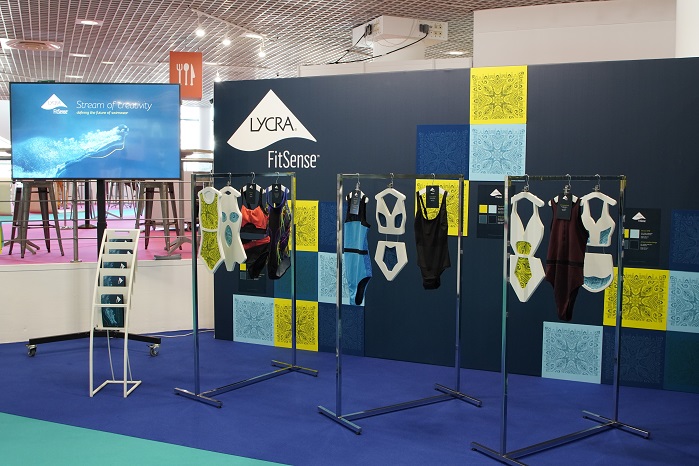 Lycra FitSense technology at MarediModa. © The Lycra Company
Lycra fibre is synonymous with stretch and recovery and Lycra FitSense contains the same molecule in liquid form. This can be printed on stretch fabrics to add visual effects, such as patterns and colour and functional benefits in terms of added power. Applied via a standard screen-printing process using a water-based, solvent free dispersion.
Why did you decide to launch the new FitSense for swimwear innovation at MarediModa?
AR: MarediModa is one of the most important events on the swim and beachwear calendar and Lycra always has a strong presence at the event. It is a great platform to present new innovations and collections to a large number of decisionmakers from across the globe.
The product was very well received. Visitors to the show were able to see examples of the technology printed on swimwear and on fabric panels and to learn about the innovation during the presentation we hosted.
What benefits does it offer to the consumer?
AR: Lycra FitSense optimises comfort as it offers the wearer targeted support with shaping and lifting where needed, without the addition of bulky sewn in panels, lining or padding. It is lightweight and offers a natural looking, highly functional swimsuit. Additionally, it is durable with the performance benefits lasting wash after wash and the same chlorine resistance as Lycra Xtralife fibre.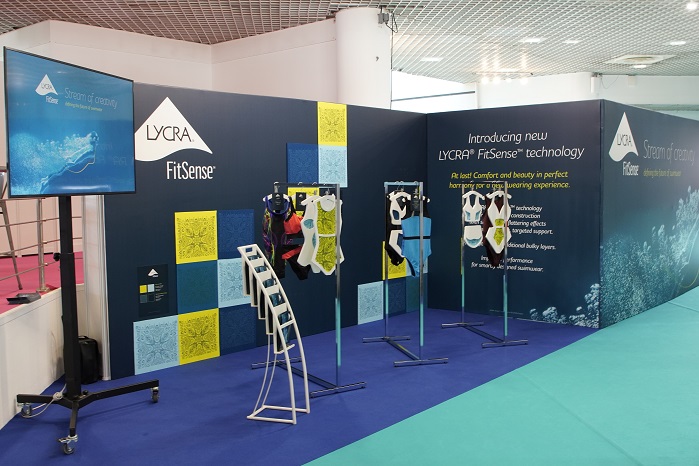 Lycra FitSense technology at MarediModa. © The Lycra Company
In SW you can make single layer of fabrics garment that dry quicker, the water is no longer trapped inside the layers of fabrics.
What kind of advantages does it give to designers and manufacturers?
AR: Lycra FitSense will help to free the designer's imagination making it possible to bring new garment ideas, previously impractical due to production or cost constraints, to life. It allows printing with both functional and visual benefits and is simply applied via a standard screen-printing process using a water-based, solvent free dispersion. Different to standard screen printing or silicone applications, Lycra FitSense technology can be moulded allowing you to add the required support and definition needed in the bust area.
What are the main markets you expect to see the most demand from? Any innovative uses?
AR: Lycra FitSense is perfect for use in just about any garments that needs to be lightweight, high performance, requires targeted support and comfort. We initially launched it in active wear and intimate apparel and of course now in swimwear too and is also ideal for athleisure and denim. Commercial programmes are already available featuring Lycra FitSense technology on shapewear, leggings, sports bras and fitness collections: Maidenform, adidas, C&A, Triumph, and more.
The ability to add targeted power, support or lift to zones in a garment is very exciting and it opens up opportunities for new types of garment construction or to solve some long-standing issues around fit, comfort, compression. We expect to see a lot of exciting creative ideas around this technology – some will be highly visibly whilst others will be the "hidden magic" inside the garment.
This article is also appears in...