Interviews
Making socks in California with a social conscience
Forward thinking socks manufacturer FutureStitch is creating real manufacturing jobs in the USA, recruiting and employing formerly incarcerated women.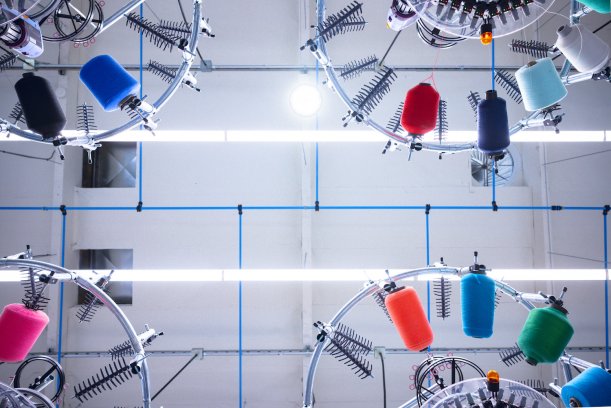 28th July 2022
Knitting Industry
| Oceanside, CA, USA
Oceanside, California based FutureStitch is a cutting-edge knit producer partnering with some of the biggest names in fashion including Stance, TOMS, Crocs, Everlane, and more to create specialized, durable sock designs. It is the go-to manufacturing partner in the space, with industry-leading expertise and an unwavering commitment to using its business to drive positive change. Prior to launching FutureStitch, co-founder and CEO Taylor Shupe was a co-founder of Stance, and he has also served as Vice Chairman for Yeezy.
This summer, FutureStitch has expanded its manufacturing into the United States for the first time, opening a new factory in Oceanside, CA. Working closely with San Diego Workforce Partners and North County Lifeline, the company is recruiting and employing formerly incarcerated women. Knitting Industry spoke to Taylor Shupe about his philosophy and his vision for FutureStitch and its employees.
Knitting Industry (KI): Can you please give our readers a bit of background on you and your company?
Taylor Shupe (TS): FutureStitch builds socks. We eat, breathe, and live the product.
We are designers, innovators, developers, merchandisers, salespeople, and we're manufacturers. We've been in the sock business since founding Stance in 2009. We create new sock businesses for ourselves and with partners such as Crocs, Everlane, Toms, and others. Our operations are Platinum LEED certified and we take pride in upholding the highest social standards.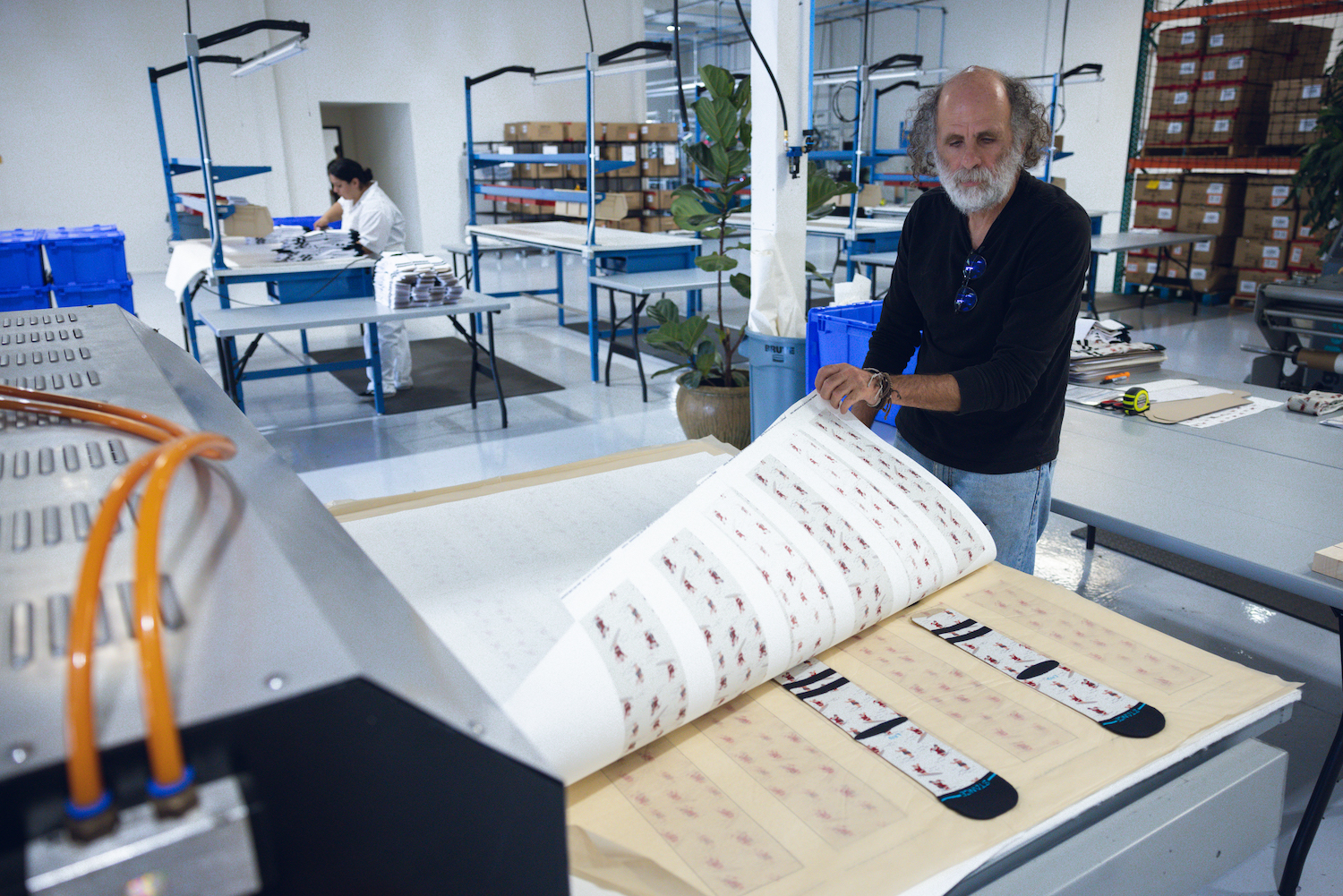 KI: FutureStitch is on track to reach revenues in excess of $60 million in 2022 and will use its profits to fuel further growth and the development of additional specialized manufacturing facilities. Can you tell us a bit more about your growth plans, and how Oceanside fits in?
TS: Sure! In the knit world, we run a fairly unconventional operation. Even though we operate our own factories, our growth strategy has less to do with manufacturing and has a lot more to do with specialized services and consumer sales. Since we have experience in building one of the most successful and valuable sock brands in the world, we have a deep connection with the consumer, and pride ourselves in partnering with brands to build supply chains that create competitive advantages for shareholders and their customers alike. We pride ourselves in increasing the shareholder value of our partners' companies through better sales strategies, marketing initiatives, and product innovation.
FutureStitch is challenging the notion that manufacturing jobs are a thing of the past, bringing in new communities with fresh energy and ideas, and providing stable, rewarding career opportunities for its employees
Our model facilitates larger margins than conventional manufacturing. This allows us to invest adequately into an excellent talent pool, culture, and infrastructure. We've been maintaining a 30%+ growth rate for several years.
Oceanside is a prime example of a brand partnership that builds products for specific consumers and specific market needs. If Oceanside does its job correctly, then we will use it as a blueprint for more hyperlocal micro-factories around the globe.
KI: Why are you manufacturing in the USA? Isn't it too expensive to manufacture socks in California? How does this fit in with the manufacturing you are doing in China? Can you share more about the similarities and differences between these facilities and what each will focus on?
TS: Well, there's equity in Made in the USA. Consumers take pride in wearing products bearing the American flag – and they're finally willing to pay more for it. Having a local production facility allows us to deliver faster and more reliably, build a community through our employees, lower our environmental footprint, and capture new opportunities that align with topical moments.
Yes, it's more expensive–twice as expensive–but the gross margin contribution dollars will be higher, even if the gross margin percentage is lower. Most importantly, brand value will be much higher.
We've also been investing heavily into the R&D capabilities of Oceanside. We're harnessing the creativity and ingenuity of Americans – tapping into our home-grown culture.
China is still important. We run several brands there, FTC (factory to consumer), and produce tens of millions of socks. We also supply most of the blanks for California. We have over 400 hard-working employees in China, and they continue to create a ton of value for the global organization.
KI: You are going to be working closely with San Diego Workforce Partners and North County Lifeline to recruit and employ formerly incarcerated women. Can you tell us a bit more about that project and why helping with access to services, beyond just offering employment, is so important?
TS: We believe capitalism can be a great source of good. There are many labour populations who have high unemployment. Justice impacted people have upwards of 35% percent unemployment in the US. Visually impaired people have around an 80% unemployment rate. We believe these populations have been overlooked, left out, even forsaken by the system. We believe that if we provide opportunities, and the tools to be successful, they will be. And we might be able to prove something beautiful in the process. Quite frankly, employing disadvantaged populations feels good. And when things feel good in a work environment, people stick around and they work harder, because they're happy.
KI: FutureStitch is challenging the notion that manufacturing jobs are a thing of the past, bringing in new communities with fresh energy and ideas, and providing stable, rewarding career opportunities for its employees. Can you expand on this please?
TS: Yes, absolutely. There's been a stigma in America that manufacturing is for people who aren't driven, or scholastically minded. We feel like this is total nonsense. The data suggests that quality manufacturing can actually afford to pay more than most service roles. It also doesn't require $100,000 in student debt. There's also a lot of opportunity in entrepreneurship as you acquire real technical skills.
I like to consider the factory worker as our most vital consumer. We incorporate their feedback on product and process, which helps run our factory in a much more dynamic way.
One manufacturing job can create 5 more down the value chain. It's good for a solid middle class, and it's good for people individually. I think we need to stop worshiping the digital tech industry – which builds things we really don't need and furthers the global income disparity – and reset the respect for building real things. What's better for society, serving chips or building microchips? *
*Derived from "Made in USA: The Rise and Retreat of American Manufacturing."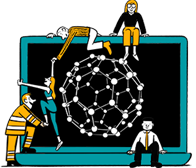 Business intelligence for the fibre, textiles and apparel industries: technologies, innovations, markets, investments, trade policy, sourcing, strategy...
Find out more