FIMAST, the international exhibition for the hosiery machinery sector kicked off here in Brescia yesterday and innovation was immediately apparent at the Brixia Forum venue.
The most obvious innovations came from the knitting machine manufacturers who were offering solutions for shoe uppers, particularly for the sportswear brands. Santoni had some neat shoes on display from its new X intarsia machine and Colosio showcased its S1 shoe upper machine and a host of stylish sports shoes on an impressive booth – the company has already sold more than 500 S1 machines worldwide. Sandonini, which specialises in reconditioning both hosiery and seamless machines had a large stand which was packed with its ShoeSocks 3D shoe uppers.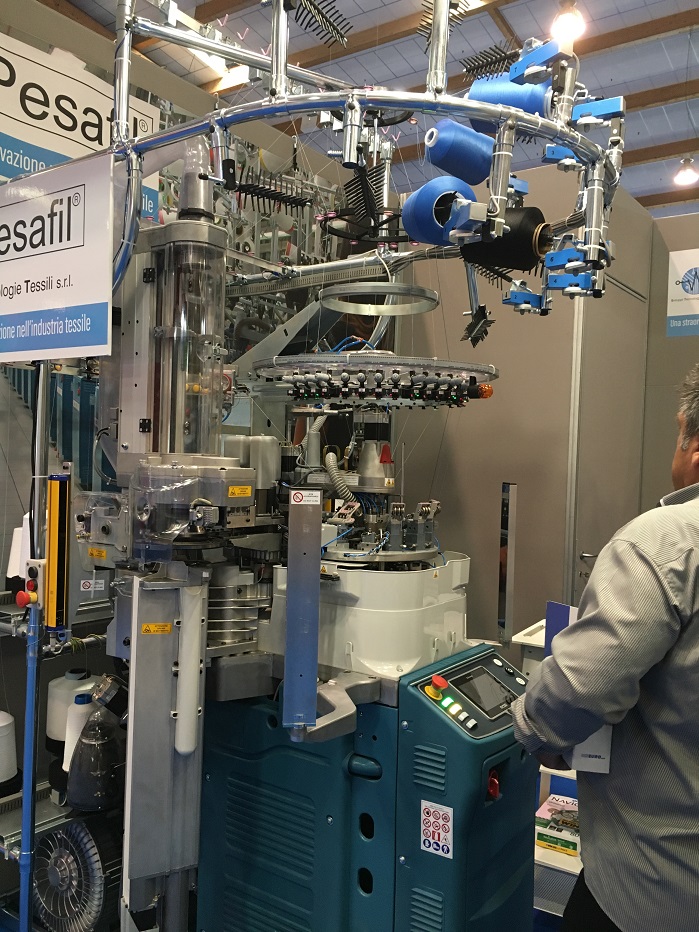 Another immediately evident trend was automatic toe-closing devices for socks machines with Staubli and a number of knitting machine builders including Da Kong and Tai Ho Shing showing new devices on machines.
More on shoe uppers and automatic toe closing to follow later.
Pesafil
Hidden away at the back of the main hall was an innovation which could be a game changer for sock sampling. Sviluppi Technologie Tessili, a research and development company based in Italy's hosiery manufacturing capital Castel Goffredo, exhibited its Pesafil automatic yarn weighing system for the first time.
Pesafil is the brainchild of Giancarlo Frizzi, owner of the now defunct hosiery manufaturer Gizetta, whose ingenious invention has been brought to life with the help of local software engineers. The innovative, and internationally patented technology could be used in many textile machinery applications but is currently focussed on hosiery and seamless technology.
Pesafil, comprises of a central processing unit which monitors in real time, up to 30-40 yarn positions on a knitting machine, each of which has a weighing scale. Each yarn package is weighed while the machine is in operation and the technology memorises values on the spot and through bespoke software, conveys them to a database processed by Pesafil's computer system.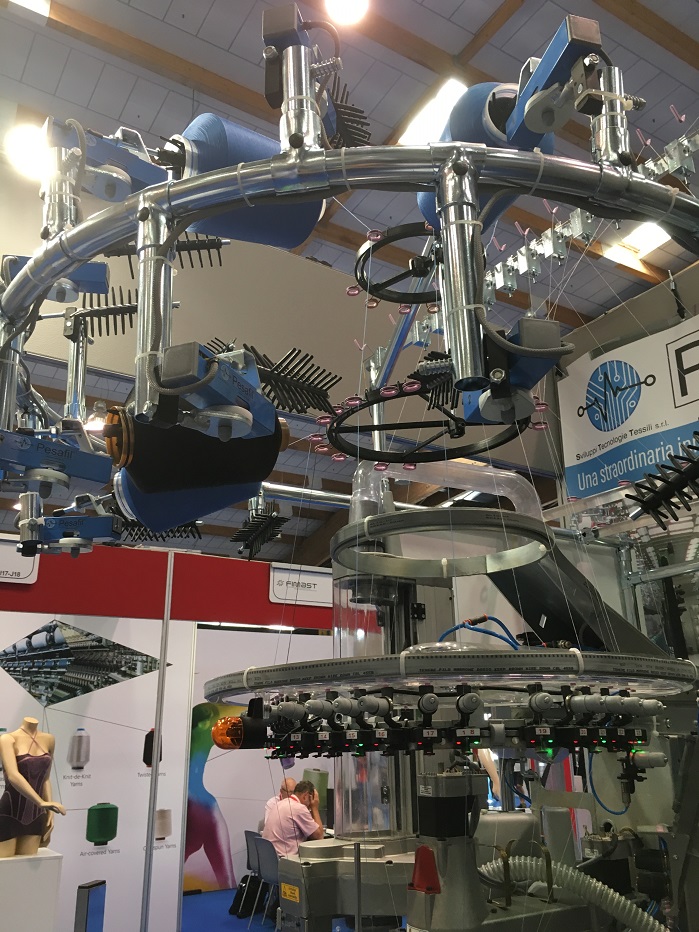 Each weighing scale is like a small bracket which is positioned just under the yarn package holder and the system operates under standard temperature and humidity conditions. Each scale can handle packages of up to 7Kg in weight and +/- 0.10g accuracy is claimed.
Advantages
Under normal sampling conditions in a socks factory, technicians have to knit their samples, then remove and weigh every yarn package used in the sample. This involves snipping each yarn, removing the packages from the machine and weighing them and then replacing, re-threading and resetting tensions for each yarn.
In the case of complex socks with multiple ends and colours this makes for a lot of work. So, immediately Pesafil can save a lot of time – possibly up to 80% on a sample. But there is an even more important advantage and that is in being able to determine the exact quantities of each yarn used in the sample. Ten grams of yarn here or there does not sound like much but if you are producing 10,000 pairs of socks for an order in expensive hosiery yarns then every gram counts. Pesafil will now allow manufacturers to plan and properly cost their production based on accurate sampling data. "By inserting a card reporting the cost of the yarn being used, the cost of the manufactured sample is immediately given" the company said.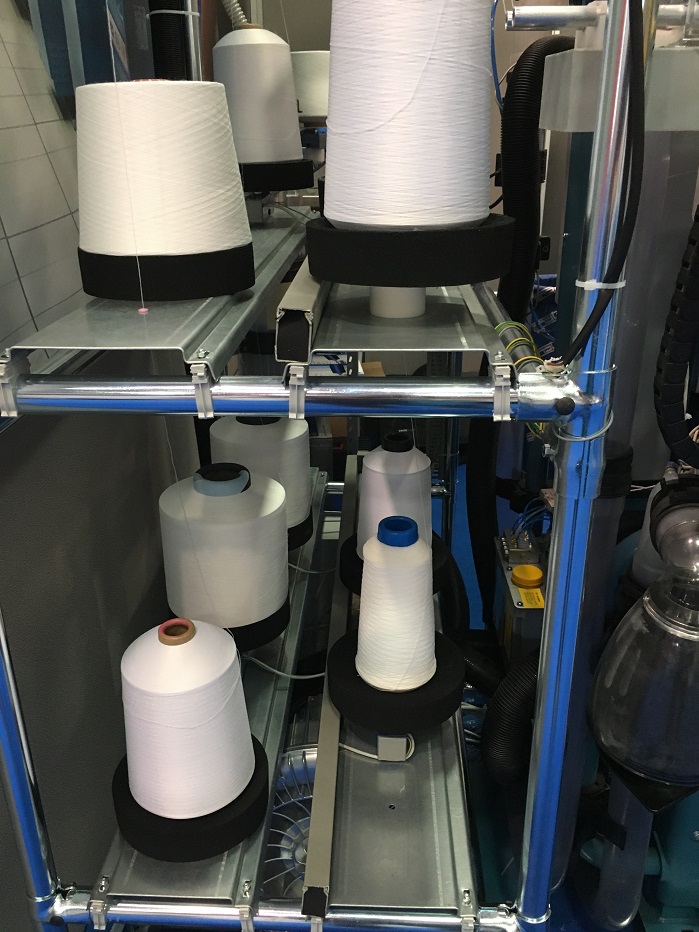 In summary the main advantages claimed by the company for Pesafil are as follows:
Sampling - quick, precise, reliable responses and correct costs
Costs - real-time cost of the yarn used
Consumption - obtaining the real consumption of the yarn being processed
Management - efficient management of the textile department and yarn warehouse
Quality - absolute precision in production quality control
Innovation - reliability, precision and innovation in textile industry management
Pesafil exactly fits in with Industry 4.0, a name for the current trend of automation and data exchange in manufacturing technologies. It includes cyber-physical systems, the Internet of things, cloud computing and cognitive computing. Industry 4.0 is commonly referred to as the fourth industrial revolution and creates what has been called a "smart factory".
At FIMAST, the Pesafil system was running on a Lonati GK 625 3 ¾" 200 needle mens socks knitting machine. Pesafil is rumoured to be on test at a number of top hosiery manufacturers, including Cazificio Trever, Calzedonia, Golden Lady and Falke.
This article is also appears in...