Santoni will once again be taking part in this year's Texpo Eurasia Exhibition (TUYAP), which takes place in Istanbul at the Tuyap Fair Convention and Congress Center from 26-29 March 2014. The leading Italian seamless knitting machine builder will be found in Hall 3 at Booth 311/A.
According to the Brescia based company, the Santoni seamless machines on show represent the continuous efforts by the company to be present in the market with innovative machines with the aim to keep its leadership both technically and commercially in respective knitting fields.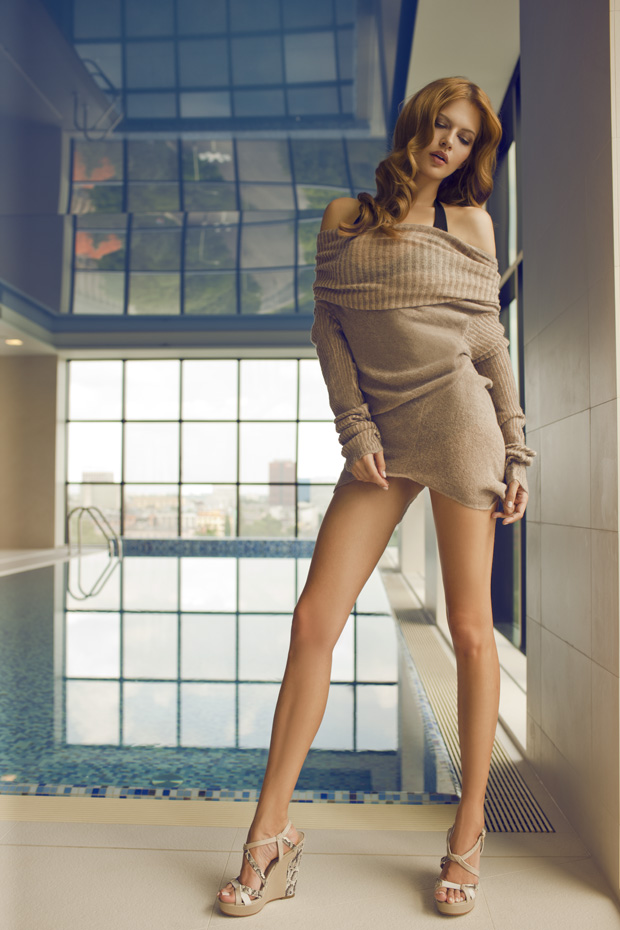 The following machines are the result of these continuous research activities and their main technical features can be summarized as follows:
Versatile double jersey seamless
The SMDJ-2T is, Santoni says, the most complete seamless circular knitting machine that it has launched to date. It is a double jersey machine offering the possibility of knitting almost any stitch or knit structure such as; true rib, links-links, jacquard, striping, pointelle and eyelet.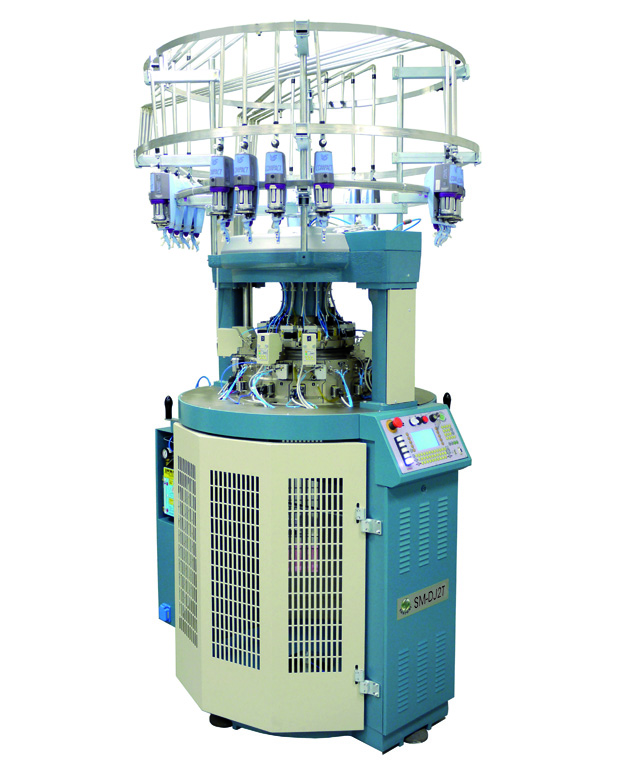 All this with optional incorporated body rib bands, in order to produce a range of garments that go from the most luxurious and chic underwear to the smartest and most versatile trendy outerwear. The machine is said to knit a very wide range of both manmade fibres as well as all types of natural fibres.
Ultra light seamless shapewear
Santoni's SM8 Top2 machine is what the company calls "the innovative trend" in seamless underwear production, especially in the shapewear market. Now the machine has been refined to knit the finest gauge yarns in gauge 40E .This fine gauge machine, Santoni says, represents a technological breakthrough for a new dimension of light seamless shapewear garments suitable for spring and summer.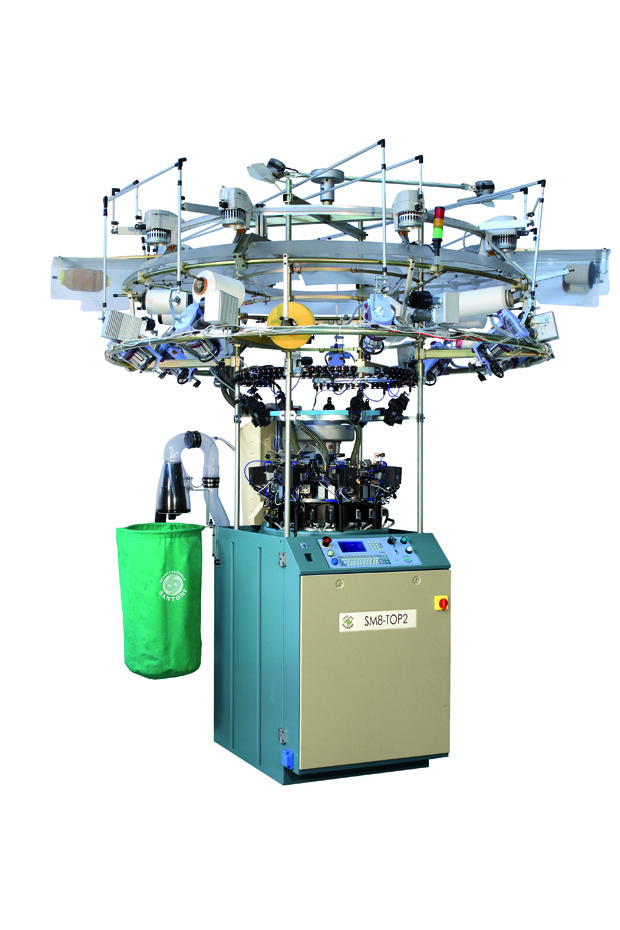 "The surface of the garment is smoother and lighter offering an incomparable feeling of comfort like a second skin shaping gently the tummy and wherever it is most required thanks to the body mapping capabilities of the machine," Santoni adds.
Best for seamless sportswear
Santoni's SM8- TR1 is capable of producing innovative fabrics based on fibres that offer natural anti-bacterial and anti-odour properties and natural UV and skin soothing properties. The machine is widely accepted as the best machine for knitting seamless sportswear garments as it allows the production of garments with enhanced ventilation and wicking properties. Using the SM8-TR1's unique transfer needles it can knit excellent quality mesh constructions in garments - manufacturers do not need to use elastane to knit the mesh, as with Top2 machines.
In addition, the 8 feed machine also has special knitting needles with a unique Santoni-patented collar. This allows stitch transfer on the single cylinder machine when knitting mesh to give extremely secure fabric with a very even surface appearance. It is also possible to knit mesh areas anywhere in the garment including diagonally aligned holes and extremely small meshes. It is available in 24 gauge, which Santoni's says allows the perfect knitting of all natural fibres and wool in particular.
Best seller evolves
A special focus will be placed on the EVO 4J 8-feed single jersey electronic circular knitting machine in Istanbul. This represents the evolution of Santoni's best selling machine. With its 4 selection points needle-needle on each feed, it produces seamlesswear single garments for underwear, outerwear, swimwear, sportswear and sanitary garments by using synthetic yarns and bare and covered elastane.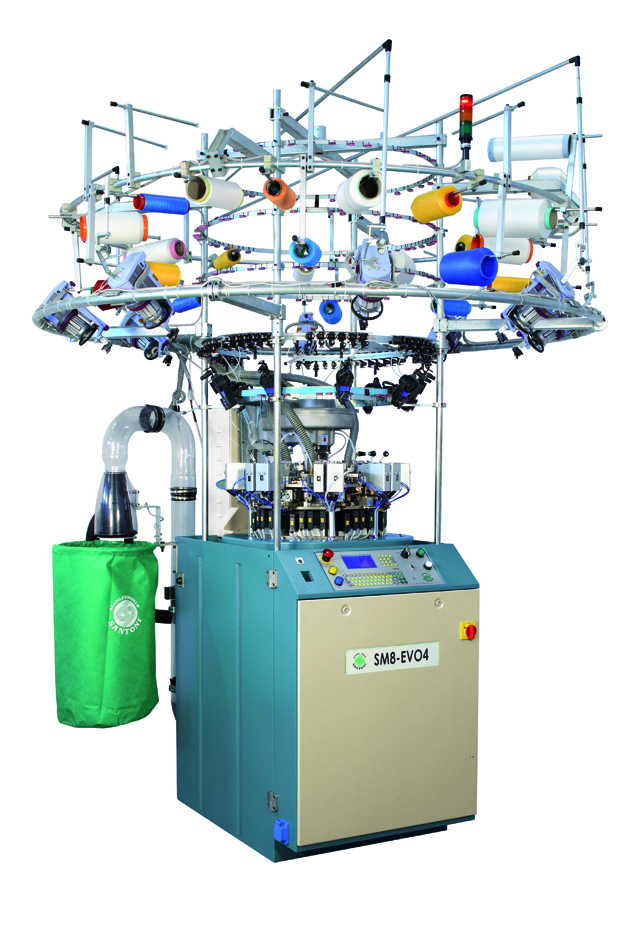 Having the four selection points plus three yarn finger units the EVO 4J offers a more pattern flexibility and the possibility to knit more technical garments with more colour possibilities on the same course. It is available in 12,13,14,15,16 and 17 inch diameters with a range of gauges from 16 to 32. According to Santoni: "It could be an excellent alternative option for those who want to be on the market with more sophisticated garments, to meet the very last-minute fashion trends together with a significant output."
"Some customers have started exploiting its endless technical possibilities and creative capabilities that can still be widened further."
In fact having less cams and actuators its use is very quick and easier and it does not prevent but on the contrary it allows unlimited patterns and styles alternatives."
More information can be obtained directly from the Santoni booth 311/A in Hall 3 at the Istanbul show.
This article is also appears in...