Leading Italian knitting machine producer Santoni Group will be showing a wide range of machines for the production of knitwear, socks and seamlesswear at this year's Inlegmash show, which takes place from 22-25 April at the Expocenter Krasnayapresnya Fairgrounds in Moscow. Santoni's products will be on show in Hall 3, Booth 3F60.
Machines on show will include models from the group's Sangiacomo socks knitting machines and Mec-Mor open panel circular knitting machines, as well as its leading Santoni brand circular knitting machines for seamless garments.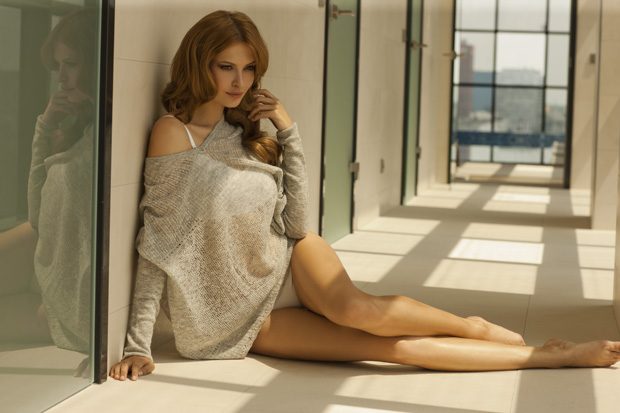 The following Santoni's machines will be exhibited:
Mec-Mor Compact
The Mec-Mor open panel circular knitting machine with circular motion has been completely redisigned into a new physically smaller model called the Compact. The Mec-Mor Compact has most of the advantages of the larger model but now the feeds are no longer divided into those specialised in knit stitches and those in transfer stitches. Now each feed is completely integral, which allows the selection of knit or bidirectional transfer in the same feed.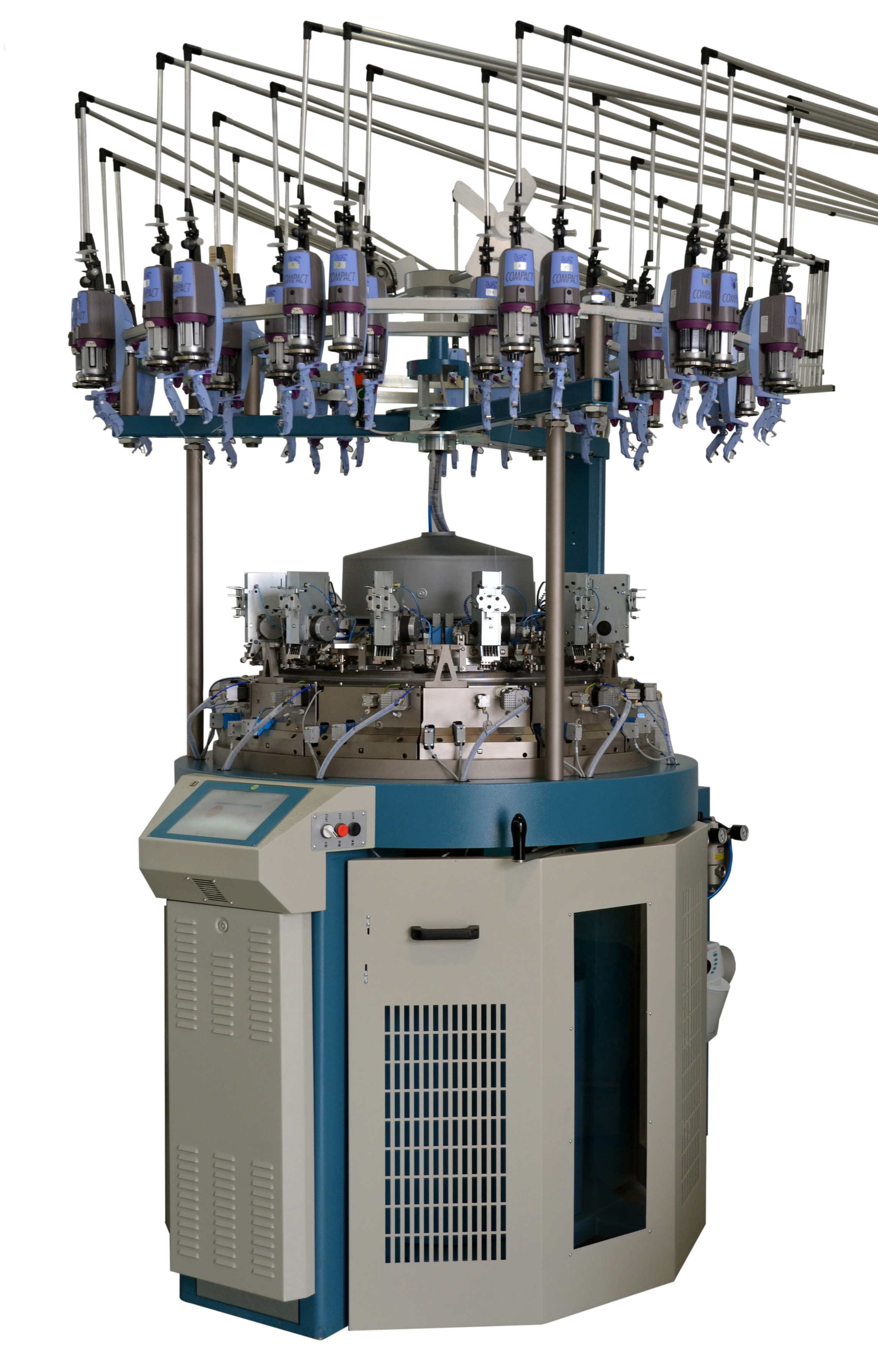 Santoni's marketing manager Patrick Silva explains: "With this smaller model, with its remarkably high productivity and fine quality of fabric, we have made circular knitwear production more accessible due to its compact space dimensions, its latest electronic management and also due to its investment cost for rapid depreciation whilst keeping all the circular advantages of fine stitch quality and the highest productivity, especially in the finer gauges."
"This machine's features are suitable for the sport garment as well. At the recent ISPO exhibition we had on show a one piece track jacket completely knitted on the Mec-Mor machine which had already captured the interest of the most important companies involved in this field."
Ultra light seamless shapewear
Santoni's Top2 machine is what the company calls "the innovative trend" in seamless underwear production, especially in the shapewear market. Now the machine has been refined to knit the finest gauge yarns in gauge 40E .This fine gauge machine, Santoni says, represents a technological breakthrough for a new dimension of light seamless shapewear garments suitable for spring and summer.
"The surface of the garment is smoother and lighter offering an incomparable feeling of comfort like a second skin shaping gently the tummy and wherever it is most required thanks to the body mapping capabilities of the machine," Santoni adds.
Best for seamless sportswear
Santoni's SM8- TR1 is capable of producing innovative fabrics based on fibres that offer natural anti-bacterial and anti-odour properties and natural UV and skin soothing properties. The machine is widely accepted as the best machine for knitting seamless sportswear garments as it allows the production of garments with enhanced ventilation and wicking properties. Using the SM8-TR1's unique transfer needles it can knit excellent quality mesh constructions in garments - manufacturers do not need to use elastane to knit the mesh, as with Top2 machines.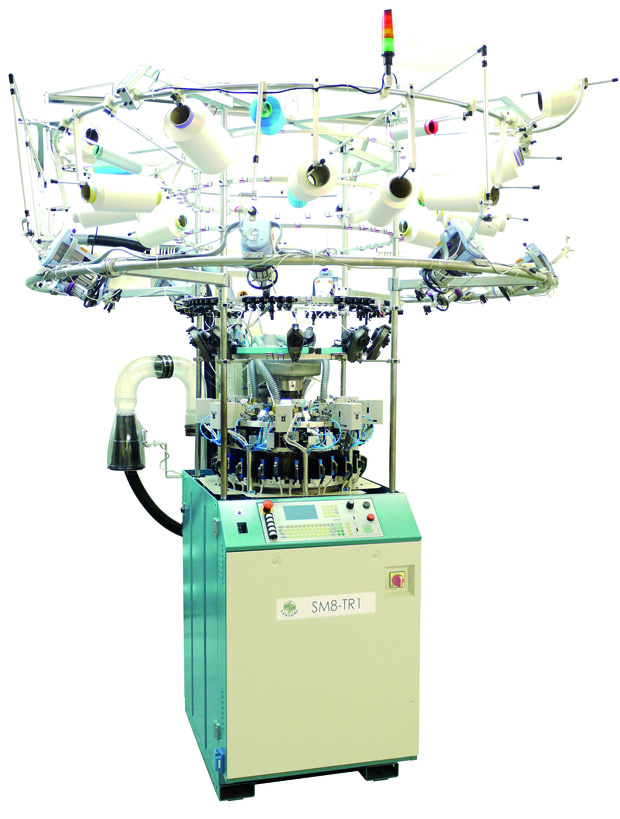 In addition, the 8 feed machine also has special knitting needles with a unique Santoni-patented collar. This allows stitch transfer on the single cylinder machine when knitting mesh to give extremely secure fabric with a very even surface appearance. It is also possible to knit mesh areas anywhere in the garment including diagonally aligned holes and extremely small meshes. It is available in 24 gauge, which Santoni's says allows the perfect knitting of all natural fibres and wool in particular.
Socks knitting machines
Santoni will also be showing a number of its world famous Sangiacomo socks knitting machines at Inlegmash.
STRONG
First up is the company's well known STRONG model. Silva explains: "STRONG is a single feed machine with selectable needles in the dial featuring the possibility of making socks produced on double and single cylinder machines. It is produced in two diameters 3 3/4" and 4" and it features a hollow shaft main motor integrated and fitted directly on the cylinder."
"This machine main features offer a true rib elastic welt, normal and sandwich terry socks, sandwich light-terry socks, multicolour stripes socks, and the imitation of the openwork mesh."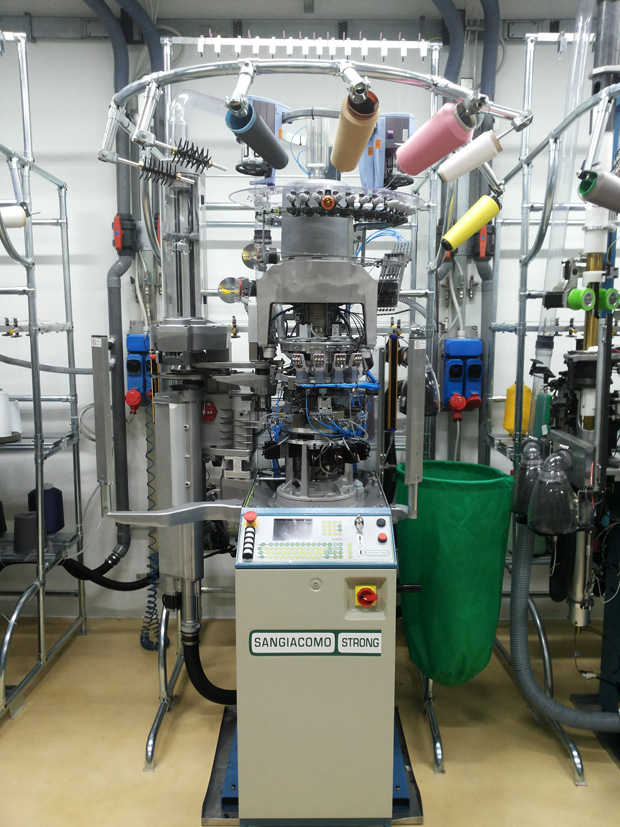 STAR D
STAR D is a newly designed machine based on the structure and features of the previous model HT but works with a new Dinema electronic control system and uses the Diagraph 3Plus software. It knits with two feeds and has needles on the dial. Some of the production features are a rib elastic welt, double welt with the possibility of two elastics in two feeds, pattern socks with four colours plus grounds, jacquard rib socks, tuck stitch, imitation of mesh pattern, imitation of links pattern.
HT1
HT1 is a single ground feed machine for the production of quality hosiery, incorporating multi-colour designs, with the possible application of sculptured terry kit. Its main technical features are knitted motives up to six colours plus the ground yarn within the same course and the total facility is 18 colours plus 2 ground colours. Fabric possibilities include plain fabric, standard terry, plated terry, 3-D design, openwork designs and jacquard terry design insertions in the heel and toe.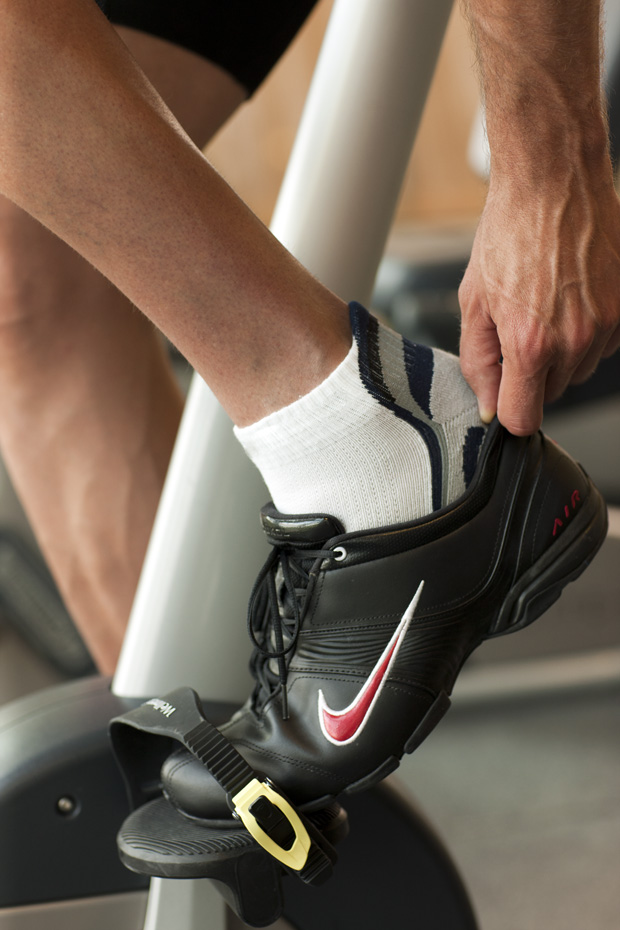 A wide range of socks samples with the above mentioned features will be on display for visitors to view.
This article is also appears in...