Italy's Prima-Tech is to merge with fellow sock boarding and finishing machine specialist Autotex, a strategic decision that will see the formation of a single, stronger operation that will continue to provide both companies' customers and strategic partners with improved service and a more comprehensive and innovative range of boarding and packaging machines.
As of May, both machinery ranges will be available under the internationally renowned Autotex brand. "Considering the level of recognition and reputation, in this specific industrial sector, that Autotex has been enjoying for over the past 40 years, we have decided to market both our product ranges under this company and brand only," explained Prima-Tech export manager, Michele Castagna.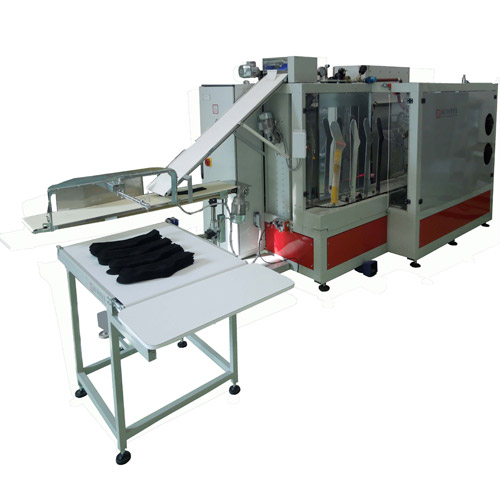 The new integrated website will be available by September although up to then, information will still be available on either www.autotex.it/en.aspx and http://prima-tech.it/en/.
The new-look company will also be unveiled at this November's ITMA exhibition in Milan on a joint booth F102 in Hall 7.
Announcing the merger, Valter Molinari said: "Over the past 4 years, Prima-Tech, with its young and energetic partners, Monica and Andrea Molinari and their team of young engineers, has developed a range of products to complement those of Autotex. With their youthful spirit, Autotex and Prima-Tech intend to strengthen their presence in the textile world and beyond.
He continued: "This year Autotex celebrates 40 years of service to the textile industry and this is to inform you that as from May this year, Prima-Tech has joined Autotex. All Prima-Tech textile related products will be marketed under the "Autotex brand".
"With this new business relationship, Autotex intends to improve its service to you, the customer, as well as expand its product range and expand the manufacturing and service teams. At the same time, we will be investing in becoming more efficient, aiming to reduce our manufacturing and service costs, thus reducing the final price tag on our products - and that's a promise!"
"The new look sales department will include Mr Angelo Morano as sales director, Mr. Angelo Arici as area sales manager, Mr Giovanni Ugolini as area sales manager and Mr. Michele Castagna as marketing manager."
Although Autotex was founded in the UK in 1975, the company headquarters moved to Italy in 2000, becoming Autotex Italy Srl. It is now based in Borgosatollo, Brescia in the heart of the hosiery-manufacturing region where it increasingly focuses on boarding and packaging solutions.
Currently, Autotex offers a range of packaging machines: sewing machines for the application of the card-rider, boxing and bagging machines as well as boarding machines designed for all types of socks (mens, womens, childrens and medical), as well as complete automatic and semi-automatic packaging lines.
This article is also appears in...