19th June 2017, Botticino Sera, Italy
Busi mourns loss of founder Giovanni and his son Gianmario
Italian sock knitting machinery manufacturer Busi Giovanni Srl has announced the passing yesterday of its founder Giovanni Busi just two weeks after the passing of his beloved son Gianmario. Gianmario Busi, a highly respected industry figure and the company's technical dynamo, passed away on June 5th after battling a serious illness.
"The extreme pain tied to the recent loss of his son Gianmario suddenly worsened his health conditions and last night he passed away," the company said in a brief announcement this morning. "They are now together, forever, watching from above us all and their beloved company."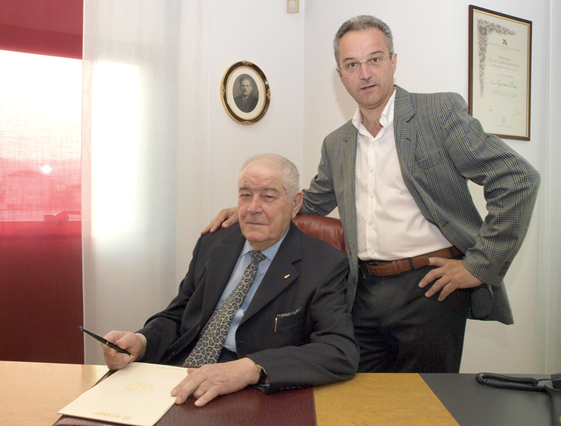 This afternoon Catina Busi, daughter of Giovanni and sister of Gianmario, and the company's General Manager, issued the following moving statement on behalf of the Busi family and the company.
"Useless to say that this has been a terrible period, the worst of my life indeed, during which I have lost, in tight sequence, my adored brother Gianmario and my beloved father Giovanni, founder of our company. With Gianmario I was used to sharing the company's everyday life, working a few metres one from each other, talking so often about topics related to our production, our technical department and so on, while my father, no more in activity for already several years, kept on spending hours, every day, walking through the various areas of "his creature", talking to any of our employees and still dispensing his technical suggestions, coming from his incredible experience."
"Obvious to say that I will terribly miss them, for the rest of my life, but on the other hand I am extremely encouraged and reassured by what I can see around me, in the light of the continuity of our company: my older nephew Leonardo, 26 year old, with an engineering background, already entered the BUSI team less than one year ago, in a humble and proactive way, forgetting about his family name, learning from anyone, supporting and respecting any of our collaborators. My younger nephew Francesco, 24 years old, is still completing his studies, spending anyway a few hours at the factory, some days during the week, starting to learn as an apprentice, with the same mature attitude as his older brother: humbly and respectfully towards any of our men."
"Not only the family, of course, makes me feel encouraged and reassured: beyond Gianmario, who undoubtedly used to be the "technical brain" of our company, we do rely on several highly skilled and experienced collaborators, incredibly dedicated and committed, in the technical department and production areas. They have different family names, but with certainty they belong to the BUSI team. Same thing that I may say about Michele Castagna, our Export and Marketing Manager, who has been positively supporting us for several years, already, and will certainly keep on doing his best to make us grow, as a company and as a team."
"Great sorrow, great pain… the will of God, in the end, that each of us must accept… but I am definitely optimistic, having built, over the past years, a solid team of fantastic persons, who have already proven their value and effectiveness, still when Gianmario started to be ill and was often absent from his factory commitments, so I have no doubts at all and only optimism, as far as the future of our company is concerned."
Catina Busi
Full Obituaries for Giovanni Busi and Gianmario Busi will follow in due course.
This article is also appears in...