2nd February 2017, Botticino Sera
Gibaud France develops new range with BUSI medical sock-knitting machines
Gibaud, a leading French designer, manufacturer, and distributor of orthopaedic devices and compression hosiery, has used medically certified knitting machinery supplied by Italian hosiery knitting machine builder Busi Giovanni, to produce its new brand line called Venactif Optimum Tech.
The company has released a video, demonstrating and promoting the qualities of the new product line, available in a range of colours and already successful in France, according to the designer.
Optimum Tech socks
Composed of Tencel fibre, polyamide and elastane, Optimum Tech socks aim to combine respirability and comfort, providing men with a comfortable technical product, which is easy to put on. The Tencel natural fibre is said to provide breathability and resistance to the new medical compression socks.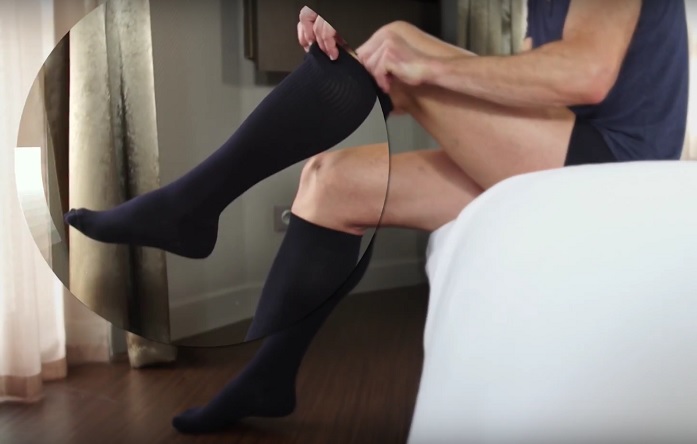 Patented aerated and massaging sole, together with heat absorption properties, are designed to assist in the thermoregulation and comfort. Seamless tech technology at the tip of the foot is said to ensure there is no overpressure at the toes, reducing the risk of irritation and itching.
Reinforced heel and knitted zones, as well as wide and flexible back are specifically meant to adapt to the male morphology with a high and wide lapel for comfort and perfect fit throughout the day.
BUSI MEDICAL
BUSI MEDICAL is a high production single cylinder sock machine with latch needles in the dial to enable it to produce true rib and plain stitch medical compression socks with compression class 1, 2, 3 and it is provided with full electronic control.
The machine is provided with two knitting feeds for both plain stitch and true rib. The compression graduation is achieved by using the automatic stiffening ,which is available on all the stitch motors, and by graduating the tension of the inlaid elastic yarn.
The BUSI range of medical machines are equipped with the company's automatic stitch-by-stitch toe-closing device RIMAGLIO. The automated device is situated at the side of the knitting machine. It downloads the sock from the machine, after completion of the knitting operation, and it transfers the sock to the linking device, where it is sewn loop by loop.
Gibaud portfolio
Gibaud offers pathology and orthopedic braces, belts, and compression products for neck, shoulders/elbow, hand/ wrist, back, knee, and ankle/foot diseases and conditions. The company also distributes static and dynamic orthotics of other manufacturers in the fields of rheumatology, traumatology, and central and peripheral neurology, as well as accessories and equipment specifically for activities.
Its devices are used to treat various conditions in the community, in hospital, or on an OTC basis in fields ranging from phlebology and rheumatology to traumatology and emergency medicine.
Busi Giovanni
Since 1958 Busi Giovanni Srl has specialized in the design and construction of single-cylinder machines with rib needles in the dial for the production of high-quality stockings, socks and tights. Today, Busi is recognized worldwide as one of the most inventive producers of machines for high-performance and high-tech socks.
The company is a supplier to the most important producers of stockings, socks and tights, for the men's, women's and children's markets - classic, patterned, sports, technical-sports, as well as medical, with special solutions for graduated compression.
Busi sells in more than 50 countries around the world (90% export) through a network of partners that provide distribution and service.
This article is also appears in...