Elizia Volkmann reports from Italy
Innovation, inspiration and information were at the heart of the Fourth edition of Lycra Fiber Moves, held March 10th-11th in Como, Italy. The conference brought Lycra licensees from the legwear industry, researchers and technical developers from the world of textiles and legwear, experts from the world of digital and technology alongside lead members of the Invista team to look at the issues that the industry is facing, and the opportunities that are unfolding not just in terms of innovations but also in retail and digital communications.
Lycra wanted to make sure that this conference was about informing its licensees of the trends and innovations in the market that will influence their business. Giampaolo Falconio, GFK gave confidence to the audience saying: "The fashion market accounts for almost 200 billion Euro per year," citing UK followed by Germany as having the highest turnovers. He identified Germany as the top consumer of legwear taking 21% of the market share followed by Italy and the UK both 19%.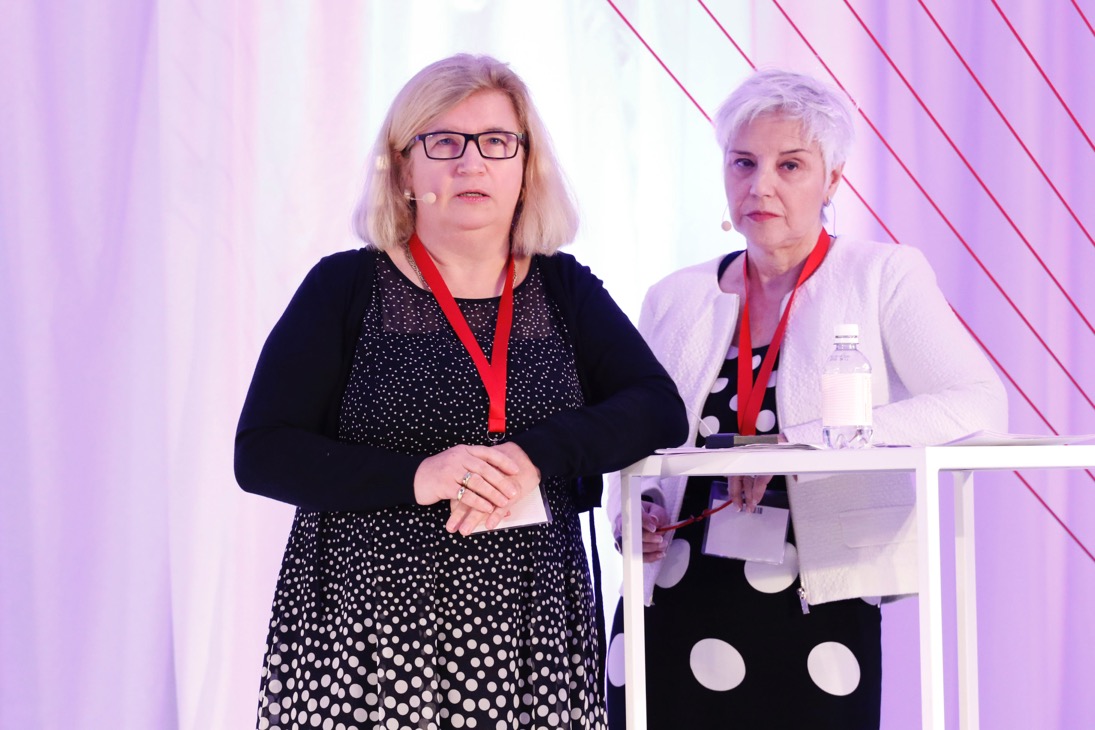 Jorge Martin for market data service Euromonitor spoke of trends in retail such as the "flag-ship phenomenon" and "showrooming"; "[the] 192% growth in internet retailing 2010 – 2015 in garments. 106billion USD" but also looking at the creative ways that shops are trying to attract customers and better service them, he cited Singapore based MDS as one of the most technologically innovative having just a showroom with rails of carefully curated samples: You can view the showrooms, you can tag the QR codes then when you go to the fitting room a robot will bring you your clothes."
For the legwear industry the Lycra Fit Finder, a collaborative development project between Invista and partners: Select Research and polish based retailer Ferax is highly relevant. Richard Barnes CEO Select Research said that the question was: "What was missing in hosiery fit?". The app works by: "Taking a front photograph and a side photograph and make a 3D model based on the body shape based on that person based on the photographs. Then that produces a predictive size or a predictive fit." The app is based on big data including figures for BMI and: We scanned 280 ladies during a two-week project. Over a period of 2 weeks in June 2015." In order to get the data to make the scanner app work." He said that the: "focus was on getting a better fit, that made them feel happier, made them feel better about themselves."
The new innovations were, Bob Kirkwood, Vice President of Marketing at Invista, said about their innovation process: "We look at the trends in the garment industry and what are the trends and megatrends around us, what can we articulate and communicate in a hose." He said: "Its not simply a new fibre but a new concept maybe a new garment concept, it also comes with that marketing story." He cited the need to look at the mega trends to answer current prescient questions about sustainability. "Type 162R, the first Lycra fibre made from renewable resources. As we come up with new bio-based chemistries, can we come up with new polymers that can compete with petrochemical ones."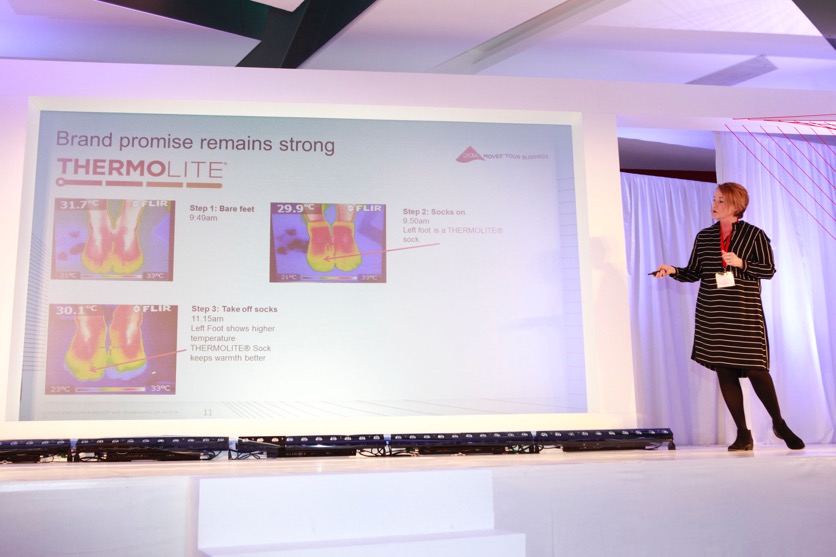 Ann-Marie Commandeur from Stijl Institute and Sybille Bald lead the introductions of Super Summer Sheers one of the new innovations at the event. Ann Marie Commandeur, who has worked with Invista, is developing director of Stijl Instituut presented four megatrends that are shaping consumer needs and desires in our currently uncertain age. "Safe and Secure", "A sense of of Wellbeing", "Redefining Value" and "Considered Consumptions" and that these are themes that should be driving innovation.
Commandeur was also the curator for the evening event's run way show which was in two chapters, one looking at a snapshot of Lycra legwear history and the other introducing the innovations presented at the event. One of the main innovation stories was about compression and going beyond the old medical ideas of compression hosiery, a compression for every day wear, not just for health or sports: Commandeur said: "With the latest innovations we focus on the fact that women want to be proactive on their looks, health and comfort and would like daily wear to help them to look better, feel better and to look and feel better for longer."
Compression was a big story with the new Lycra Energise powered by Lycra fusion, the new fibre being unveiled capable of effective compression for aesthetically pleasing hosiery: Sybille Bald said that: "By combining performance and well-being functionality with a nicely shaped leg, hosiery with graduated compression (or defined support levels) can create a 'look good, feel good' combination."
Another challenge that both she and Sybille Bald have been developing are Super Summer Sheers, addressing the issues surrounding "nude" that nude is not just beige, it is about skin tones. Legwear aficionado Sybille Bald said: "These our two target groups and you get the right skin colour, the hosiery not seen, you don't want to see make up really." Bald said: "The newness is the platform, that we really defined the parameters, and adding this feeling of almost wearing nothing. The other thing is the 12dtex, the finest Lycra Fusion yarn. That gives the no-laddering."
Sheers are going to be a fashion item but introducing this concept needs a connecting strategy: "We believe women who don't wear hosiery now, will, if the benefits of super sheer hosiery would be marketed differently. It is a near to natural product, is nearly invisible but high performance. It is like cosmetics for the leg. It is in fact a cosmetic product. It matches your skin perfectly well but can improve in a subtle invisible way."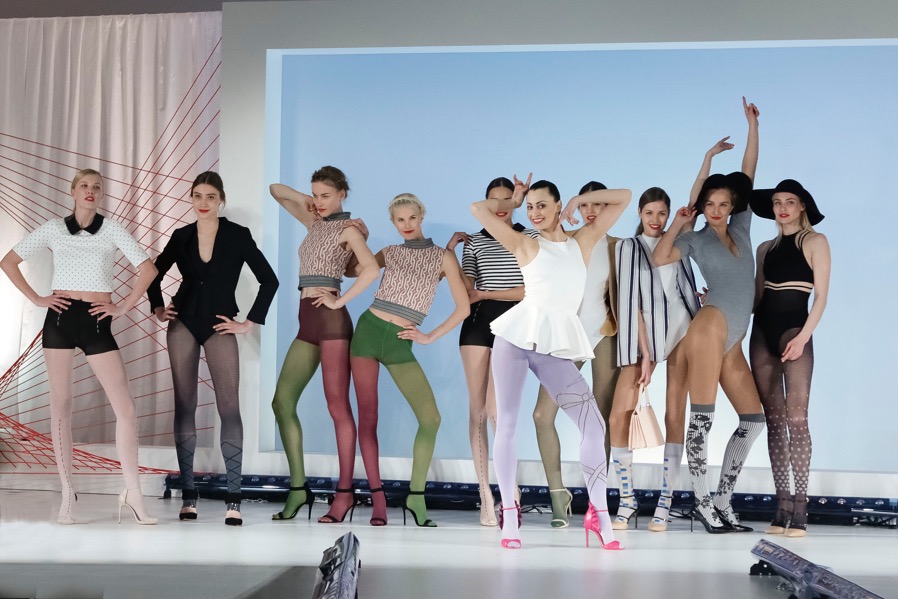 The location of Como was particularly relevant as many of the leading companies in high end legwear are based here and in Northern Italy. Commandeur said that: "The lab in Casaloldo helps us to stretch the borders of what is possible. Helps to realise the unexpected within the existing frame of yarns, machines, finishing etc. Still creating wearable and desirable items that inspire the market."
Jane Gwyther, EMEA marketing manager, sock segment at Invista launched the new Coolmax and Thermolite logos. The new Coolmax is sourced from 97% recycled materials. She presented how both these fibres have significant effects on body temperature, coupled with extreme softness and Lycra T902C fibre which gives a longer lasting fit than rubber.
After a in depth analysis about sustainability by Consultant Les Jaques, Rob Dewhurst, expert in dyeing and finishing at Invista, launched a new water saving technology for dye houses to reduce their water consumption called Lycra AcquaNRG Technology. Dewhurst said that: "the goal is to create long-term value for our customers and society by using resources more effectively, protecting the environment and the safety and health of our employees and others by consistently applying good science."
This article is also appears in...