Jana Bukolovska reports from China
The autumn edition of Intertextile Shanghai Apparel Fabrics, the leading influential apparel fabrics and accessories trade event, wrapped up on 13 October, attracting over 73,000 buyers from 90 countries and regions, a roughly 10% increase over the last year.
Held at the National Shanghai Exhibition and Convention Center, co-located with Yarn Expo Autumn, PH Value and CHIC fairs, the exhibition occupied over 260,000m2 of gross area, housing 4,553 exhibitors from 29 countries and regions, showing a decrease compared to 4,642 exhibitors in 2015, after years of consecutive growth.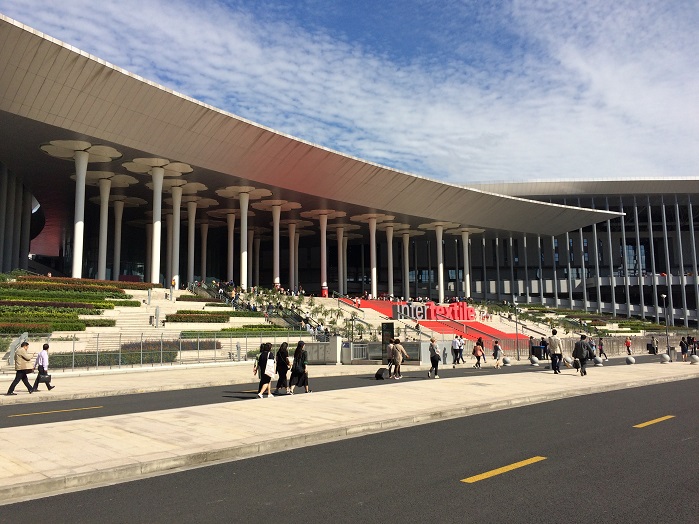 "While we are aware that the current economic conditions are creating challenges in some sectors of the industry, we are confident that with the unrivalled range, internationality and quality of exhibitors here, this fair is increasingly viewed as the leading event where quality trade buyers come to conduct business, regardless of the prevailing economic conditions," commented Wendy Wen, Senior General Manager of Messe Frankfurt (HK).
Diversity and quality
Spanning over 10 halls, the products were grouped in various ways, with halls 5.2 and 6.2 dedicated to the showcase of the international product offers, featuring the ever-popular SalonEurope with European-made products exhibited by the UK, France, Germany and Milano Unica pavilions. Individual international exhibitors participating in the SalonEurope also came from the Czech Republic, the Netherlands, Portugal, Slovenia, Spain, Switzerland and the UK.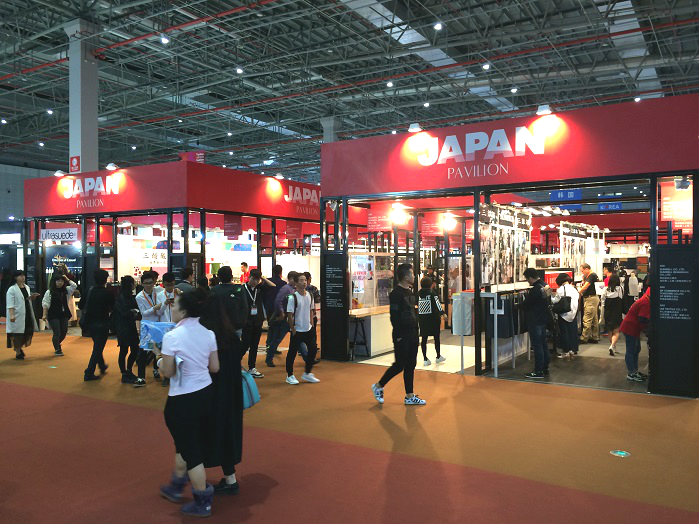 The Asian line-up featured a number of returning pavilions from India, Indonesia, Japan, Korea, Taiwan and Thailand, as well as the new Hong Kong pavilion, organised by the Hong Kong Trade Development Counil and demonstrating a wide range of products including chiffon, nets, lace, cotton, velvet, fancy knits and Shandong silk, by companies like Kai Cheong Lining and Outlook Textile.
Featured zones
The featured zones included the Premium Wool Zone, where a great share of the UK companies like Harris Tweed Scotland, Bower Roebuck and Abraham Woon & Sons, a manufacturer of luxury wool fabrics for apparel and other markets, were accompanied by suppliers from France, Italy, Japan, Peru and Hong Kong, aiming to expand their business in the Chinese market. Other zones featured Verve for Design designer studio, All About Sustainability special area, and a Functional Lab.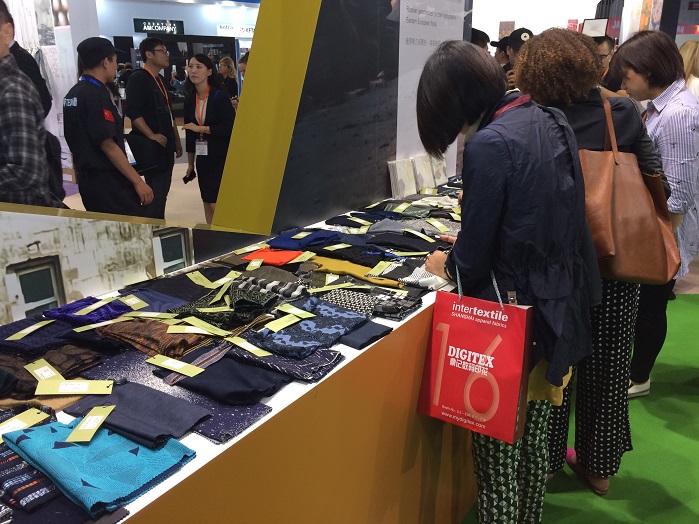 The Beyond Denim area occupied the whole 7.2 hall, with over 170 exhibitors showcasing the latest denim yarns, fabrics and production machinery under the new concept Brooklyn Today. The hall featured four main trend themes: Modern, Heritage, Vintage and Rebellious, with a segment dedicated solely to knit denim fabrics showcasing modern athleisure design concepts.
Focus on functional fabrics
The international halls were dominated by the high performance functional fabrics, with companies placing a strong focus on sports, activewear, outdoor and protective applications. The returning Functional Lab highlighted the wide range of fabrics, fibres and synthetic yarns with high performance properties like thermo-regulation, moisture wicking, increased durability, and elasticity.
International industry leaders participated in this special zone alongside a number of countries' pavilions. Nilit was promoting its nylon for shape memory for lingerie and activewear, Unifi Textile exhibited its moisture management yarns, Toyobo focused on fibres with high thermal conductivity, and Santoni, a leading manufacturer of knitting machinery for functional fabrics and apparel, promoted its latest technologies.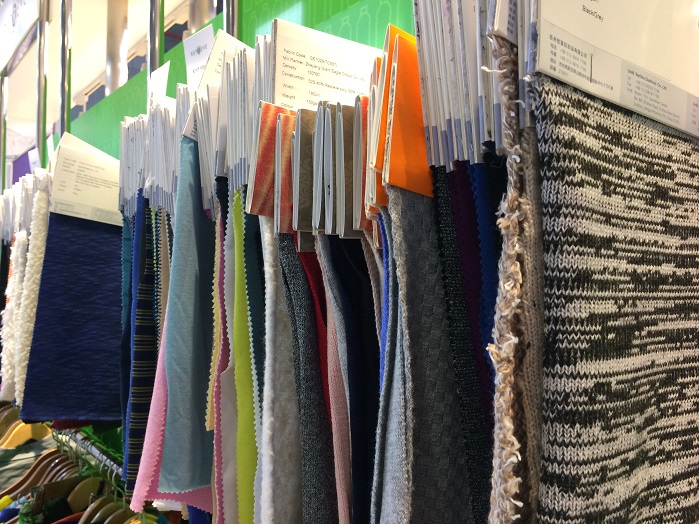 The debut Taiwan pavilion, the largest pavilion at Intertextile, participated in the zone with a focus on knitted functional fabrics for lingerie applications. The Functional Lab also featured the returning Invista pavilion, as well as exhibitors from China, Hong Kong, Israel, Japan and Korea.
Invista pavilions
For the first time this year, Invista had two pavilions, as part of the Functional Lab and in the Beyond Denim zone. This year, with its functional offer, the company focused on two areas. For sportswear, it debuted in Asia the new Lycra Sport technology that aims to deliver comfort, fit and support to stretch activewear, by combining the stretch technology of Lycra fibre with testing standards that help measure compression, comfort and energy release levels of the garment. For athleisure bodywear, Invista highlighted the importance of stylish high performance active and bodywear for the innerwear market, with the launch of its Lycra Hybrid technology for knitted and woven fabrics.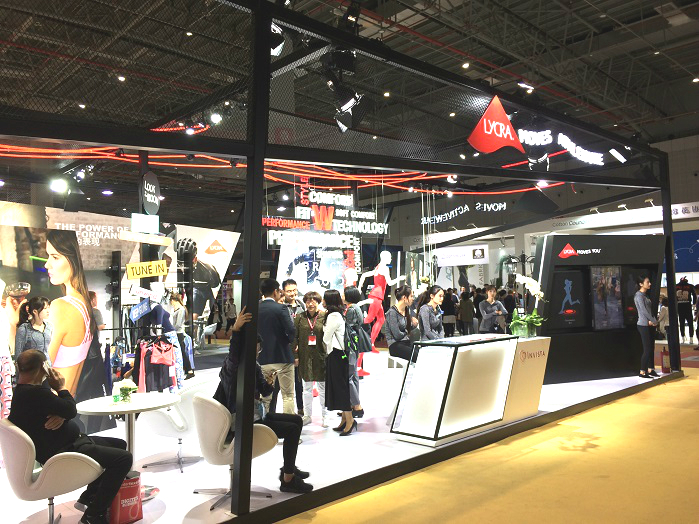 Lycra Moves Denim pavilion staged an Innovation Bar that showcased its denim technologies, including Thermolite Infrared fabric technology featuring NIR yarns, Lycra dualFX, Lycra Beauty and Coolmax technologies for stretch and shaping fabrics.
All about sustainability?
Sustainability and eco-friendly materials and production technologies became one of the main focuses of this year's show, with All About Sustainability zone increasing by 10% in scale, compared to the previous edition. According to Bernd Muller, Strategy, Development, of Ethical Fashion Show Berlin, China is now trying to open up to international markets and promote products like domestically grown 100% organic cotton.
Formed by three main components – Educational Zone, ecoBoutique and a new dedicated seminar area – the All About Sustainability zone demonstrated products and services from 24 exhibitors coming from China, Germany, Hong Kong, Korea, Switzerland and the UK, as well as the Oeko-Tex pavilion.
Holistic approach
As part of the panel discussion series, Scott Miller, Business Development and Marketing Director, of Sustainable Apparel Coalition (SAC), moderated a discussion entitled Holistic Sustainability Performance Measurement: The Higg Index Driving Transparency & Continuous Improvement. Arguing for the need of the common approach to performance measurement, Mr Miller presented the coalition's vision of 2020.
Following Mr Miller, H&M's Sustainability Supply Chain Manager Peter Yang, who shared the company's efforts to raise awareness among consumers regarding the environmental impact of the garment they are purchasing. H&M joined SAC as a founding member in 2010. The brand now works towards providing the Higg Index of the garment in store for consumers to see, Mr Yang explained.
Finally, Lenzing's Peter Bartsch, Head of Global Sustainability, shared his vision of the company's role in saving the planet's resources by responsible sourcing of raw materials for its botanic fibres, recycling waste and implementation of the circular economy, which requires collaboration and transparency.
Trends and colour inspirations
International textile and trend expert Ms Sachiko Inoue, the founder of I.S. Planning Japan, presented the Autumn/Winter 17-18 design trends in the Trend Forum, shaped by fabric displays and seasonal trend stories.
Divided into three main themes – Enigmatic, Manifesto and Eccentric – the future trends revolve mainly around warm, pastel, hazy shades and colours, often nature inspired, like violet, beige, grey, also revitalised by berry and coral reds, metallic finishes and blacks. Realised through a range of patterns, from blurred, floral prints, to graphic, Russian geometric prints and retro, Eastern European motives are replicated in bright, but subtle ornaments and patterns.
Fabrics vary from delicate, organic surfaces, oxidised wool, fancy loop yarns, natural and synthetic fibres, velvet, tweed, and double face felt, to irregular textures, 3D weave, striped knits, brushed mohair and decorative fabrics. Representative of the final theme, Eccentric, the Trend Forum was all about mixing materials, styles, colours and patterns, inspired by current trends of individuality, customisation and nostalgia for the traditional designs, as well as new dramatic ideas.