Meet the Manufacturer trade show, which concluded in London last month, has attracted over 100 exhibiting companies from across the textile and homeware sectors and from all corners of the British Isles. Organisers were delighted by the overwhelming support for this year's event. According to the data, more people attended this time on the first day than attended overall last year.
Caroline Rush, CEO of the British Fashion Council, was there to co-host a debate and networking party to bring together key designers and manufacturers to discuss positive fashion and sustainability in the British fashion industry.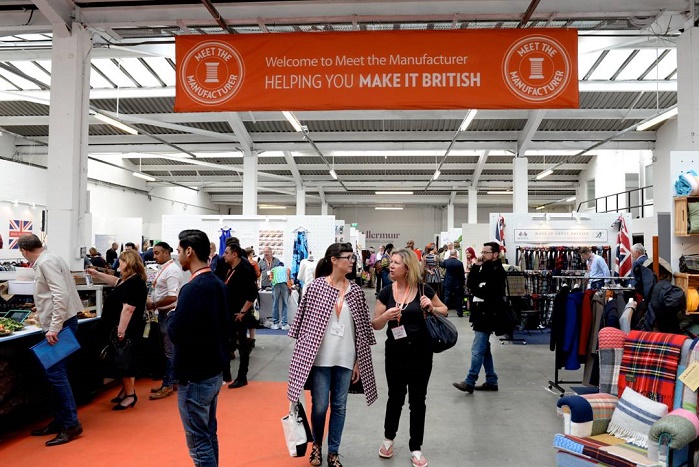 "The atmosphere when you arrive at Meet the Manufacturer is incredible," she said. "For the exhibitors here, it's a great opportunity to hear that our designers want to make in the UK and to talk about the opportunities and how to overcome some of the barriers. The British designers that we promote through London Fashion Week and London Collections Men really wouldn't be able to start if it wasn't for the manufacturing on their doorstep."
Conference highlights
An inspiring line up of conference speakers on day one included Hal Watts, of Unmade, with a stimulating insight into how he developed the first on-demand knitwear platform. Peter Needle of headline-sponsor Segura talked through how businesses can source locally and Brendan McCormack of English Fine Cottons explained why a UK company making automotive insulations has made the investment to spin cotton again in the UK.
Day two focused on the relationship between the creatives and the people that run the factories, including a panel discussion with Nick Ashley (Private White VC), Mike Stoll (Cooper & Stollbrand), Sarah Watkinson-Yull (Yull Shoes) and Jack Savva (Staffa Shoes), chaired by Pete Schonbeck of the London Small Business Centre.
Rosie Wolfenden MBE oozed enthusiasm as she took to the stage to explain the importance of originality and why she runs Tatty Devine. Closing the conference, Katya Wildman revealed why she brought the production of her iconic bombshell dresses back to the UK.
Designer's Den competition
New for 2016 were Innovation Accelerator and Designer's Den where businesses that had made it through to the finals could pitch their ideas to a panel of experts live at the conference. Sockmine scooped the overall prize, by a narrow margin, with their innovative approach to developing highly technical socks for sports, such as snowboarding, running, walking or cycling.
Designer's Den was won by Dot One, who impressed both the judges and the audience with their DNA personalised design start-up using a customer's genetic code to create truly unique and fashion pieces. They walked away with £1,000 to develop their product in the UK.
Drop-in workshops
Also new for 2016 were a series of free drop-in workshops, which proved phenomenally successful with over 900 people attending them over the two days. There were queues around the trade show as people eagerly awaited the next session to find out about 'developing a brand in 10 easy steps', 'how to successfully work with UK manufacturers' and 'taking your British brand overseas'.
Other initiatives for this year's Meet the Manufacturer included the Sewing Studio, which brought the factory to the show with a team of skilled cutters and machinists working together to create garments live at the event, to be sold in Mary Portas' 'Mary's Living and Giving' shops, with all profits going to Save the Children.
Outfit collection
In addition, top designer Tony O'Connor was curating a collection of outfits from a raft of different designers and manufacturers, including Gosha London, Lavenham, Dege & Skinner, John Smedley, Emma Willis, Shackleton, Dawson Denim, Harris Tweed Hebrides and Katherine Hooker. He aimed to capture the strength of skills and breadth of styles available in the UK today.
He also took the opportunity to reveal his Spring/Summer 17 Connor menswear collection in an exclusive preview for Meet the Manufacturer.
This article is also appears in...