Hasan Gulveren reports
World yarn exports fell by 4.8% in 2016 to US$ 45 billion. It is observed that 22% of them come from China alone, which makes US$ 10 billion worth of world yarn exports.
India ranks second with 11.1% share, with US$ 5 billion. With a share of 6.7% in world yarn exports, the third country that exports the most is Vietnam with an export value of US$3 billion. Turkey is in the eighth place, with US$ 1.6 billion export value in world yarn exports, which were made to 153 countries in 2016.

Turkey's yarn exports in 2016
The country's exports increased by 1.7%, compared to the year 2015. Also, in 2016, the share of yarn exports in textiles exports increased to 16.7% from the previous turnover. Italy, Belgium, the UK and Iran are observed to be the countries with the highest exports of yarn in 2016, when Turkey is handled on the basis of yarn exporting countries.

In 2016, yarn exports to Italy declined by 1.8% compared to 2015 and were worth around US$ 198 million. Belgium, which was the second largest market for yarn exports in 2016, increased by 2.2%, while the share of the country in total yarn exports was 7.5%. The UK is the third largest export market for yarn in 2016, while exports to the UK declined by 6.9% to US$ 120 million.
Turkey's other major yarn markets included Iran, with exports rising by 52.6% to about US$ 96 million, exports to the Netherlands increased by 9.6% to US$ 94 million, exports to Portugal fell by 12.8% to US$ 85 million and exports to Germany amounted to about US$ 80 million, an increase of 1.4%.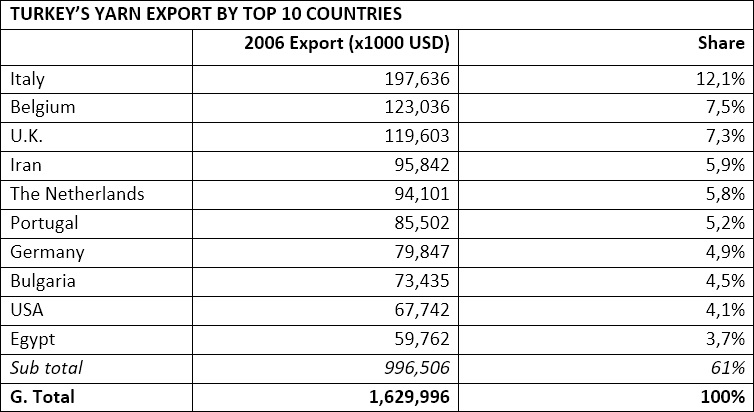 Bulgaria, the US, Egypt, Poland, Spain and Brazil were other important yarn export markets. Exports by major product groups of yarn from Turkey were divided into synthetic yarn from artificial filaments, yarn from synthetic artificial staple fibres, cotton yarn, wool and animal hair, cellulosic fibre yarns and silk yarn.
The most exported yarn product group in Turkey is synthetic filament fibre yarn, with the export value of US$ 605 million and a tension of 1.5%, compared to 2015. The share of the related product group in total yarn exports is 37%.

Another group of yarn products most commonly exported from Turkey are synthetic yarns from artificial staple fibres. Their export value reached around US$ 540 million in 2016, and the export rate increased by 11.2%, compared to the previous turnover. Their share in Turkey's yarn exports is 33%.
Statistics on yarn exports, as well as annual changes and share of 2015-2016 product groups by major product groups, are given in the table below. Cotton yarn exports, the third most exported product group in Turkey, declined by 2.6% to US$ 454 million in 2016. The share of cotton yarn in Turkish yarn exports has been calculated at 27.8%.
Turkey's yarn import
Turkey is also one of the world's leading yarn importers. In 2016, Turkey imported US$3 billion worth of yarn from 93 countries – a 5% increase, compared to 2015. China, India, Indonesia, Bangladesh and Vietnam are observed as the countries with the highest number of yarn imports in 2016.
The share of yarn imports in general textiles imports is 36.2%. Looking at the share of textiles imports from 2012 to 2016, it can be seen that the share of yarn imports is increasing at a rate between 31.6% and 36.2%. The share of nominal yarn imports, which was calculated at 33.2%, with imports of US$2.9 billion in 2012, rose to 36.2% at the end of 2016.
In 2013, Turkey imported about US$ 3 billion worth of spinning products, while imports reached US$ 3.2 billion in 2014 and declined by 10.5% in 2015 to about US$ 2.9 billion. In 2016, imports rose by 5%, exceeding US$ 3 billion.
The country with the highest yarn imports in 2016 is China with a share of 22.5%, which is about US$ 682 million worth of imports and total yarn imports. China's imports of yarn have increased by 17%, compared to 2015. India is the second country with the largest number of yarn imports. India's imports totalled US$ 552 million in 2016, while India's share in Turkey's total yarn imports was 18.2%. Turkey's third largest supplier of knitted fabrics – Indonesia – imported yarn worth US$ 322 million in 2016, an increase of 4.4%. Indonesia's share in total yarn imports was calculated as 10.6%.
Bangladesh is Turkey's fourth largest supplier of yarn, with imports falling by 2.3% in 2016, worth about US$ 196 million. Bangladesh's share in total yarn imports in Turkey is 6.5%. Vietnam is the country's fifth-largest supplier of yarn, with imports worth US$ 171 million in 2016, with an increase of 3.2%.
The major product groups in Turkey's yarn import are synthetic filament yarn, synthetic staple fibre yarn, cotton yarn, vegetable fibre yarn, wool and fine/coarse animal hair, and silk yarn. In 2016, the largest group of imported products was synthetic filament yarn with an import value of around US$ 1.7 billion. By 2015, imports of the related product group increased by 5.2%. In Turkey's yarn imports, the share of synthetic filament yarn was calculated as 55.3%.
Another major group Turkey's yarn import is synthetic staple fibre yarn. Their import value in 2016 was around US$ 591 million, with an increase of 0.9%, compared to 2015. The share of synthetic staple fibre yarn in Turkey's yarn imports is 19.5%. Cotton yarn imports increased by 19.9% in 2016 to US$ 512 million. The share of Turkish yarn import in this product group is 16.9%.