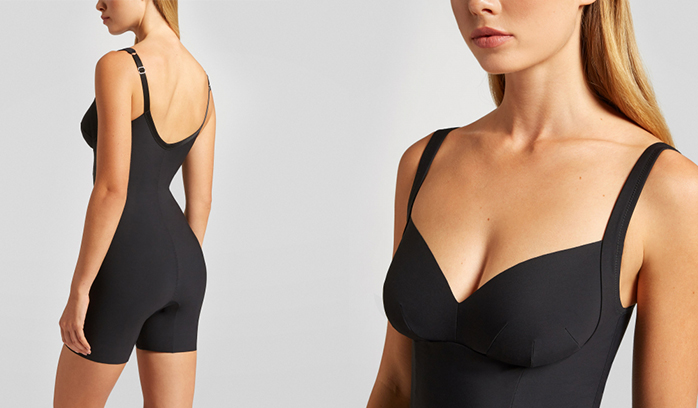 © The Lycra Company.
Italian brand Yamamay has teamed up with Lycra Beauty and Sensitive Sculpt by Eurojersey to rewrite the rules on shapewear.
"As part of its Sculpt range, Yamamay's new cover-up romper is a stunning design that gently, yet effectively, sculpts the body thanks to its premium Sensitive Sculpt fabric patented by Eurojersey, powered by the cutting-edge shaping technology of Lycra Beauty brand," Lycra comments.
"Fronted by cover model, Bianca Balti, the beautifully shaped garment was launched earlier this year with a co-branded print and social media campaign: #BASICALLYSEXY. The campaign, which appeared across social media channels and in key titles such as Grazia, IO Donna and Corriere Della Serra, depicts Bianca Balti in the Yamamay cover-up romper, in a sexy, confident and relaxed pose. This in turn highlights the garment's emphasis on comfort and functionality."
"Lycra Beauty brand has pathed the way for a new generation of shapewear. Thanks to its innovative technology, comfort is no longer compromised in lieu of shaping performance and design. As a leader in the warp-knit sector, Eurojersey works with the Lycra brand to develop their high-performing, premium Sensitive Fabrics range, and specifically Sensitive Sculpt fabric by Eurojersey, used in the new Yamamay garment. Sensitive Fabrics move in perfect harmony with the body, ensuring lasting comfort and shape," Lycra adds.
The new Sculpt Cover-Up Romper is available online from Yamamay in black and sizes S, M, L and XL.
Find out more about Lycra Beauty brand here or contact your representative at The Lycra Company who would be delighted to assist you.
This article is also appears in...