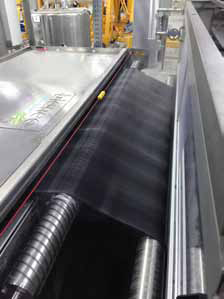 Bianco, an Italy based textile machinery manufacturer specialising in fabric finishing, will exhibit its Bianco Happy Scour system at this year's ITMA, the largest international textile machinery exhibition that takes place from 12-19 November 2015 in Milan.
Happy Scour, developed by Bianco, is the ideal solution for continuous scouring and heat-setting, thanks to its reduced size and extremely low running costs, according to the manufacturer.
Knitted fabrics with elastomers
Nowadays fabrics containing elastomers are widely used, but the manufacturing of these materials is difficult due to the fact that they contain silicon oils and are affected by residual knitting tensions that may appear in the form of weight or surface irregularities.
Bianco Happy Scour was developed for the preparation of knitted fabrics made of synthetic fibre and elastomers, which are the most sensitive to shrinkage and have got the highest oil content. The system can also be applied to all kinds of fabrics, which need to be washed before heat setting.
Cost reducing
Until today the systems used for the preparation of knitted fabrics with elastomers consisted of washing in perchloroethylene solvent or in water. However, according to the company, both systems have high investment costs for machinery and high operating costs regarding energy consumption and maintenance.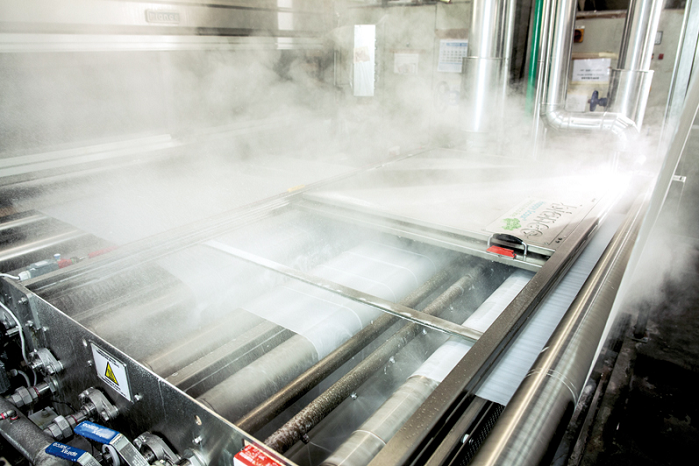 The company's innovative system has been developed to offer an excellent quality with much lower costs than those incurred in traditional washing.
In process
The washing unit Bianco Happy Scour, mounted in front of a stenter and combined with a traditional squeezing padder, is said to allow continuous in-line preparation.
The chemicals for washing and rinsing are prepared in the mixing tanks. Liquids are heated by means of indirect heat exchangers through steam coils in order to eliminate contamination of the chemicals. Once the temperature is reached, the prepared chemicals are pumped to the mixing tank, and the product is delivered to the first tank section where it is sprayed on the fabric by nozzles automatically ensuring continuity in the production process.

The tank is made of 100% stainless steel AISI 316, heated and equipped with the latest generation of probes to control the fluid level. The spray nozzles placed across the fabric width play a key role by directing the water jet to a specific point set between fabric and roller thus creating a delicate and uniform water cushion along the fabric's full width.
The oils are removed in the first tank section and are carried to the special disk filter from where they pass n to a collecting tank. The rinsing tank in the second section is built separately to avoid any contamination.
Synthetic fabrics
Burning off during heat setting of spinning and knitting, silicone oils that are present in synthetic fabric with elastomers alter the fabric's elastic properties and create inner oxidisation, which results in uneven dye absorption and formation of excessive yellowing, which may affect the achieving of pale shades.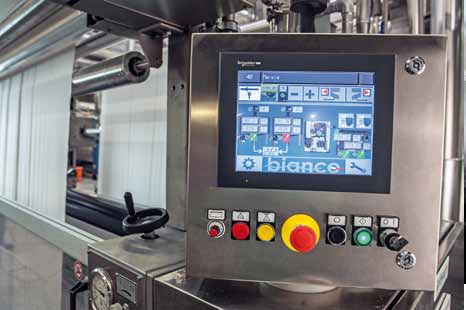 Happy Scour is designed to guarantee an optimal and economic fabric preparation by avoiding the disadvantages and by preserving the properties of the different yarns.
Cellulose fibres
Cotton and viscose fabrics are equally susceptible to oil oxidation. The paraffin oils contained in cotton produce substantial patchy yellowing when burnt at high temperatures, which can be hard to eliminate during the bleaching process and will require long processing times.
The preparation with Happy Scour is said to allow dyeing very dark shades directly without further treatment, while permitting for medium and light shades, which still need a bleaching oxidative process.
Advantages of the process
The system is said to eliminate the appearance of acrid and pungent smoke, resulting from a high saturation of sublimated oils at stenter's entry and exit. This can be caused by heat-setting fabrics without prior scouring.
After heat setting, the fabrics that have been scoured in Happy Scor will incur far less yellowing and have a better uniform tone compared to partially scoured fabrics, the company reports. The smell of knitting oils inside untreated fabric can be eliminated, after processing them in Bianco Happy Scour, thus confirming that all oils have been removed.
This article is also appears in...