Making its debut at Milan Design Week, the modular seating system, created in collaboration between Giulio Cappellini and Sensitive Fabrics by Eurojersey. Mill Home is an eclectic seating system with padded and removable linings. The system features clean lines and alluring softness, designed specifically for the Millennials, their social multiculturalism and functional aesthetic, as well as "couchsurfing nomadism".
"The architectural know-how of Cappellini and its pop and dynamic style draws a series of basic elements that can be freely combined with backrests and armrests of different sizes and heights achieving several variants and compositions fitting any space and need," the company reports.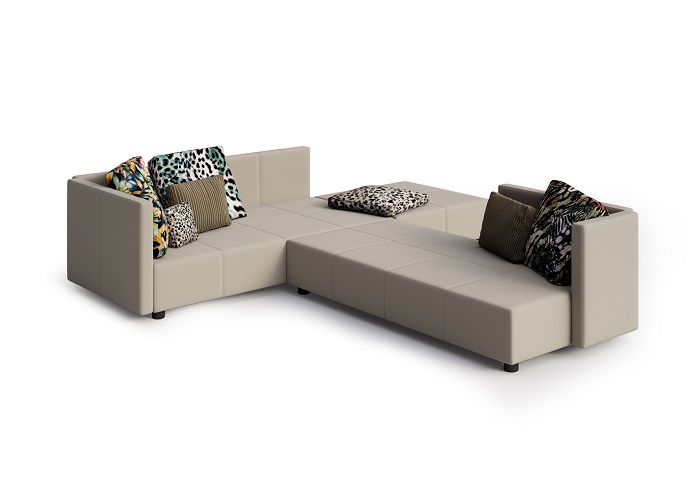 "A skilful combination of ergonomics and gracefulforms, a synthesis between maintenance simplicity and desire for individuality.The power of following trends without stifling the wish of a customized space."
Sensitive Fabrics
Eurojersey supplied fabrics for the joint project, featuring the warp knit patented technology of Sensitive Fabrics, which are said to provide the high performance and comfort to the new seating system.
The brand's fabrics, a mix of nylon and Lycra fibre, have been developed to maintain their shape and non-pilling quality even after several washing cycles. They are light, compact and ultra-thin, the company reports. According to the manufacturer, thanks to their smooth homogeneous surface, the colours are particularly bright, while printing holds a 3D quality.
Style and design
For the seat upholstery, Giulio Cappellini and Eurojersey offer a palette of colours for classic, sophisticated or bold looks: Blue or Dark Blue, Sand, Brown, Light Grey or Dark Grey, Dove Grey, Green, Anthracite. The great variety of the pillows can be used to make it even more comfortable and further customise your personal style.
Printing on Sensitive Fabrics ranges from geometric patterns with polka dots and black-and-white gingham checks, to zebra and leopard-skin animaliers, available also as patchwork coats of different colours; from sparkling floral patterns or batik, to lace or tartan; from Navy to Mexican stripes, from the regimental style of pink and blue stripe shirts and pinstriped suits, green and brick-red, to checked fabric in pink and black or black and blue.
New applications
"For several years, the unique features of Sensitive Fabrics technical range by Eurojersey have been the first choice for leading brands of sports apparel and even for the industry of underwear and swimwear," the company reports.
"Faithful to its innovation mission, today Eurojersey is delving into interior design led by its technological vocation: an obvious step since Sensitive Fabrics lend themselves very well to the latest processing techniques such as moulding, taping, laser cutting, ultrasonic bonding even with different materials."
This article is also appears in...