20th December 2016, Obertshausen
Latest Karl Mayer technology received well in Mumbai
Karl Mayer, a leading wrap knitting machinery manufacturer, has received positive feedback following its participation in the India ITME trade fair, which was held from 3-8 December 2016 in Mumbai.
"Interest from the visitors exceeded our expectations, especially against the background of the recently introduced policy of demonetisation," explained Oliver Mathews, Sales Director of Karl Mayer's Warp Knitting Business Unit.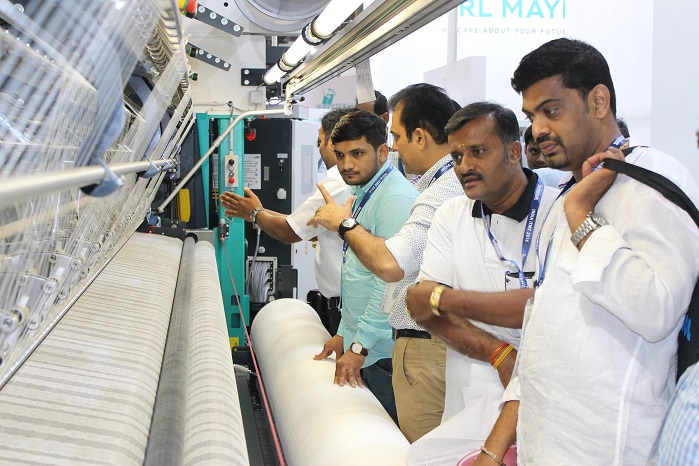 The visitors included a number of decision-makers, the company reports. There was also a great deal of interest in warp knitting among large companies operating outside the sector. Specific projects were also discussed with some representatives of leading conglomerates. Karl Mayer's exhibition team had just under 650 technical conversations, mainly with visitors from India, paving the way for future business negotiations.
New avenues of production
The tricot machines on show were sold at the fair. For producing warp knits, Karl Mayer was showcasing the fourth generation of the high-speed HKS 3-M, with its modern design, and the HKS 4-M EL machine. The four-bar, high-speed tricot machine was demonstrating the advantages of its EL control facility. This all-round machine was producing a light and airy apparel fabric with the look of an embroidered mesh ground and, in order to do this, was alternating between three different patterns.
"Our customers were extremely interested in this new concept of combining an open structure resembling an embroidery-like ground with a superimposed pattern on a tricot machine," commented Karl Mayer's Senior Sales Manager, Bastian Fritsch, following the India ITME fair.
The topic of sustainable industrial production is becoming increasingly important in India. In addition to the production possibilities offered by the machines on show at the fair, equipping them with the LEO energy and costs saving system as standard was the subject of many conversations. There were also many enquiries regarding the production of stretch raised fabrics, warp-knitted terry goods and velour.
"Many of our customers are looking for new products, technical upgrades or complementary systems for their existing machines," said Bastian Fritz. For those visitors who were focusing on progress and innovation, a wide range of multibar lace featuring new bourdon cord designs and a variety of looks produced by block multi guides were available. The presentation of the new Lace.Express machine series proved to be a real magnet for the public, according to the manufacturer.
Sizing and warping
Karl Mayer's Warp Preparation Business Unit was also delighted with the feedback on the machines it was showcasing. "All our main customers visited our stand, and were extremely interested in our sizing and sectional warping machines," explained Dieter Gager, the Sales Director.
The Prosize was also the subject of many discussions. The key feature of this sizing machine for processing staple-fibre yarns, the Size Box, generated a great deal of interest. The Prosize operates at a maximum sizing rate of 180 m/min. With its unique performance, this machine should fit in with the investment plans of those companies intending to expand or modernise their plants.
In addition to the Prosize, the new Isomatic also attracted a great deal of attention. This new, performance-optimised, short-warp warping machine for standard applications was developed especially for the Indian market.
Digital communication
Karl Mayer rounded off the presentation of its machines and products by showcasing its 360° technical support service. The digital innovations mainly include the Karl Mayer Connect app and the Karl Mayer Spare Parts Webshop. Demonstration versions of both systems were being tested live at the show.
These systems were well received by the company's Indian clients. "Roughly 350 machines in India were given a software upgrade by our service specialists in the third quarter of this year to enable them to use our Karl Mayer Connect app. Since then, we have been receiving enquires on a daily basis," said Sascha Müller, a customer service engineer at Karl Mayer.
This article is also appears in...