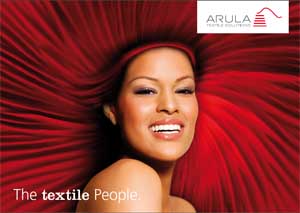 Austrian circular knitter of high quality fine gauge fabrics for intimate apparel, Huber Tricot, has rebranded its development and production of fine fabrics under a new brand name, Arula.
"As the independent brand Arula, we will be able to provide the optimal solutions for your needs with even greater efficiency. And you can rest assured that there will not be any changes in our quality, service, comprehensive expertise or enthusiasm for textiles," says Werner Erhart, Managing Director.
The name Arula comes from Mons Arula, the Latin name for the mountain range also known as the Arlberg, which in turn gave the company's home region, the Austrian federal state of Voralberg, its name.
With its new name, the company is deliberately emphasizing a link to the long tradition of textile manufacturing in Vorarlberg. Customers are advised that their contact persons in Sales Director Werner Kirchmann's team remain the same and they will continue to benefit from the company's expertise in the finishing and production of high quality and innovative fabrics - for example its super-fine Brightex fabrics made of cotton, wool, micro modal, viscose and Tencel.
Brightex
"With innovations like Brightex, we will continue to supply you with the material for your success story in the years to come. We would be happy to answer any questions you might have about the new Arula GmbH," Werner Erhart says, adding:
"We thank you for the trust you have placed in us and look forward to continuing to work with you."
Arula is a manufacturing brand which belongs to Huber Holding AG whose main brands are Hanro, Huber and Skiny. Hanro of Switzerland is known for its exquisite ranges of daywear and nightwear for men and women and celebrated its 125th anniversary in 2009.
The Huber brand is one of Austria's most well known for basics and high quality underwear which is also trying to make its name in functional underwear. In order to achieve this, the company says it is breaking new ground in the presentation of its functional underwear lines and has developed a concept to help orient customers, particularly at the point of sale.
Skiny was introduced to the market as Huber Holding's lifestyle underwear brand in 1986 and since then is said to have stood for independent expertise in fashion, quality and development. Huber Holding's brands are sold through its Huber Shop GmbH company.
With 81 shops in Austria, southern Germany and Hungary, Huber Shop GmbH is a leading underwear retailer in Central Europe. It operates three different types of shops:
Mono-brand stores selling Skiny and Hanro are located in high footfall places and present customers with the complete range of the brand's products.
Huber Shop multi-brand stores offer a wide array of lingerie, daywear, nightwear and swimwear from the Huber, Skiny and Hanro brands in addition to other leading international brands.
In the factory outlets, production overruns and factory seconds are sold at substantially reduced prices.
This article is also appears in...