Industry Talk
Hydrating silk garments used in eczema treatment
Following five years of research and development, UK based Dreamskin Health Ltd has launched what it calls the world's first range of hydrating, medical-grade silk garments designed to relieve the itching and irritation of eczema and dermatitis. The secret to the new garments is a proprietary biomimetic copolymer matrix which is firmly bound to the surface of the silk and assists the water and temperature regulation functions of the skin. "The Dreamskin polymer is a

29th September 2010
Knitting Industry
| London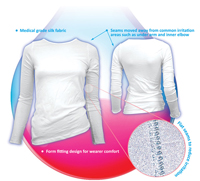 Following five years of research and development, UK based Dreamskin Health Ltd has launched what it calls the world's first range of hydrating, medical-grade silk garments designed to relieve the itching and irritation of eczema and dermatitis.
The secret to the new garments is a proprietary biomimetic copolymer matrix which is firmly bound to the surface of the silk and assists the water and temperature regulation functions of the skin. "The Dreamskin polymer is a major benefit for patients", said Technical Director, Howard Cairns. "We were inspired by looking at how the hydration of modern contact lenses is achieved and realised we could use our fabric engineering knowledge to produce a similar effect in fabric."
Dreamskin garments are currently available in bodysuits for babies and face masks, tops, leggings and pyjamas for children up to 12 years old and are designed with wearer comfort as the top consideration. Seams are kept away from identified irritation areas such as the underarms, inside elbows and knees, fingers and toes webbing. Flat seam technology is used in all garments to ensure minimal irritation.
"We have combined our new polymer technology with 20 years experience of garment manufacturing expertise to produce comfortable, discreet garments for patients", commented founder, George Costa. "We ensure all aspects of our products are the best they can be."
Dreamskin garments are said to offer the following benefits:
- Improve skin hydration and moisture regulation
- Aid reduction of skin itching and irritation
- Assist with regulation and maintenance of body temperature
- Support the recovery of normal skin function
- Decrease contact between skin and irritants such as washing powder residue
According to the company, early patient feedback has been extremely positive with improved sleep, reduced scratching and a marked improvement in the condition of the skin.
Tony Wilson, CEO of Dreamskin Health Ltd, said: "We are extremely excited about the patient feedback we have been receiving. In 20 years of working in dermatology, I have never received so many letters of thanks from patients and their parents in such a short period of time. We are looking forward to being able to help many more eczema sufferers in future."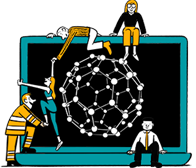 Business intelligence for the fibre, textiles and apparel industries: technologies, innovations, markets, investments, trade policy, sourcing, strategy...
Find out more