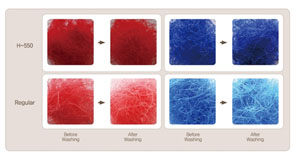 Korean fibre producer Hyosung has launched a new creora brand elastane with outstanding dyeability in blends with nylon for hosiery, warp knits, circular knits and wovens. New creora dyeable is said to be engineered in a proprietary way to allow absorption of dyestuffs and the delivery of superior colourfastness compared to regular elastane.
Fabrics made with creora dyeable are also said to be heat settable and mouldable at lower temperatures, have softer hand and are chlorine resistance making them suitable for any application. Colours are said to be deeper, darker and more vibrant as traditional elastane grin through is eliminated.
Hyosung's new dyeable elastane will go on show at the forthcoming Premiere Vision show in Paris which is being held from 14-16 February at the Parc d'expositions, Paris Nord Villepinte.
The Korean elastane specialist has collaborated with leading French warp and weft knitter European Stretch Fabrics (ESF) to produce a range of fabrics in fashion colours using creora dyeable.
Speaking during preparations for the Paris show, Bernard De Buhren, executive marketing director at ESF said:
"European Stretch Fabrics offers innovative textile products in a wide range of elasticized fabrics with new collections developed every month. We see greater demand for fashion colours and have found creora dyeable advantageous in delivering deeper, darker shades with better colour fastness."
"We will feature some creora dyeable fabrics at the Paris Première Vision show Stand 6G15 - Hall H6."
Payen Group owned ESF was founded during the late 1980's as a producer of innovative stretch fabrics, including stretch warp and weft knits. The company adds a new collection each month and develops fabrics for lingerie, swimwear and sportswear under its Aquatech and Mad About Skin brands. The Mad about Skin line of stretch fabrics is designed and developed exclusively for lingerie and swimwear and the Aquatech line of fabrics is created specifically for sports and high-level competition.
This article is also appears in...