No, the summer hasn't arrived yet in London. I find it depressing that in a months' time days will start getting shorter again and we have yet to have a glimpse of sunshine. And although outside it might feel a bit wintery, I really can't cope with wearing a jumper indoors this time of the year, so I've put the heating on, got a chilled beer out of the fridge and I'm pretending it's summer.
But I need one more thing to fool my brain into thinking the warm season has arrived: ice cream. Cold, soft, chocolatey ice cream. When I was a kid it was unusual to see anybody having ice cream in winter, you simply didn't do that (and I think Italians would still look down on someone doing that now), so having the first one of the season was always a great joy.
Luckily, things are much different here and in the past few years London has seen the popularity of artisanal ice cream rise: there is a flavour for everybody, the lactose intolerant and the conservative, and the more adventurous types are able to try human milk ice cream in some shops, too.
The frozen substance is not simply a pleasurable treat for our senses, but it has inspired many designers, artists and musicians. It is easy to see how its seductive textures and playful colours could be the source of creative inspiration. The first picture is by Malaysian photographer Jack Yong and is part of a project called "Care 2 Share". I love this surreal and very romantic representation of ice cream. I stumbled upon Jack's Instagram page a few weeks ago and was really captivated by this image.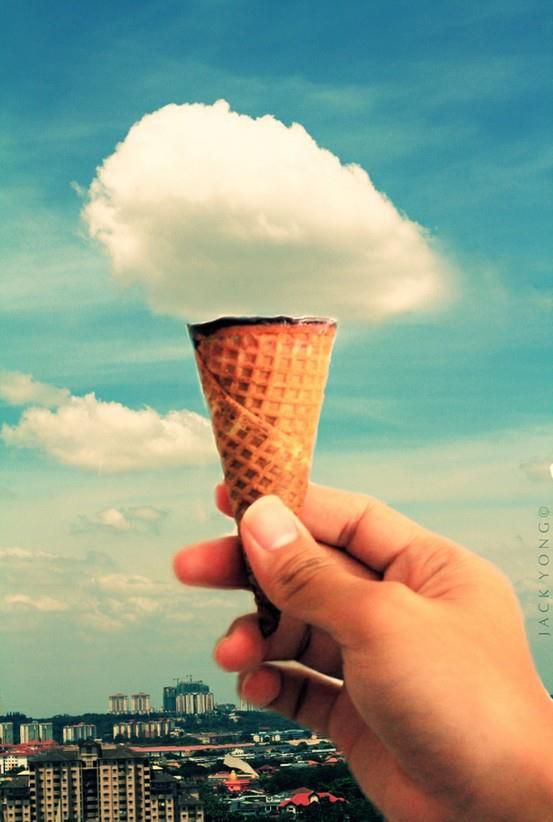 The second ice cream I'm showing you today was commissioned by paint supplier Sherwin Williams for one of their ad campaign: the company asked some paper artists to create objects using their shade cards and this is what they came up with. Quite clever, right?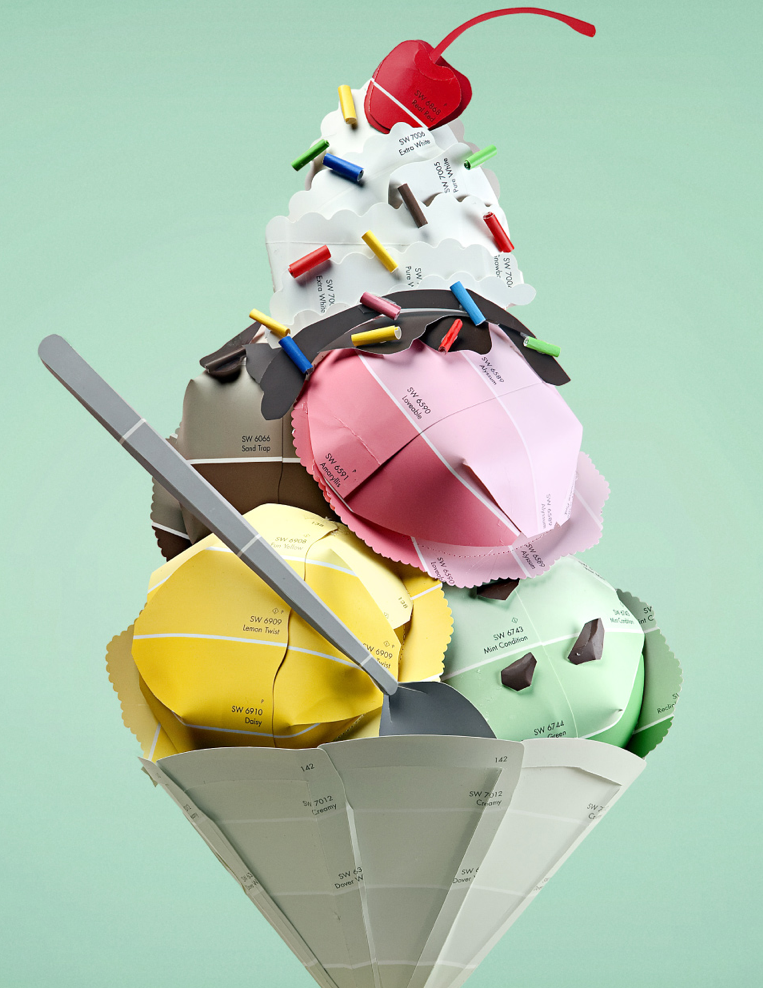 Cakes, cupcakes and ice cream have become an over­saturated source of inspiration for many knit designs, from swirly hats to cupcakes and Christmas beanies, quite frankly I feel like we've all seen enough!
However, after a bit of research, I was able to find some pieces where our lovely gelato was used in more original ways: this video tutorial will show you how to knit a simple all over textured ice cream pattern. Very understated, but very effective, too. The video is in Spanish but you can follow the video demo easily.
I wasn't really aware of this, but there seems to be a whole scene of people crocheting ice cream scarves, each cone stacked on another, in a vertical line. I found this shop on Etsy (h​ttps://www.etsy.com/uk/shop/FiercePixyBoutique)​, and although cute knitted cupcakes and bunting are my idea of hell, these ones are quite funny: in her shop you will find pop tart scarves and crocheted m&m's. Shame about the uber­cheap prices, I wonder why anybody would want to sell a handmade item for under a fiver! If you feel like you want to have a go at making your own scarf, you can download a free pattern here, however you need to register first http://crochetcraftsandme.blogspot.co.uk/search?updated­max=2014­12­31T05:02:00­08:00& max­results=7&start=5&by­date=false.​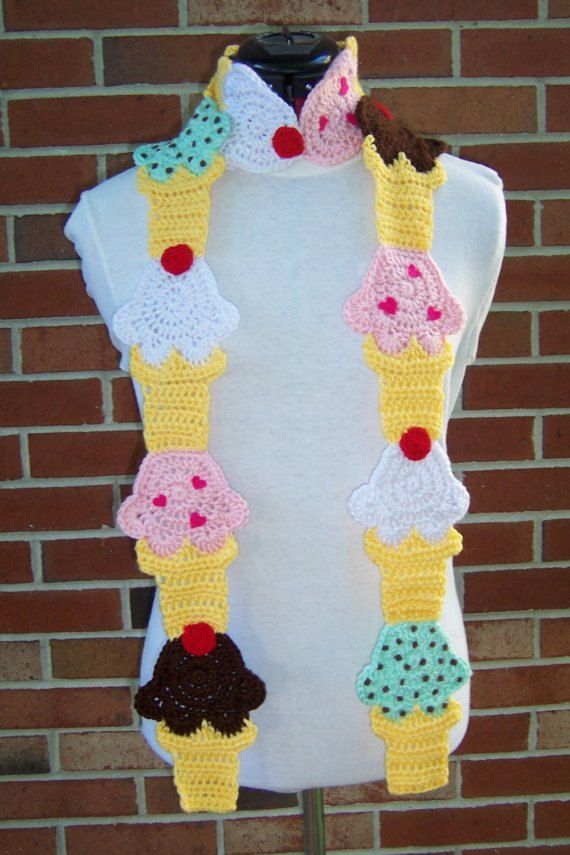 Ice creams were also the subject of Jim Bachor's latest body of works "Treats in the Street". Using mosaics as his favourite medium of expression, Bachor creates some street installations by filling in undesirable and potentially dangerous potholes in the streets with some delicious pictures of ice creams. Yummy! The last time I checked four of these works appeared in Chicago and another three in Finland. Ice cream aside, I find Jim's work really intriguing because it plays with social acceptance and its counterpart: on one hand he uses very traditional techniques like mosaics, but he does graffiti.
On the other, he's almost not cool enough to be a graffiti artist: he depicts ice creams and bunches of pretty flowers, and nobody can really say anything bad about his work because it makes driving and cycling safer. He stands on his own feet, probably disliked by mosaic and graffiti artists alike, but that's exactly why I like him so much.
I'm sure most readers will be familiar with Kenzo's S/S 15 collection but I thought I'd repost a picture as well, I love this jumper and the stark contrast between the graphic stripes and the soft textures of the Aran stitches. Another yummy knit!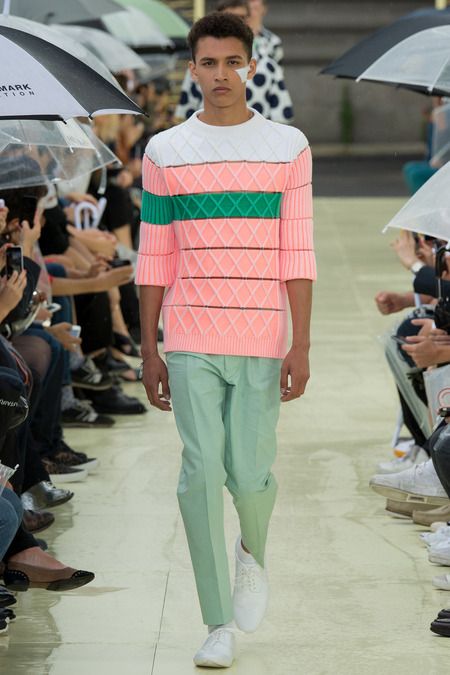 I also like this sweater featured on F.Y magazine, sadly the designer wasn't credited and despite much research I couldn't find their name (h​ttp://fuckingyoung.es/theo­by­iringo­demeter/)​. The textured cables seem to be knitted in a blister stitch or they have probably been printed with a puff binder.
The garment in the next picture is by Irish designer Tim Ryan, who can do fringes like no other. I find his own take on this technique really inspiring, so simple and incredibly time consuming. The image I have selected for this post is probably not representative of all his work but it is interesting to see how the fringes can be quite fluid, like paint drips, when knitted in layers of viscose tape in different colours, and how they are also used to make voluminous furs. Tim unfortunately doesn't have a website but you can check his facebook page here https://www.facebook.com/pages/Tim­Ryan­Knitwear/160900147265986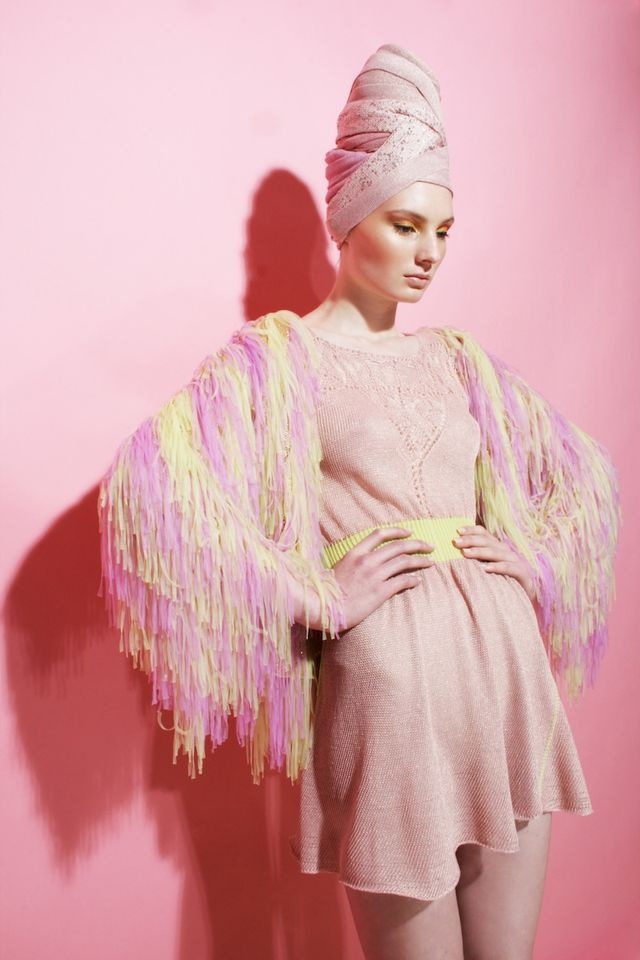 This article is also appears in...